Quickening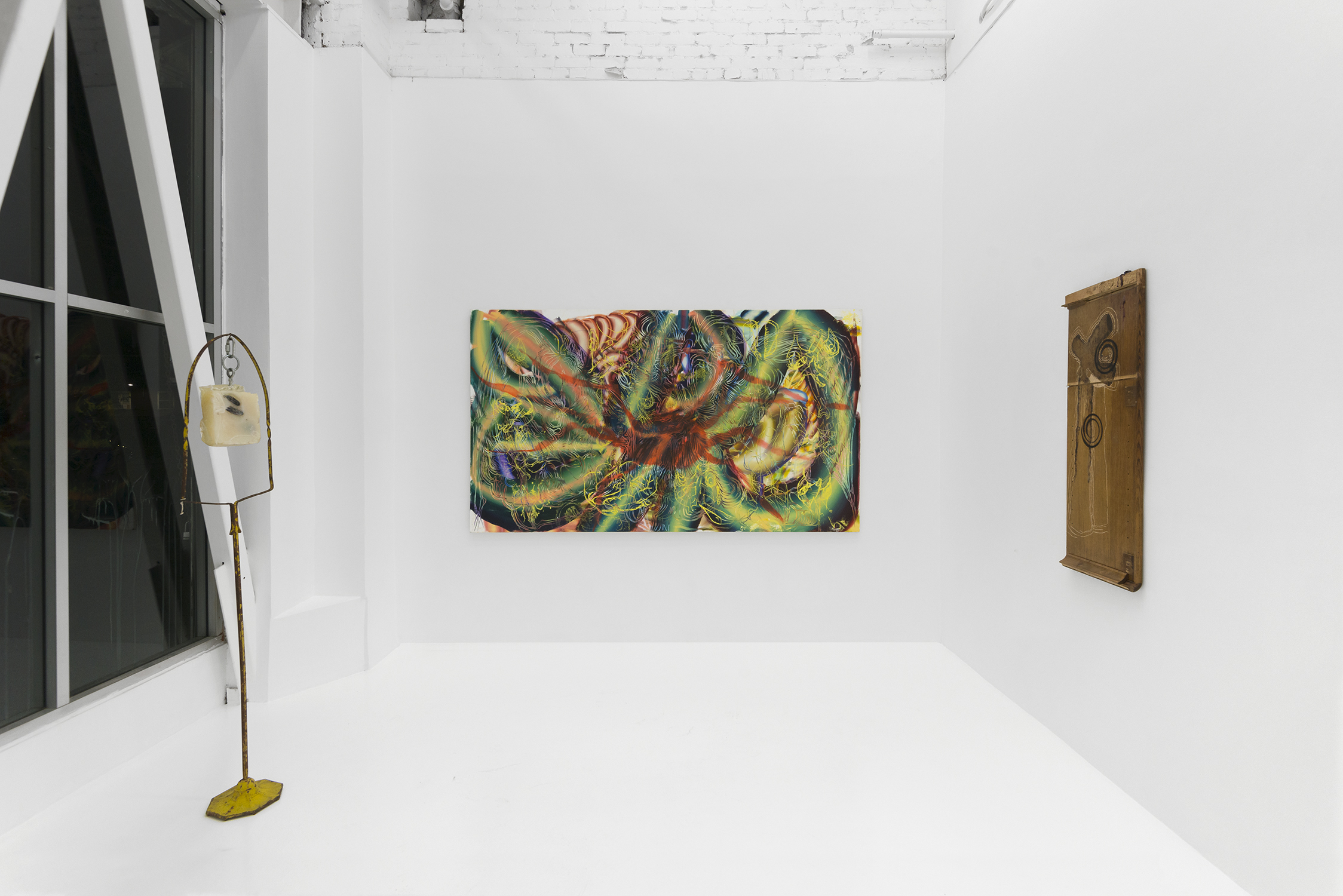 SMART OBJECTS is pleased to present Quickening, a three-person show with Ellizabeth Englander, Lauren Quin, and Bri Williams.
4.17 – 5.29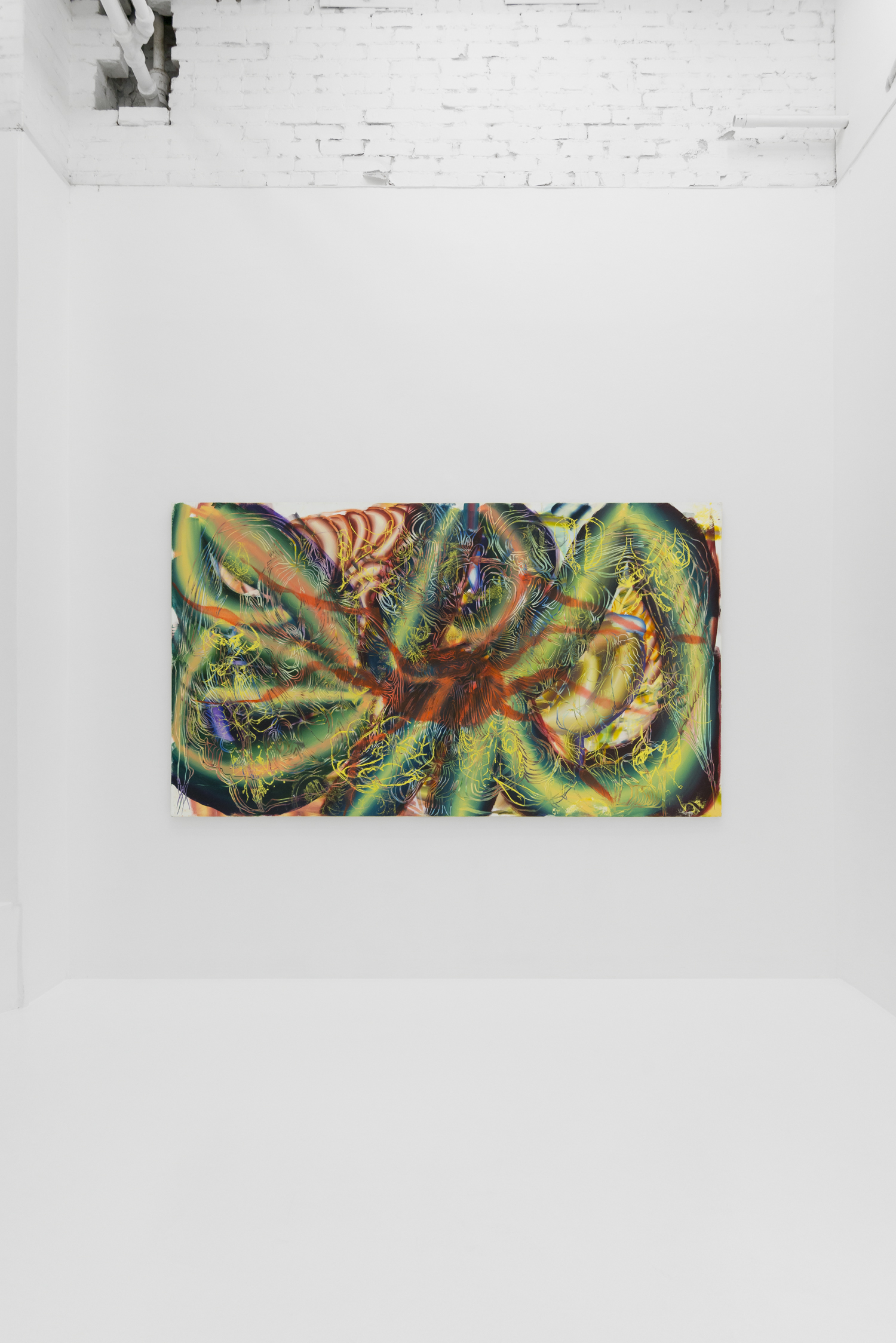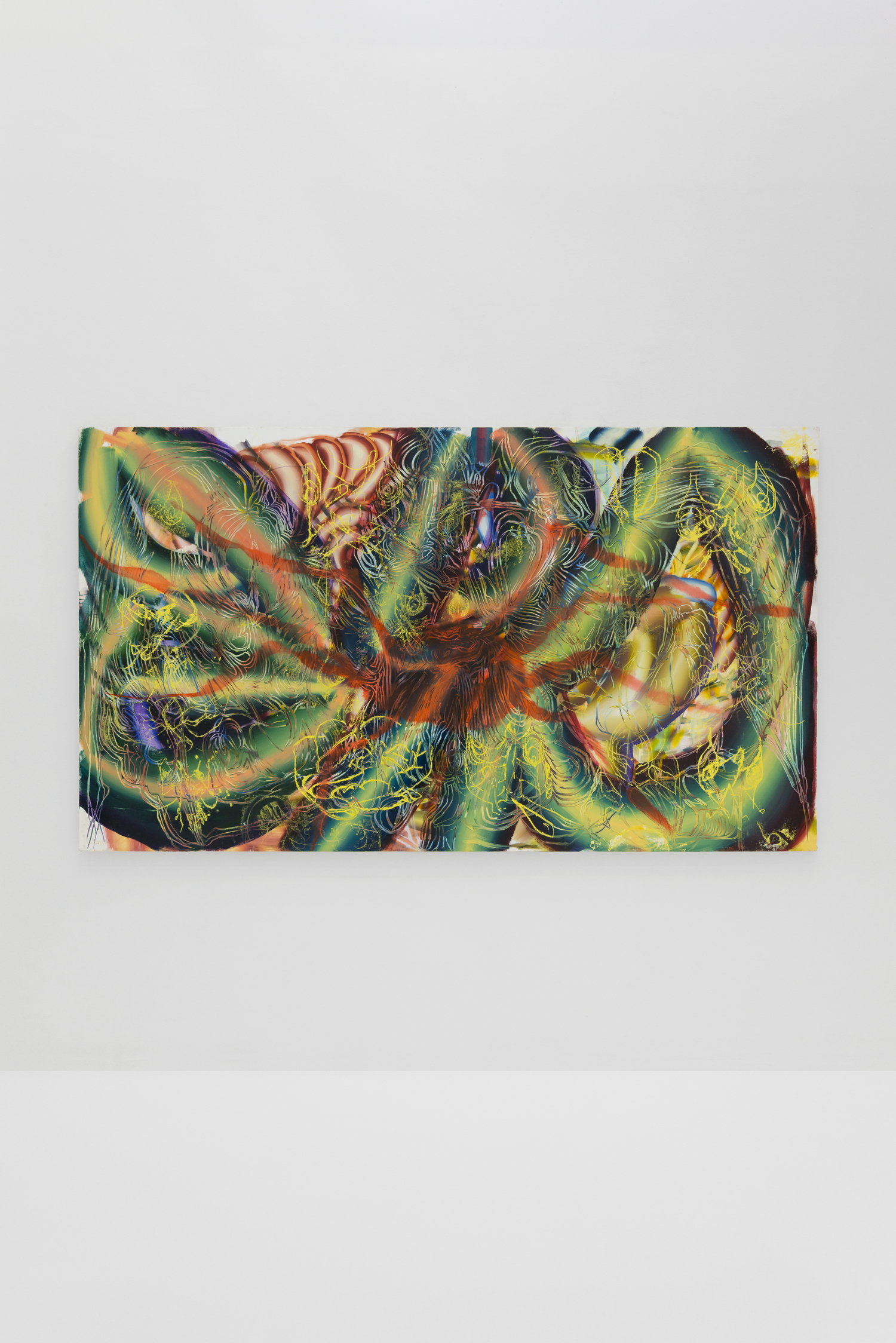 Lauren Quin, Eight, Oil on canvas 53 x 93 in, 2021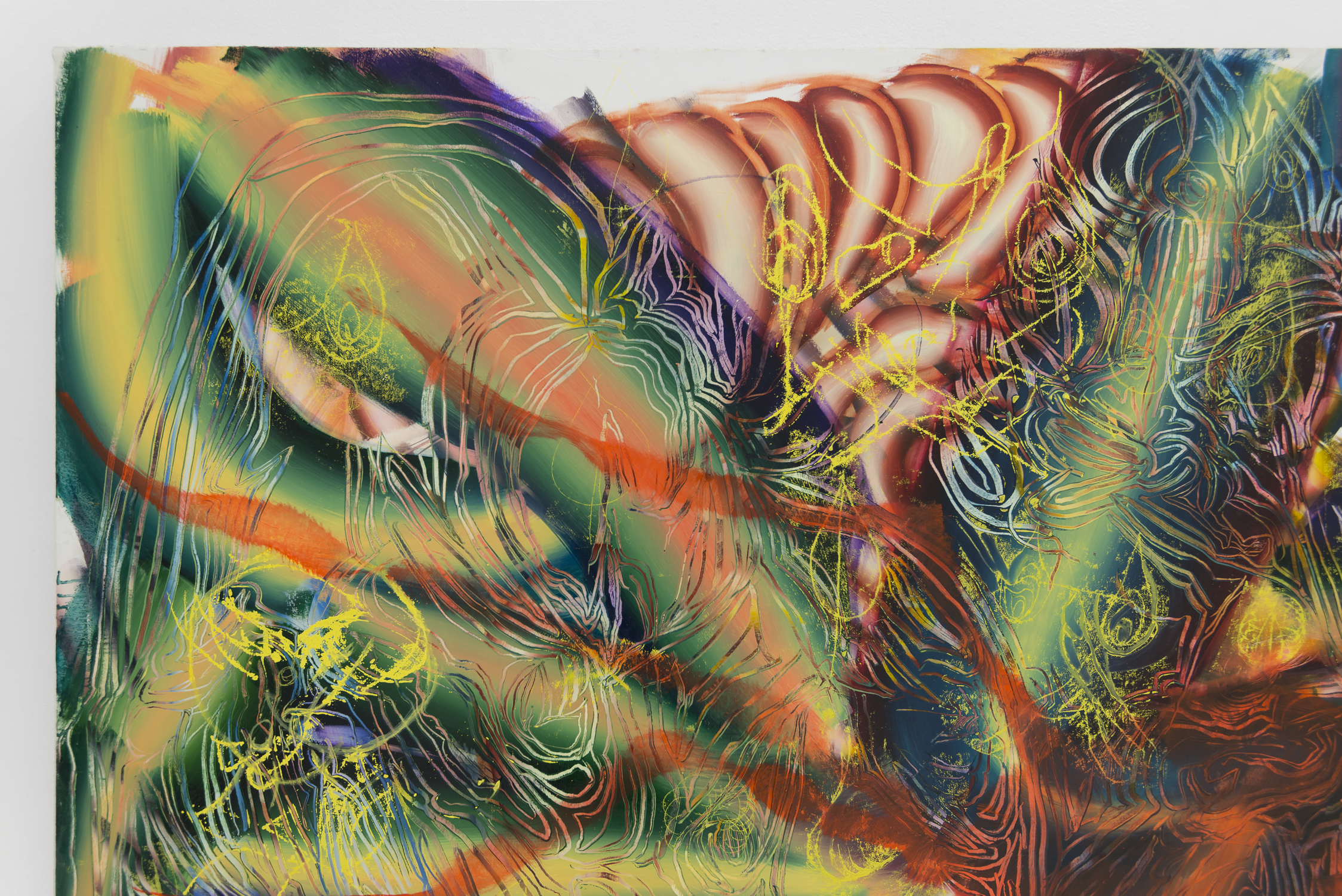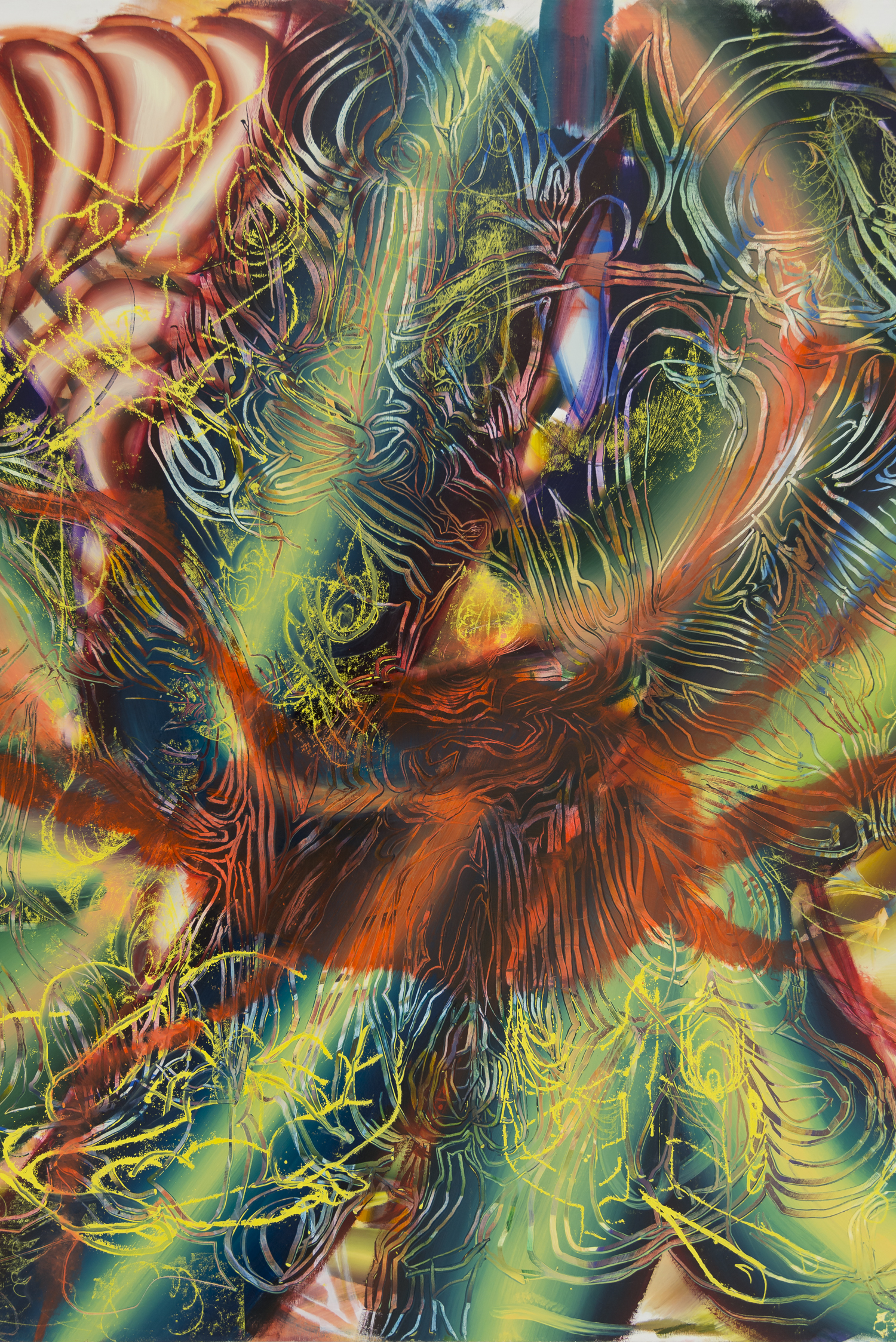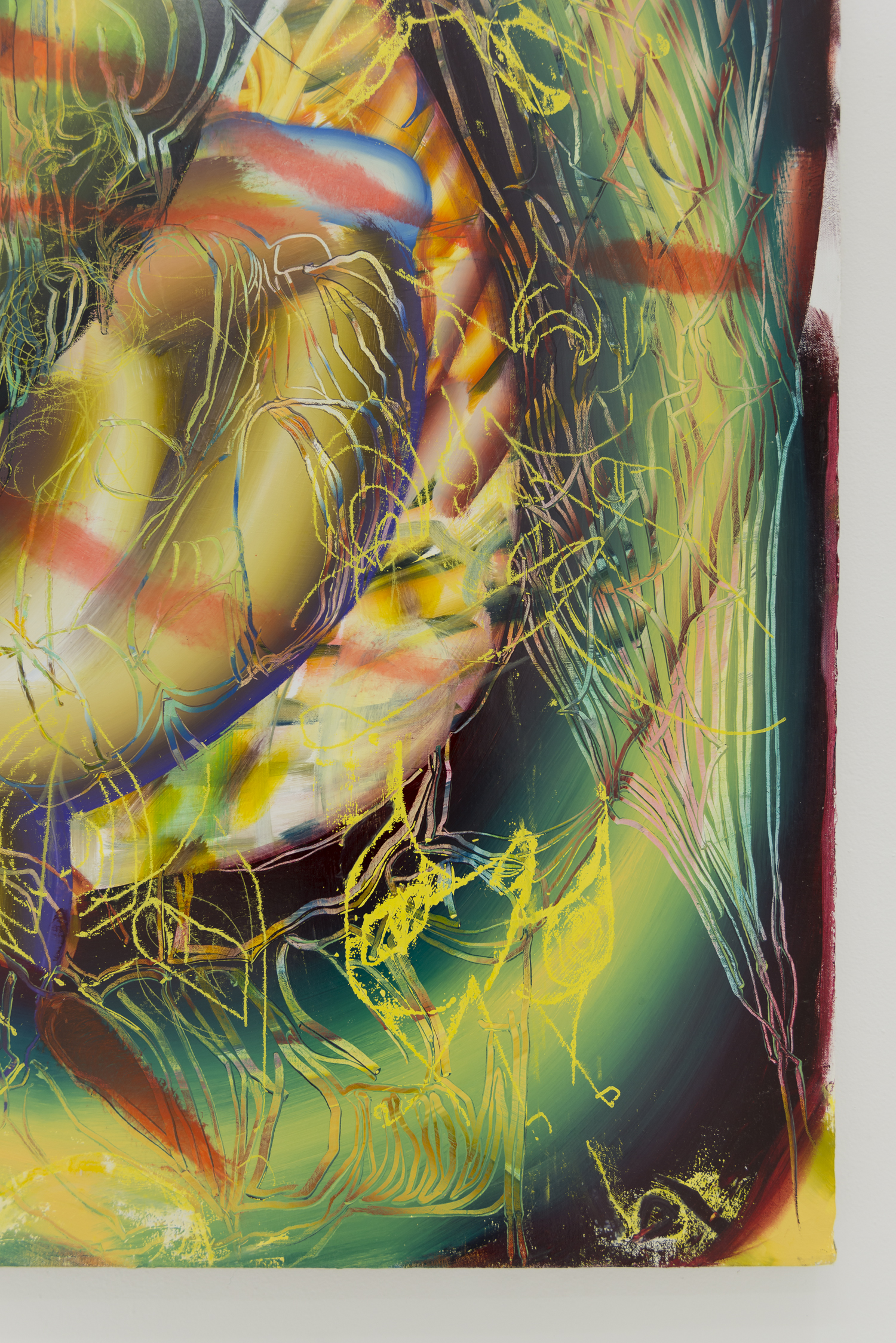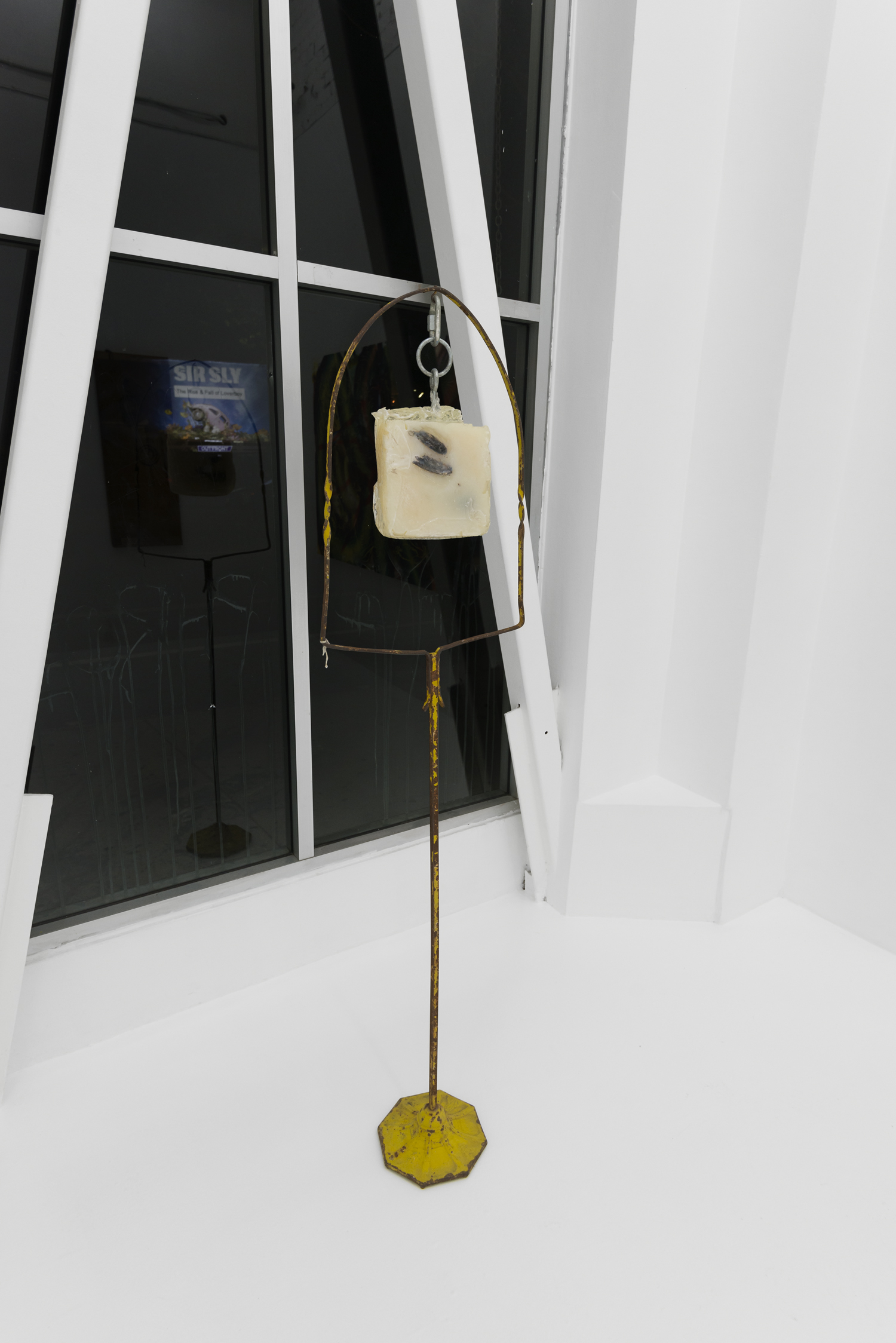 Bri Williams, Chelsea, Taxidermy sparrow, bird cage stand, soap, resin 67 x 16.5 x 9 in, 2021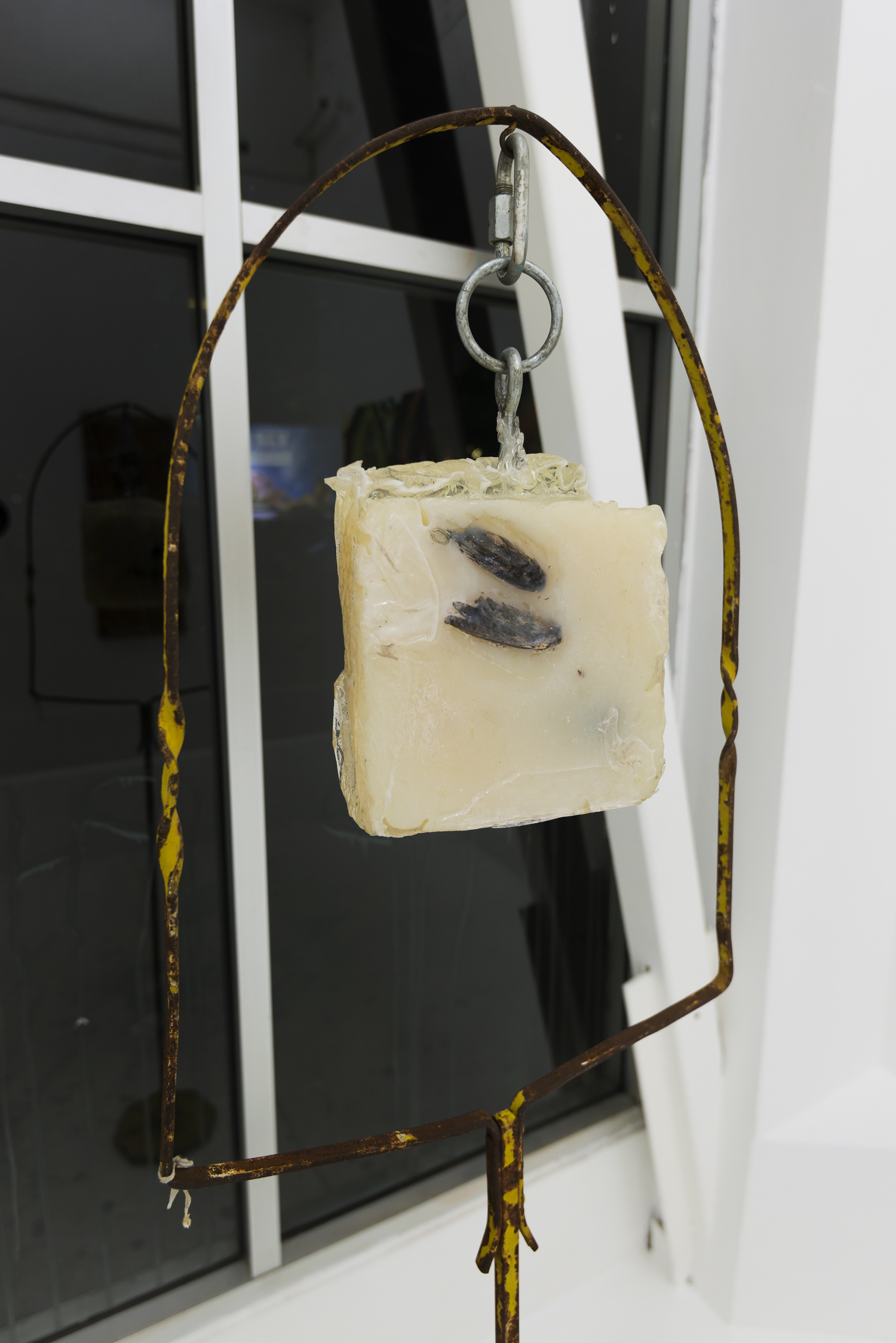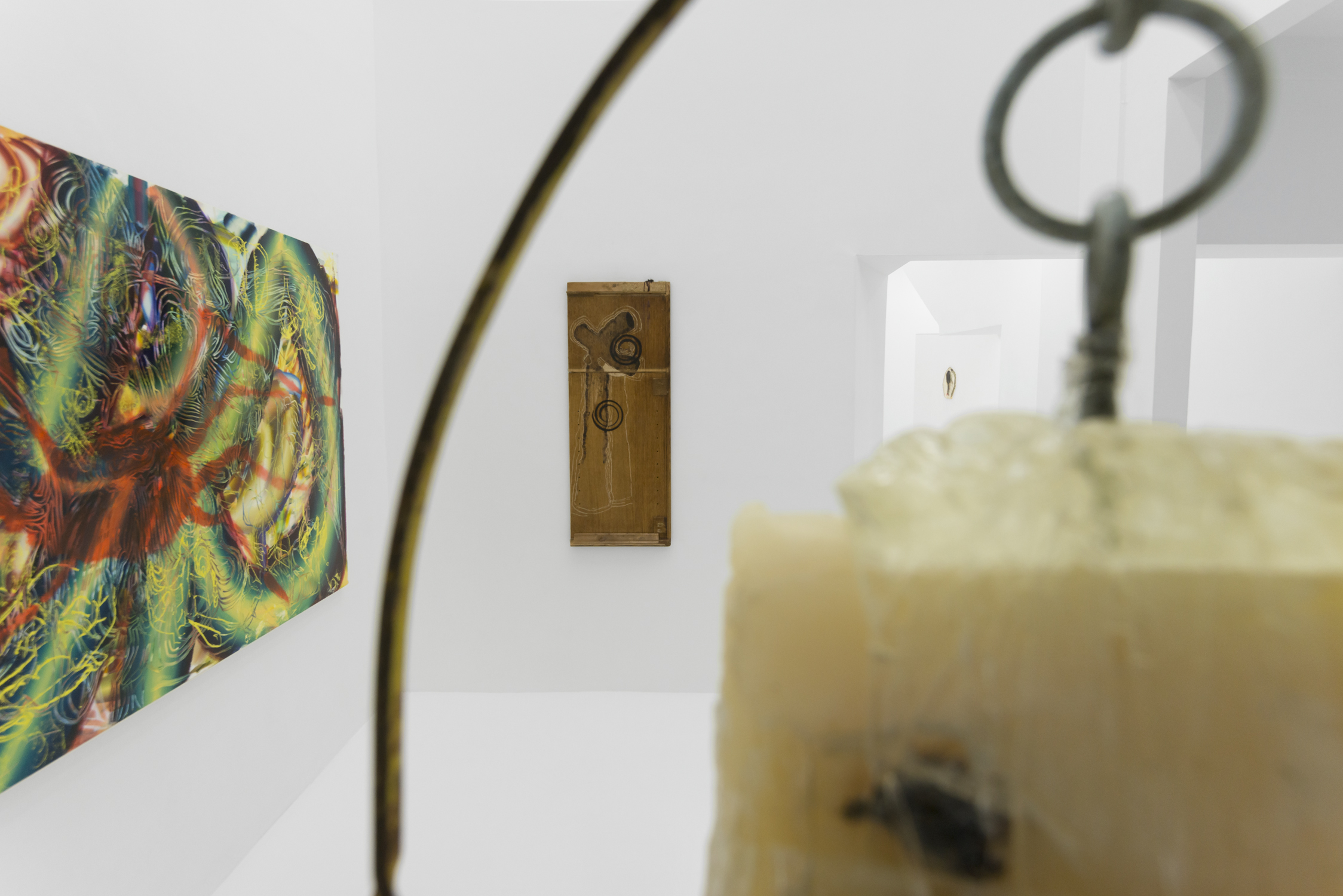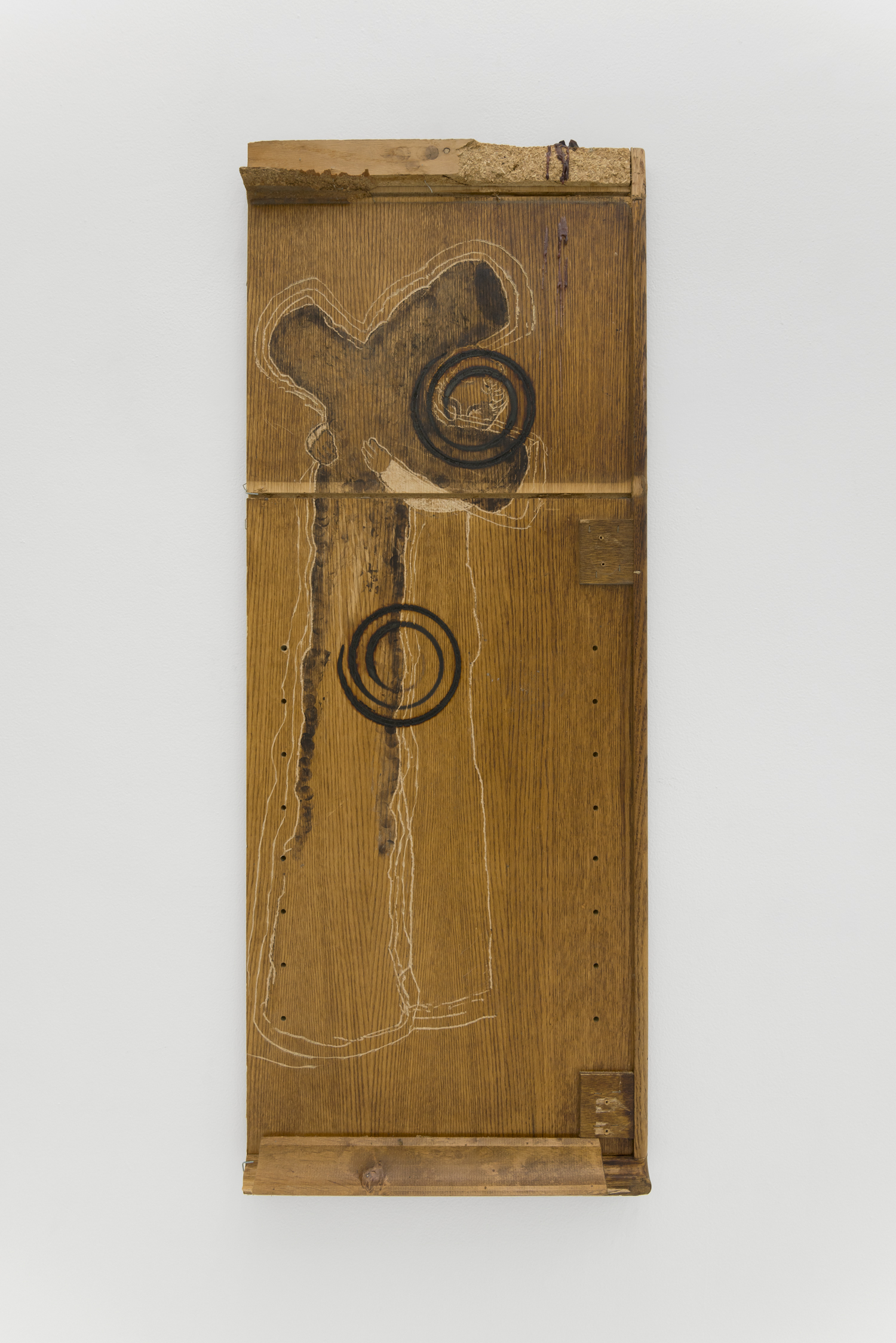 Bri Williams, Rip It Up, Wood, candle 49 x 19 x 2.5 in, 2021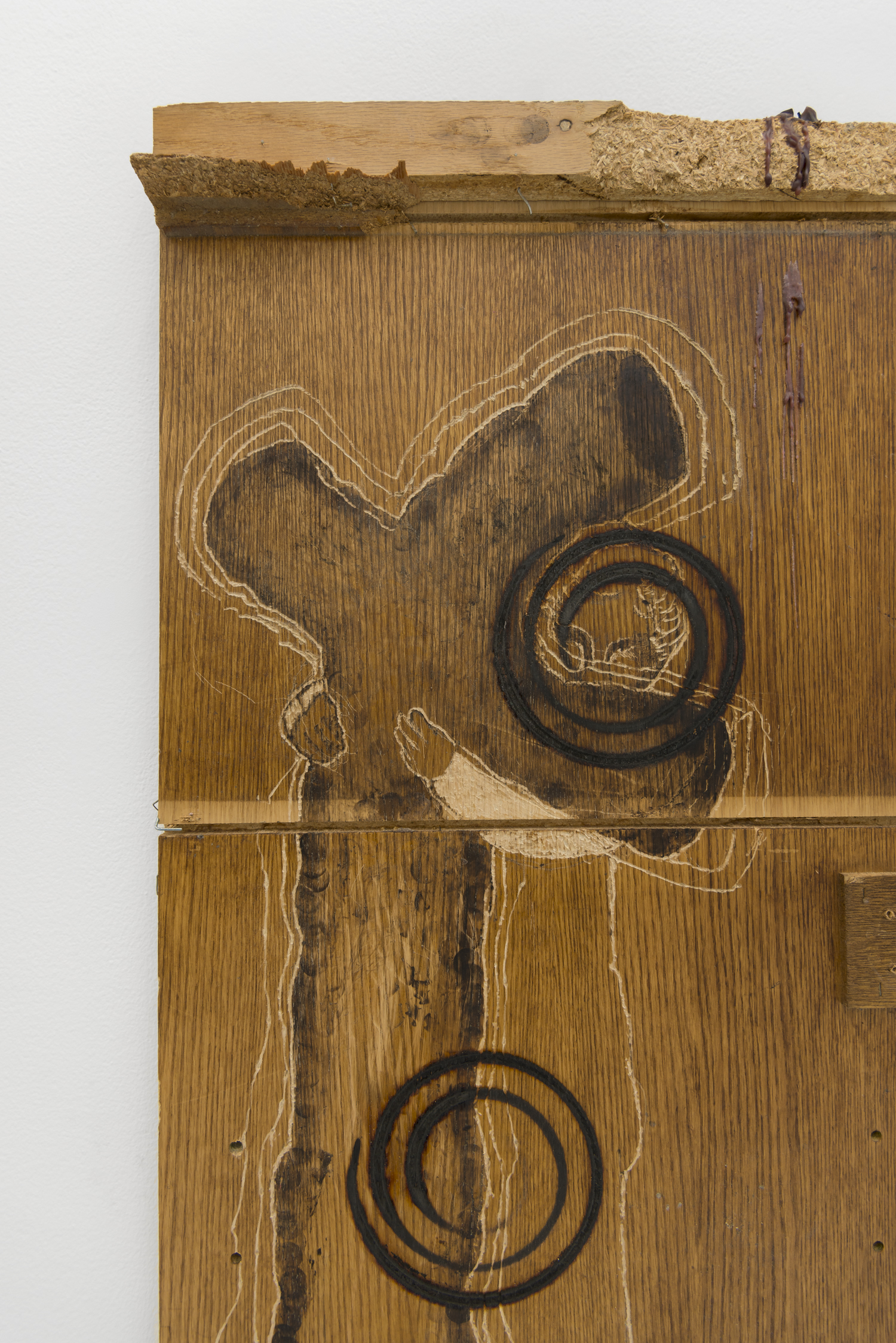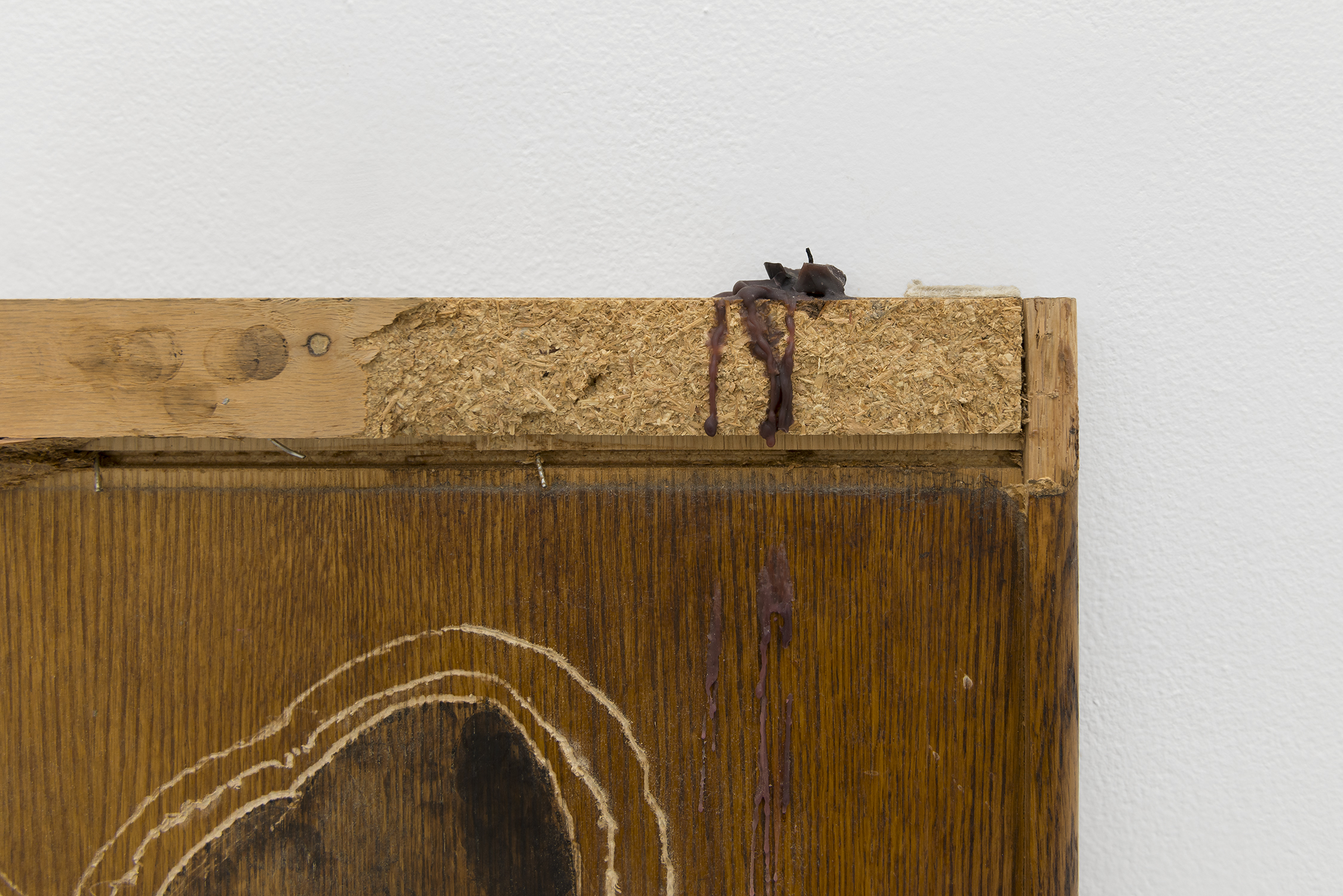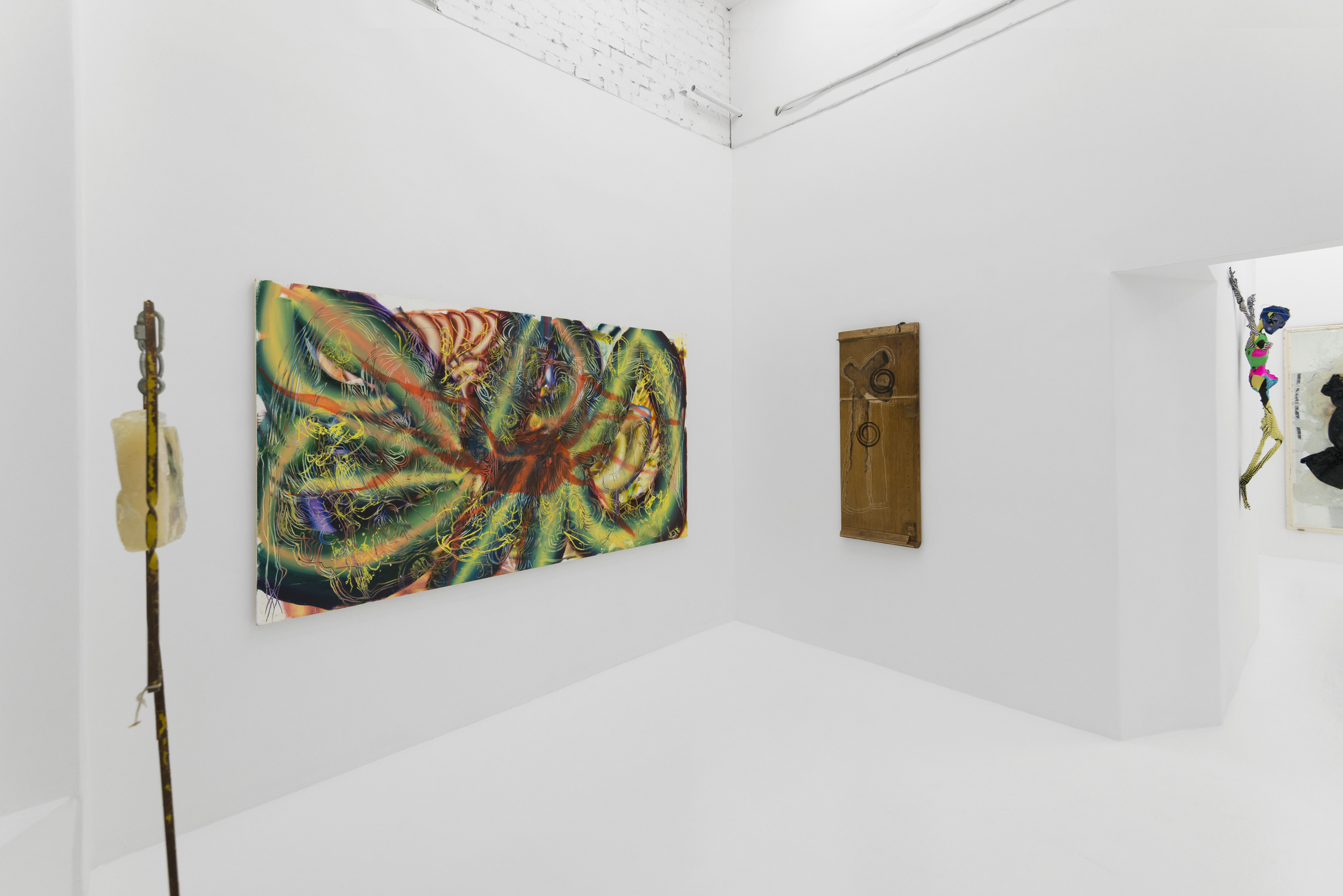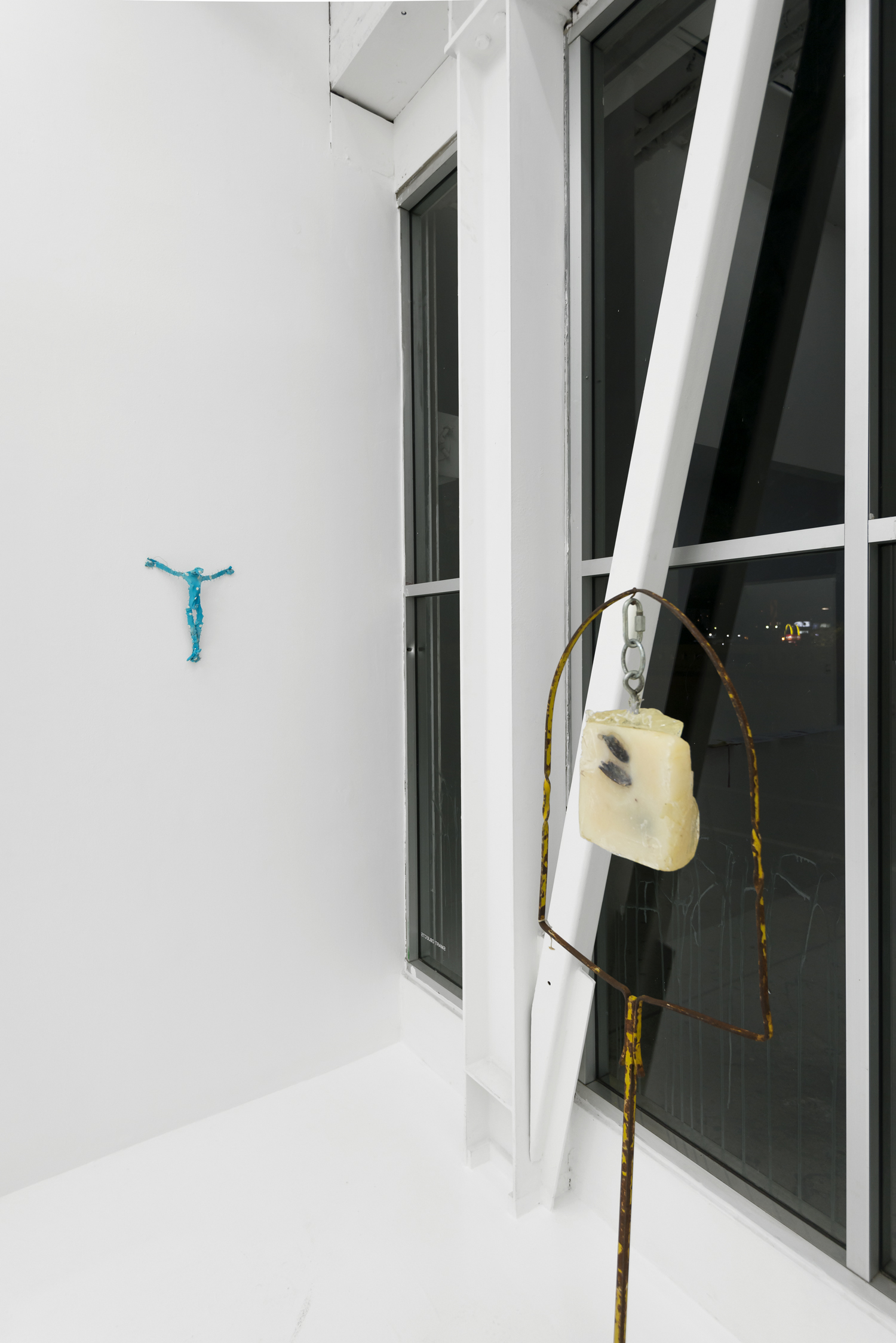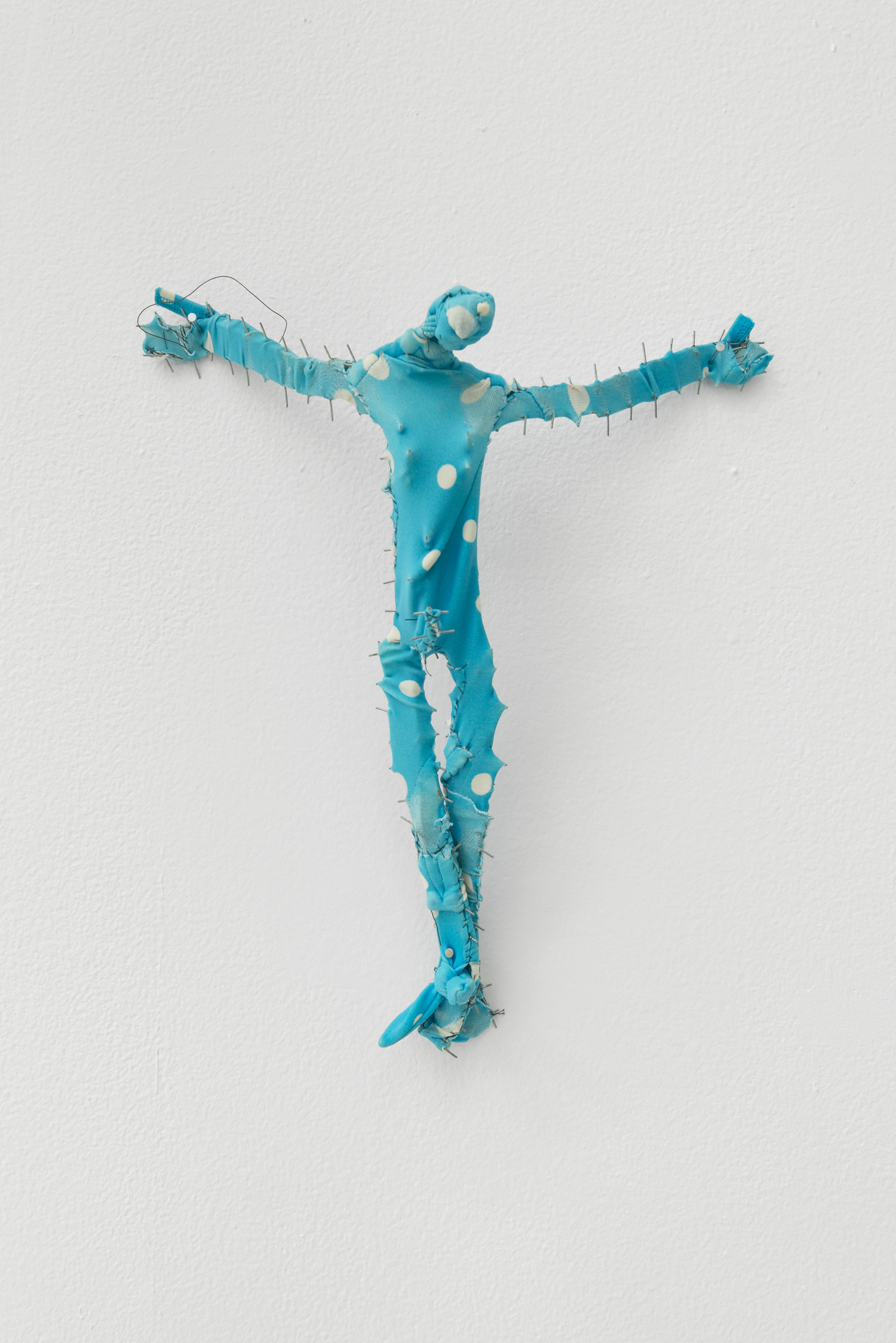 Elizabeth Englander, Bikini Crucifixion no. 5, Old bathing suits, steel, cotton thread 13 x 12 x 3 in, 2020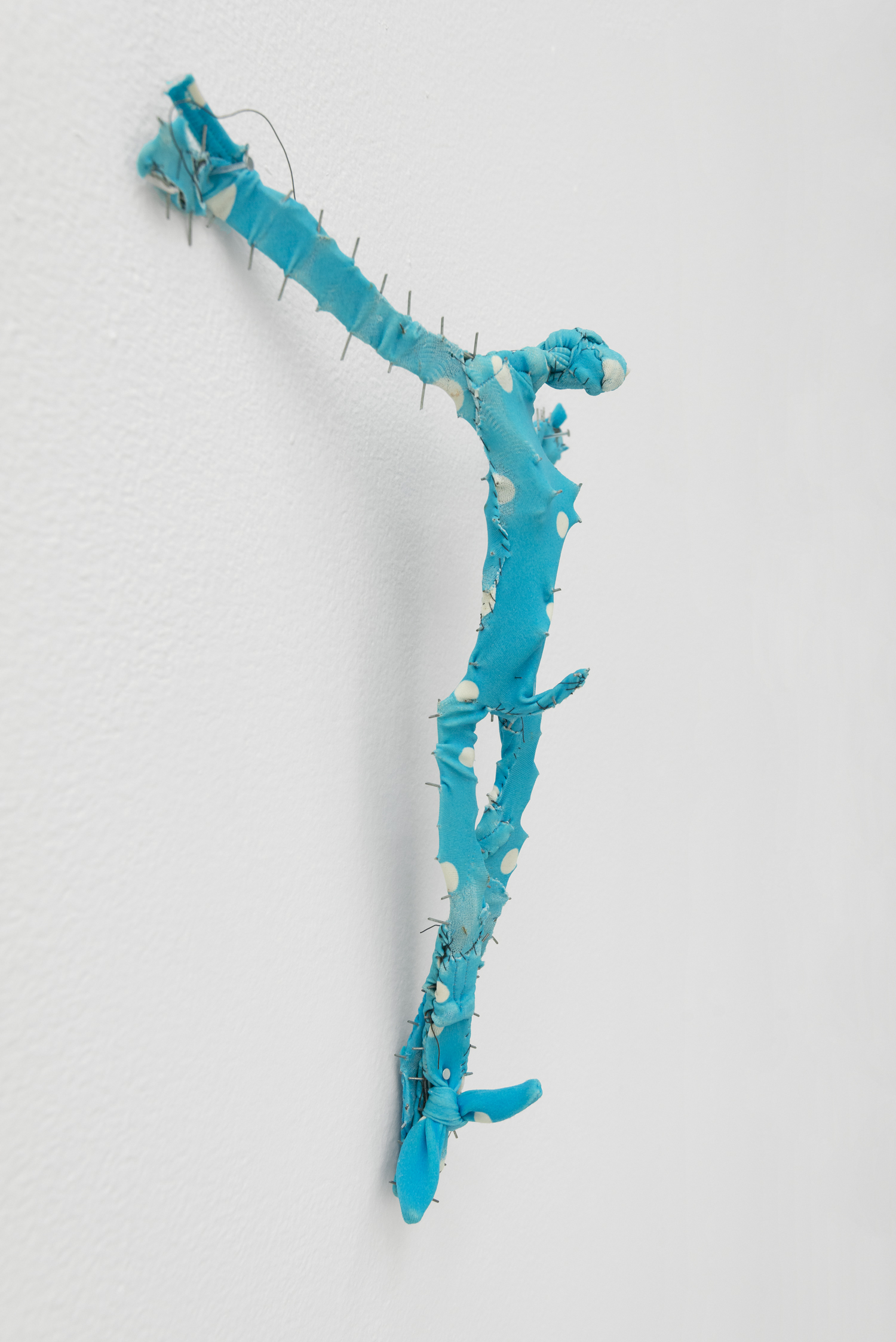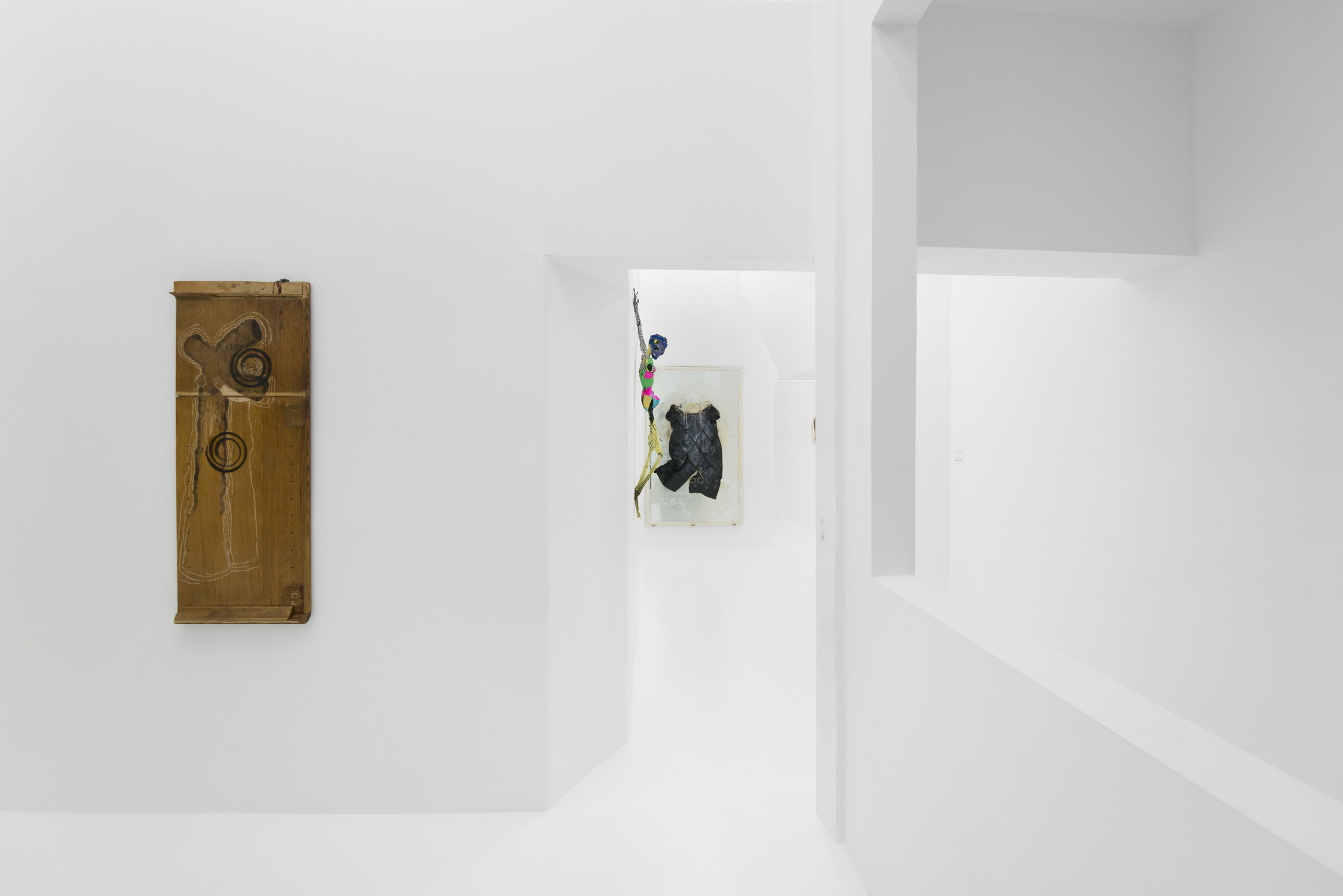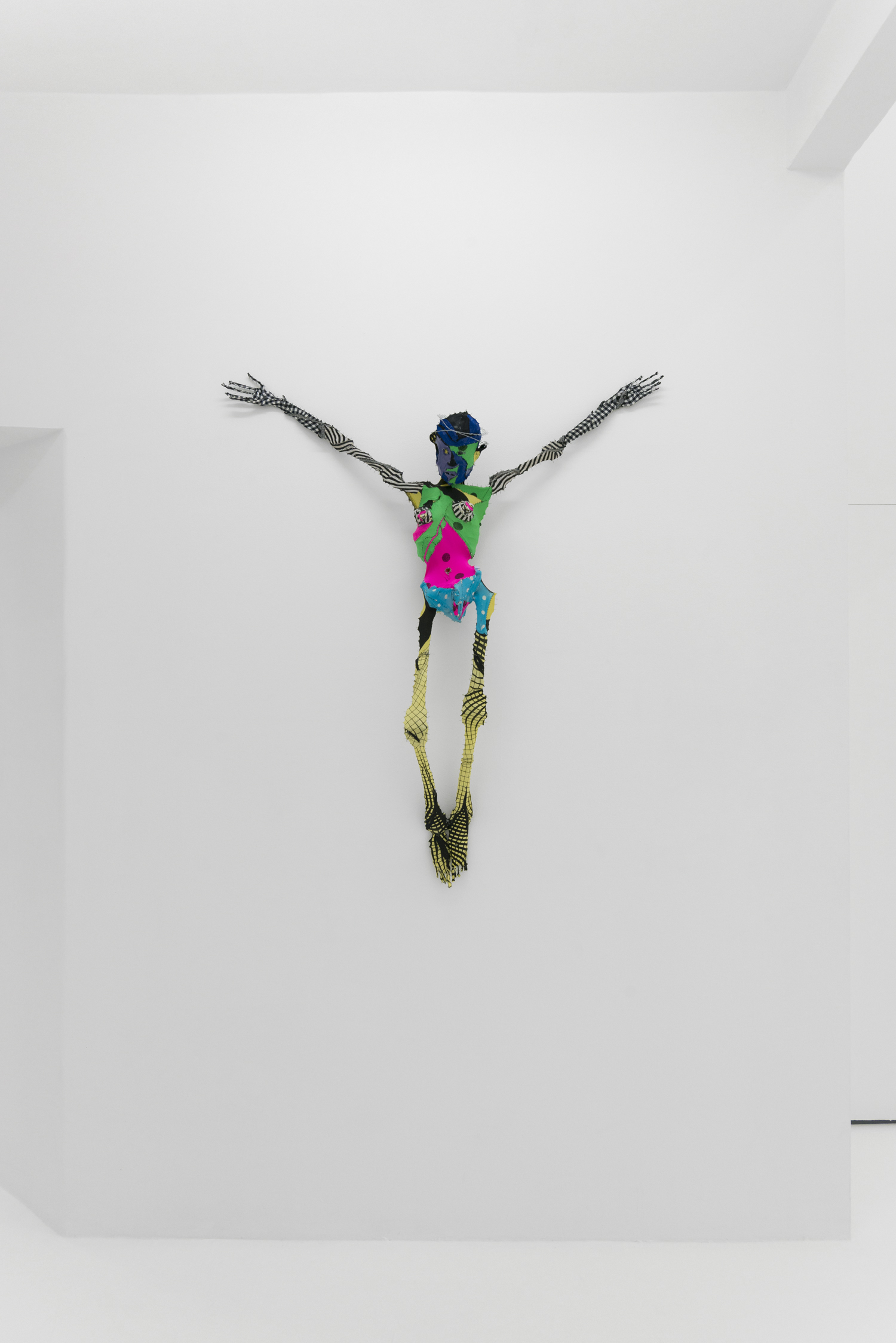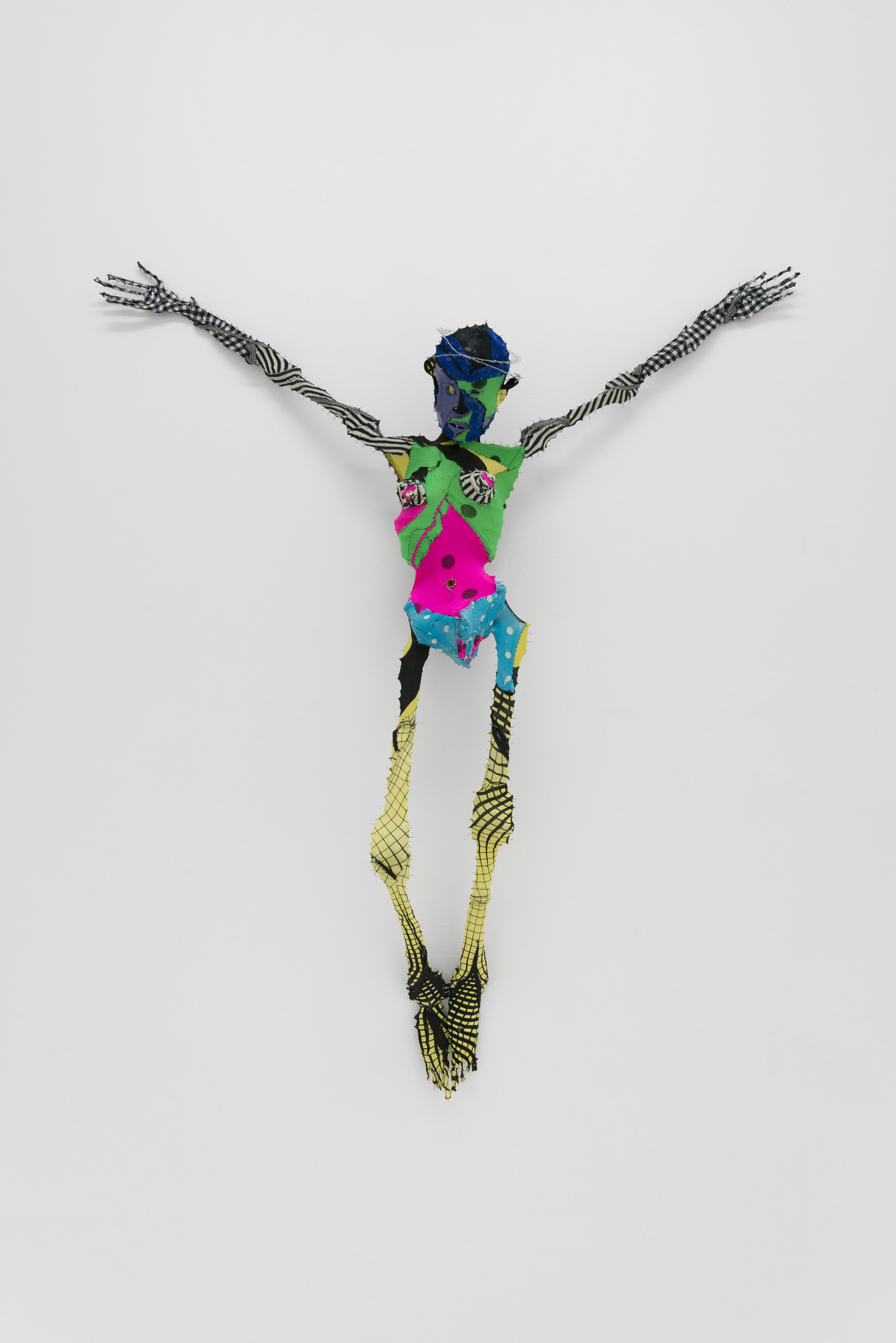 Elizabeth Englander, Bikini Crucifixion no. 16, Old bathing suits, steel, cotton thread 54 x 48 x 6 in, 2021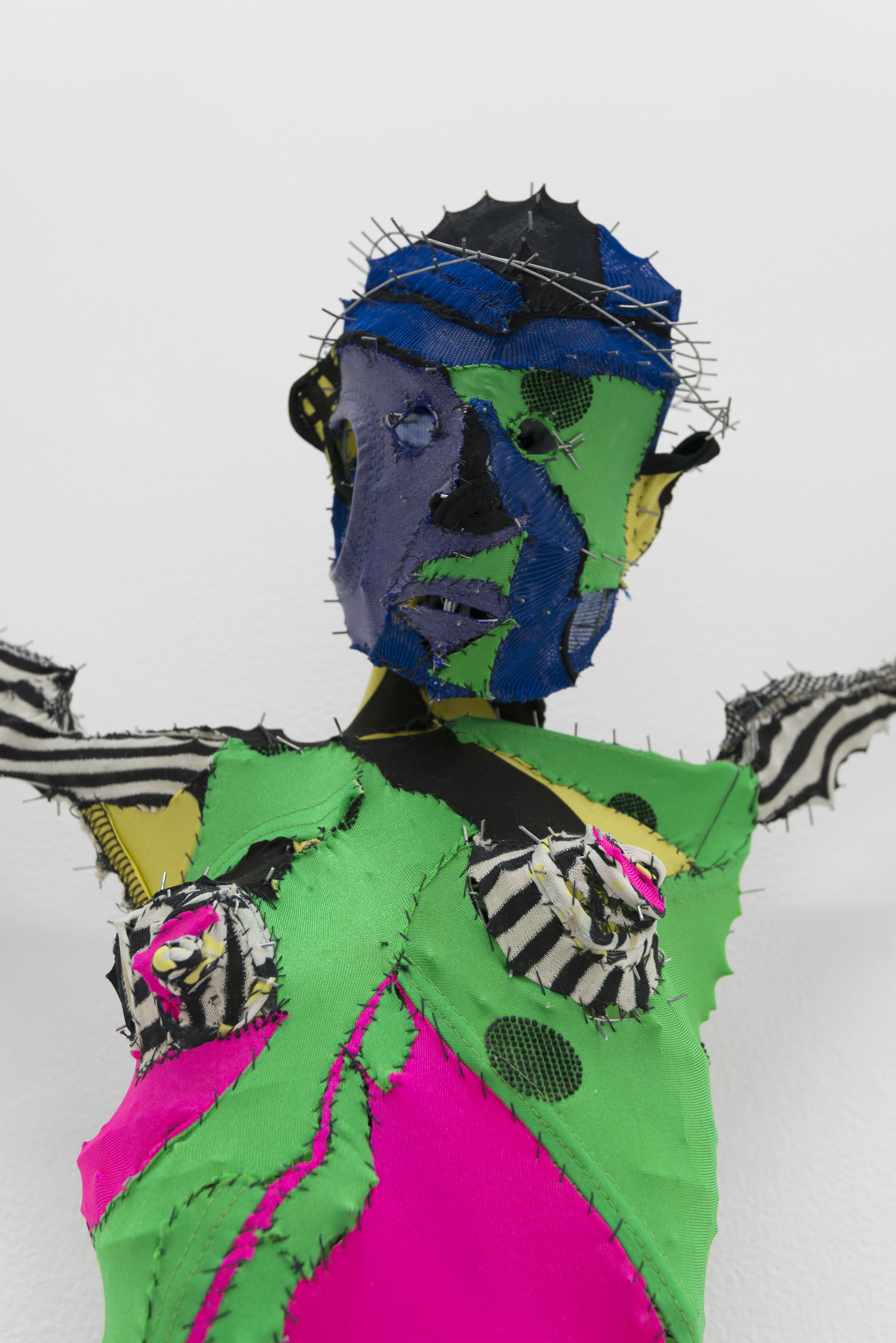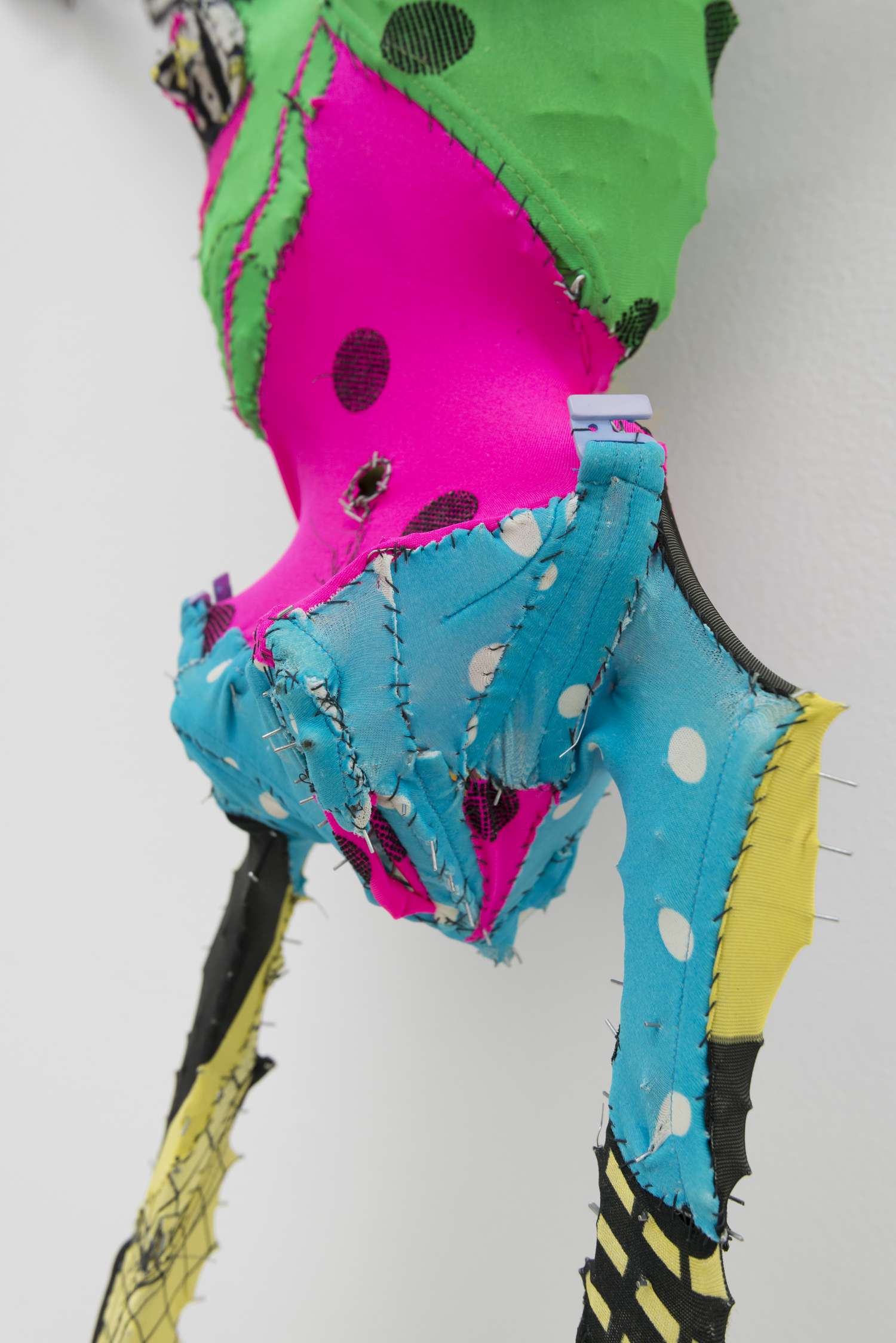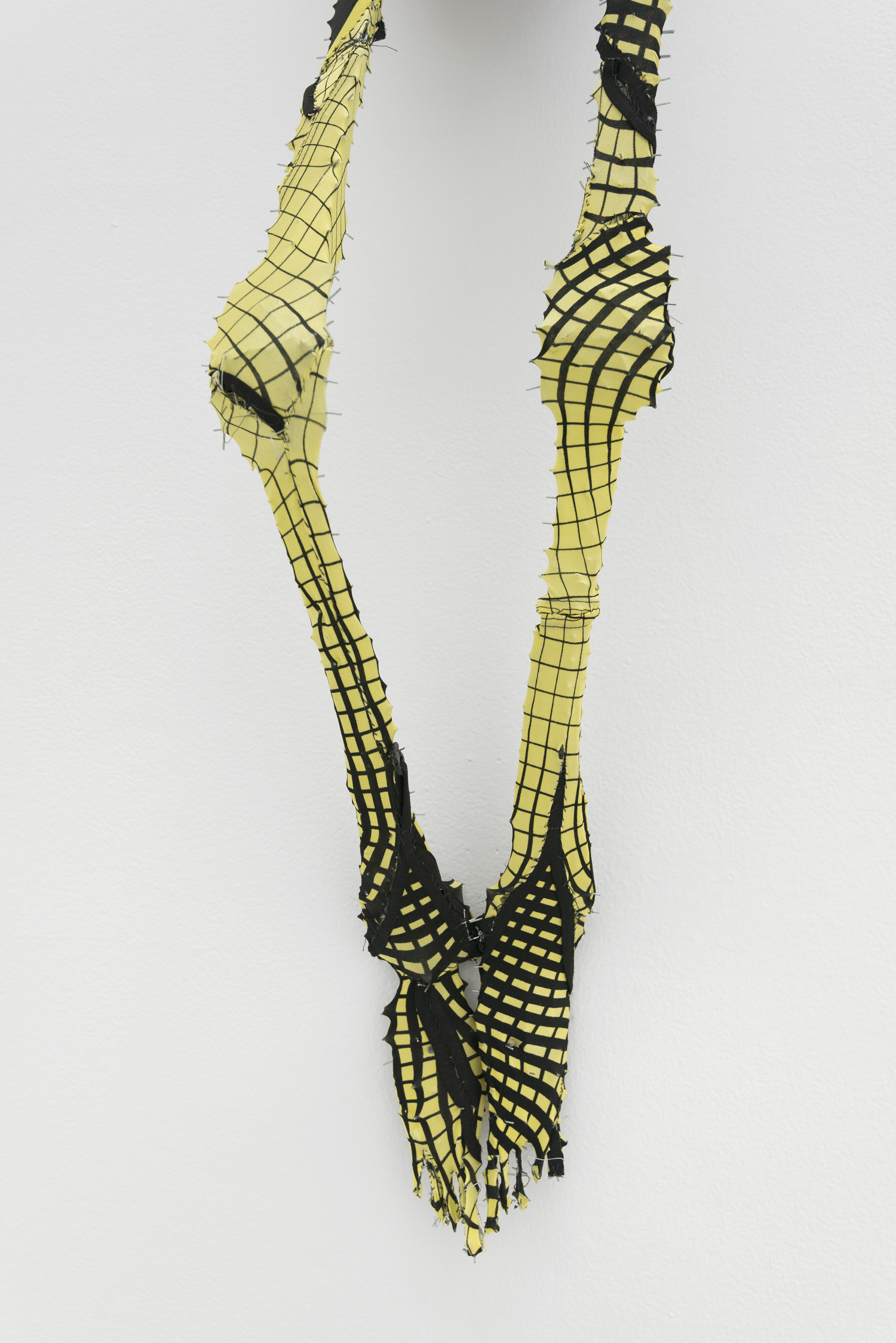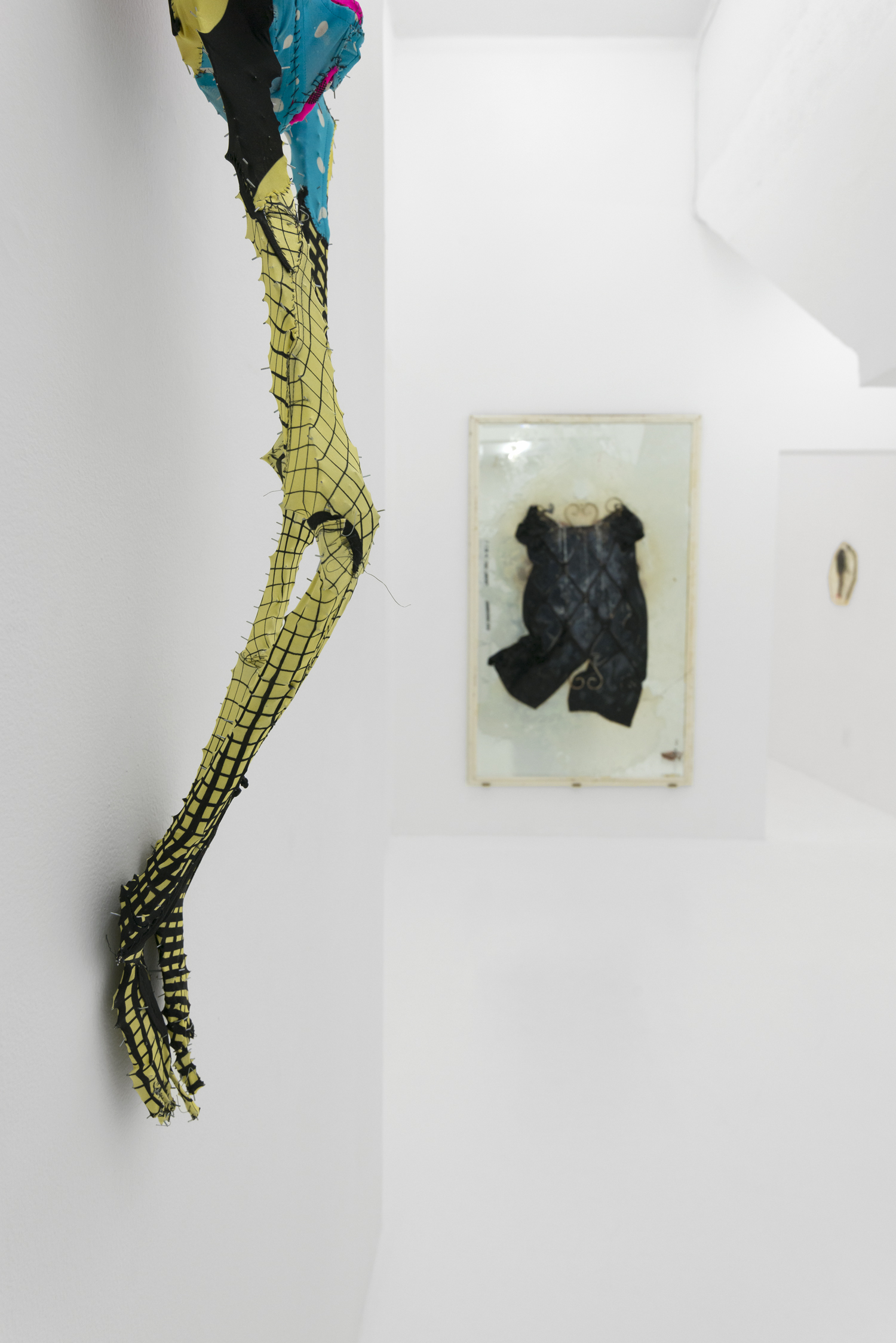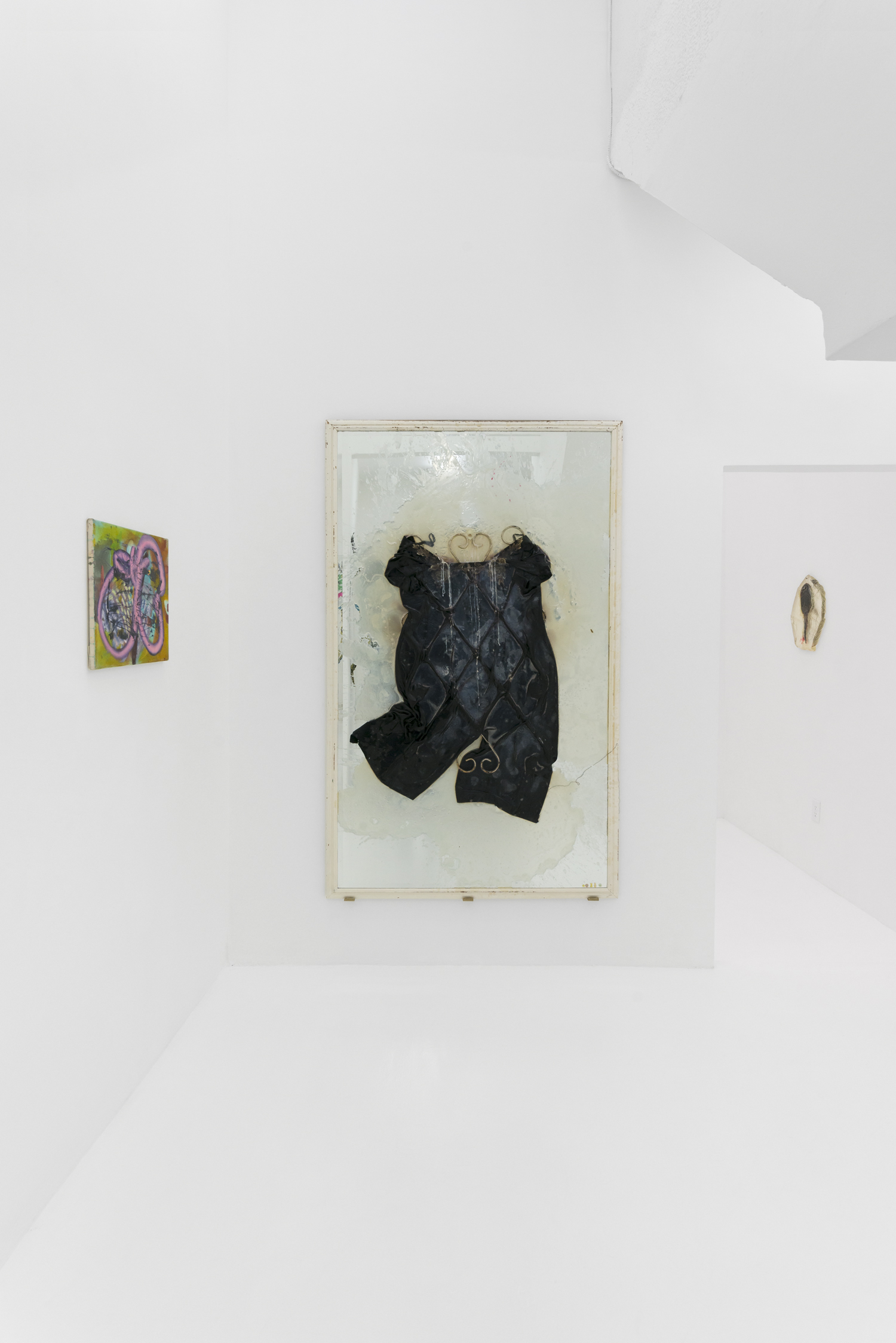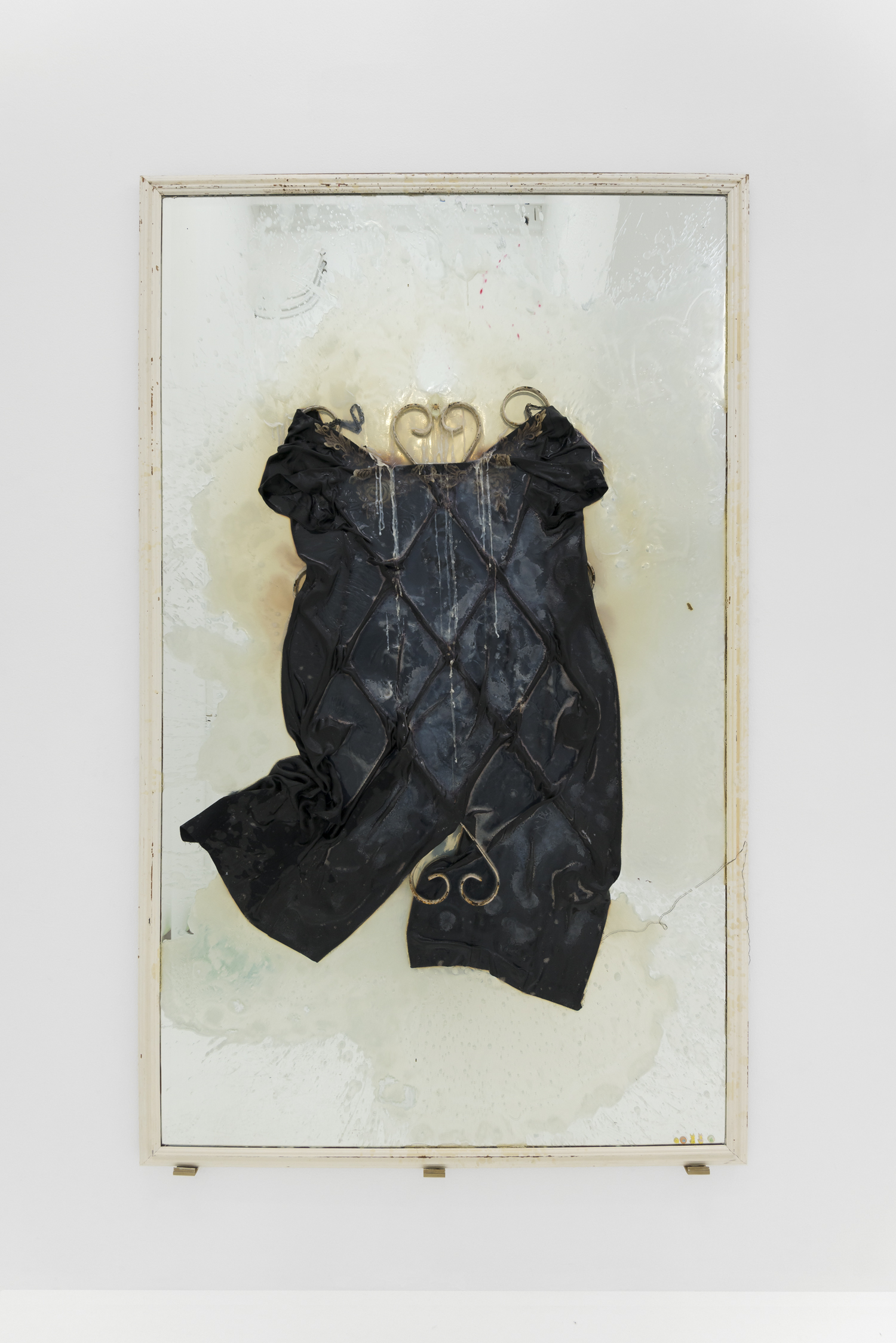 Bri Williams, Slow Drag, Dress, closet door mirror, soap, keychain 79 x 49 x 3 in, 2021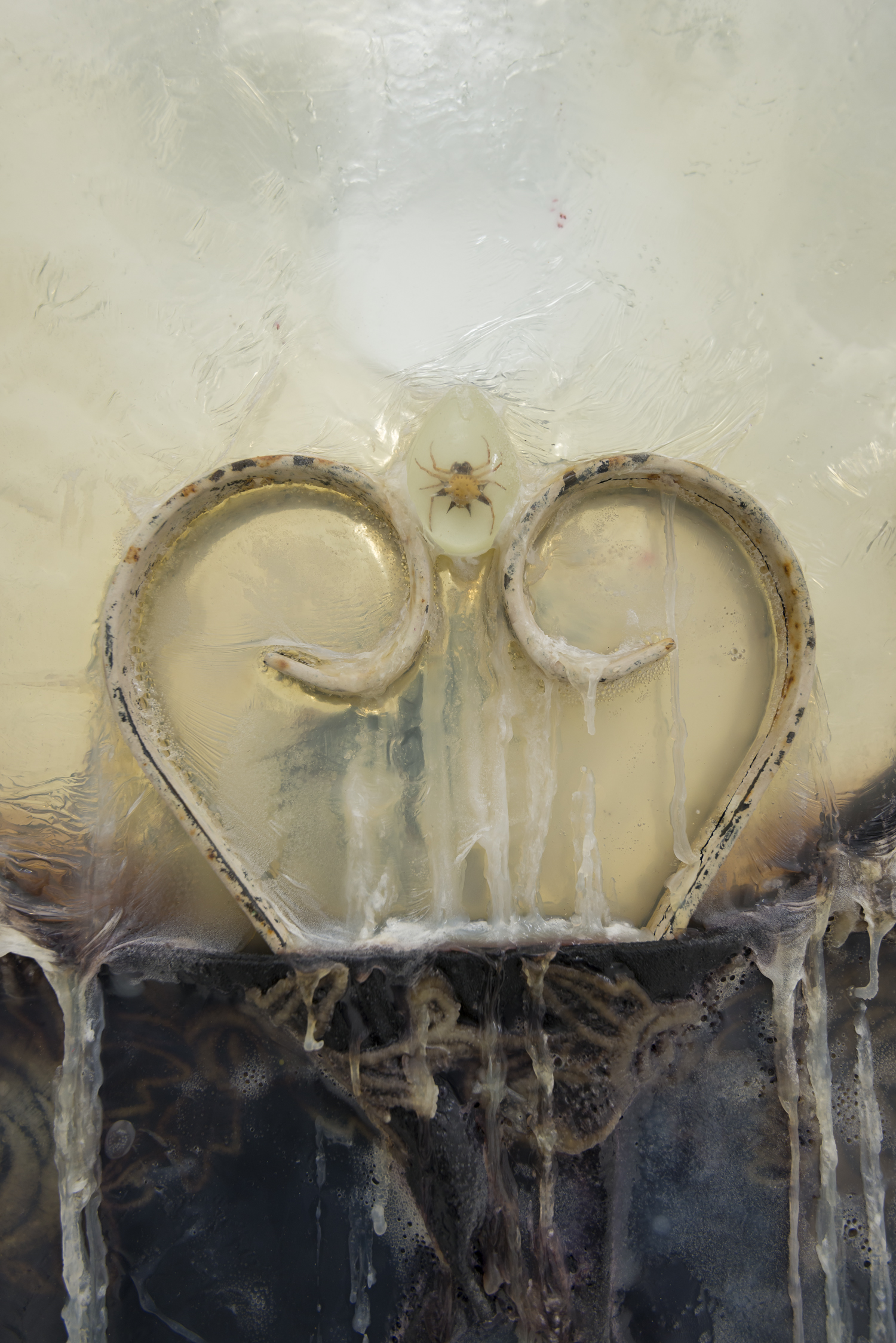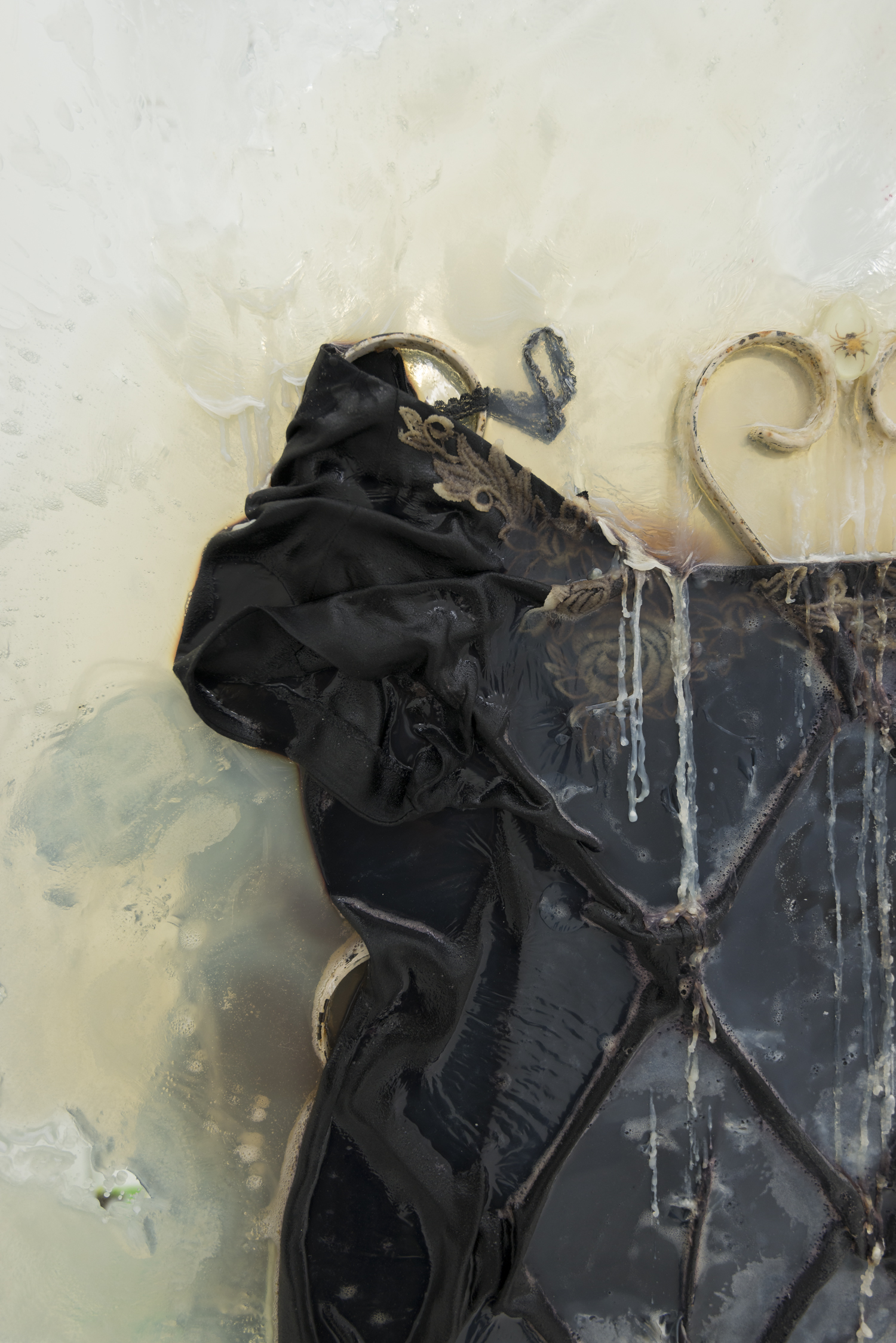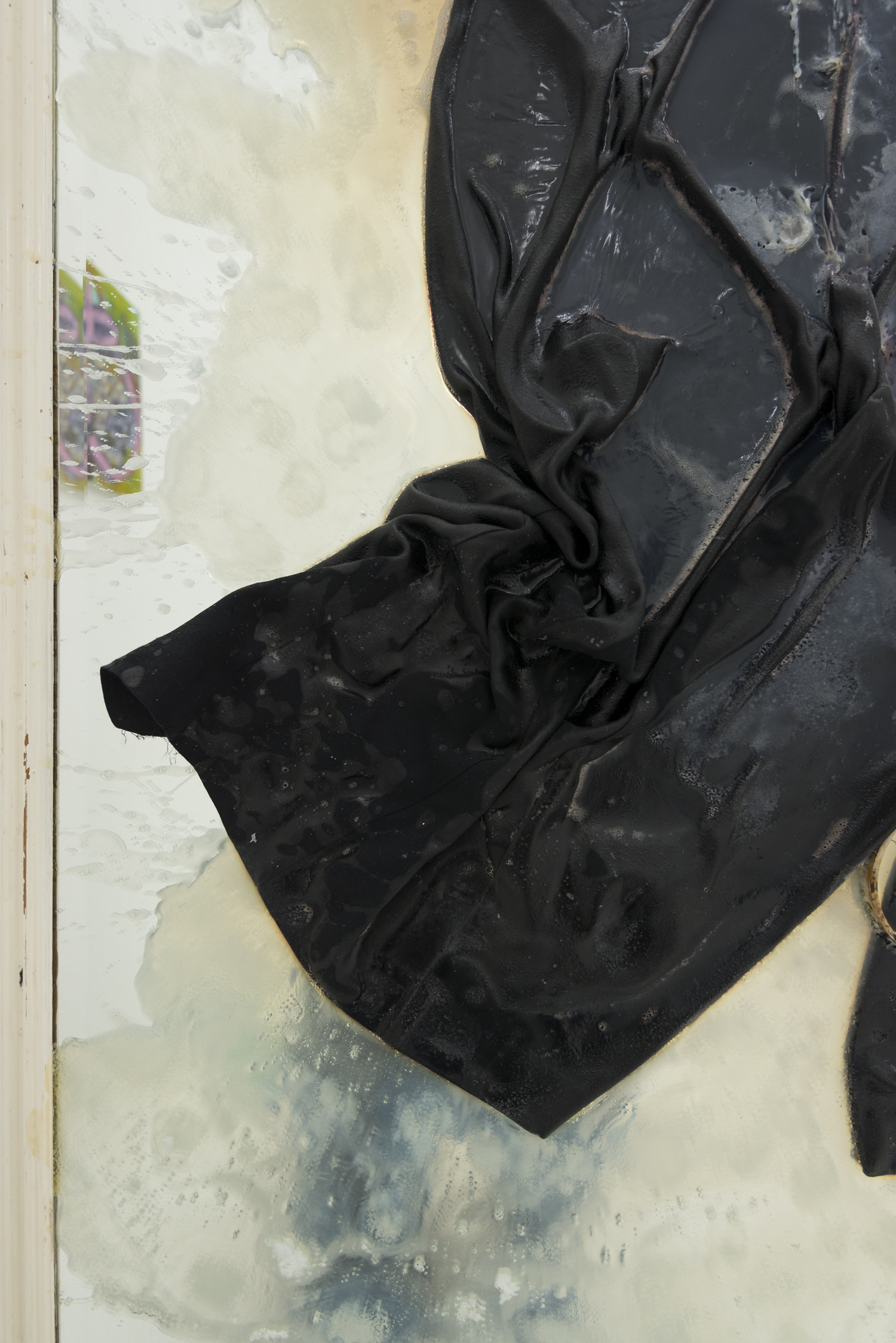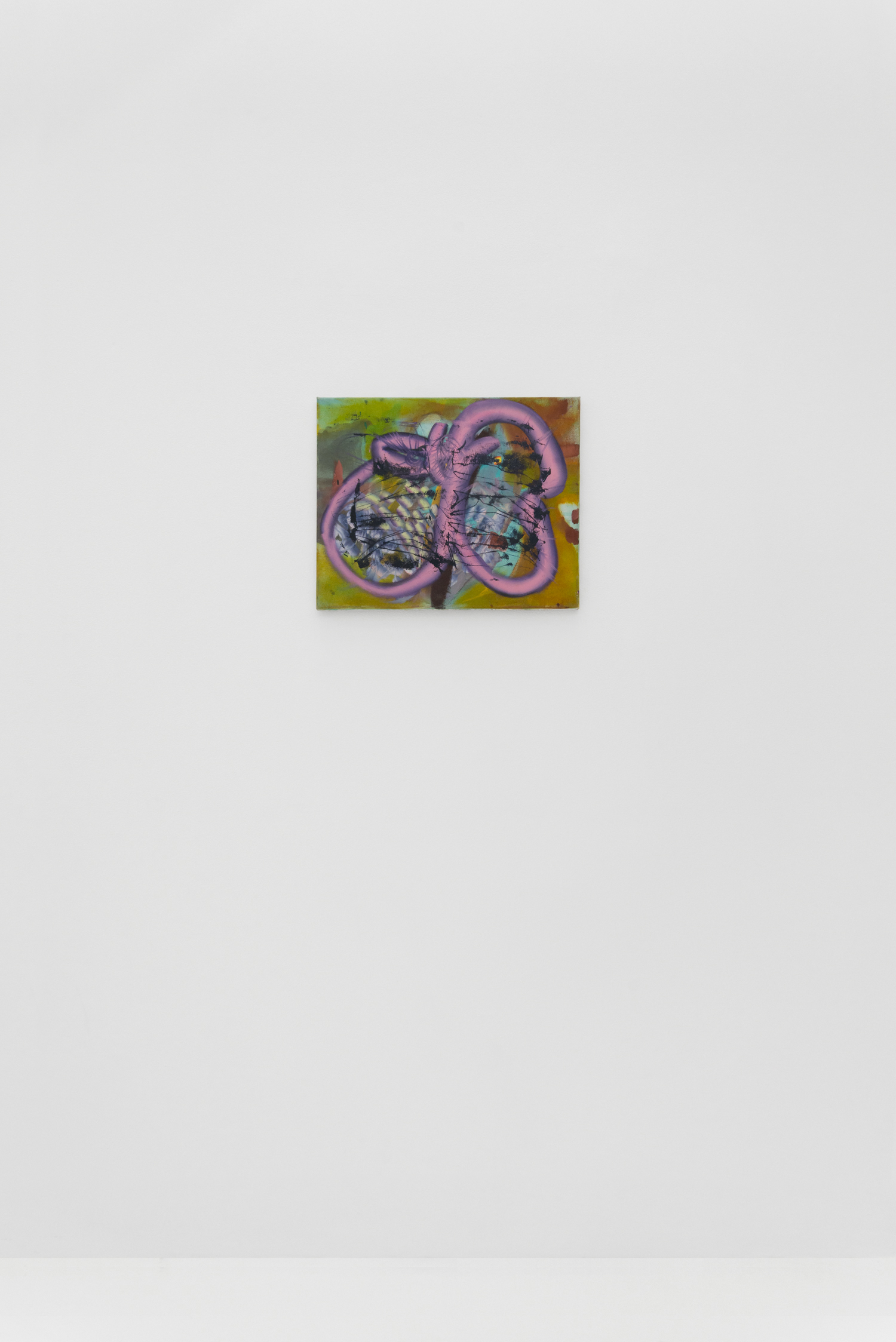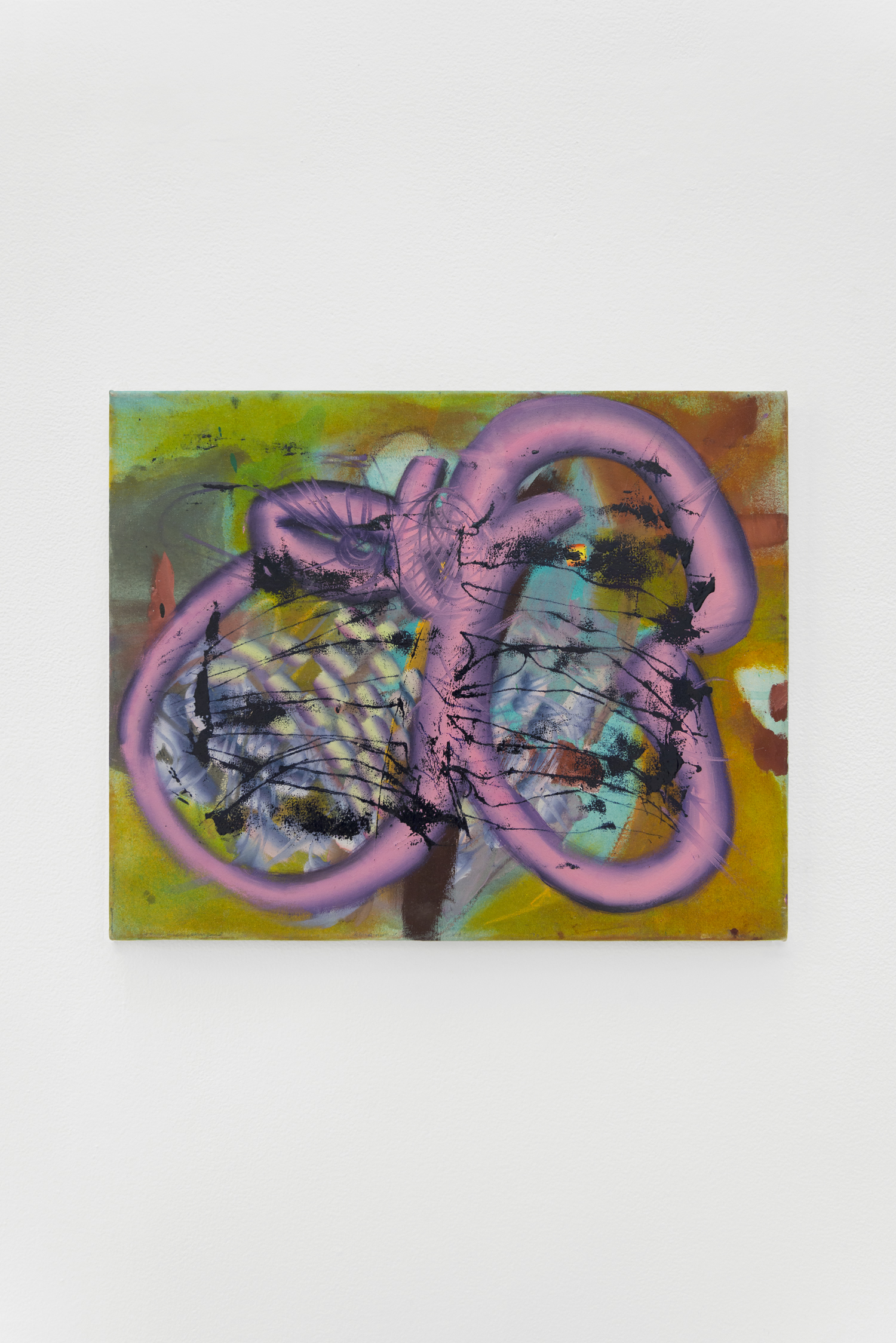 Lauren Quin, Carotid, Oil on canvas 16 x 20 in, 2021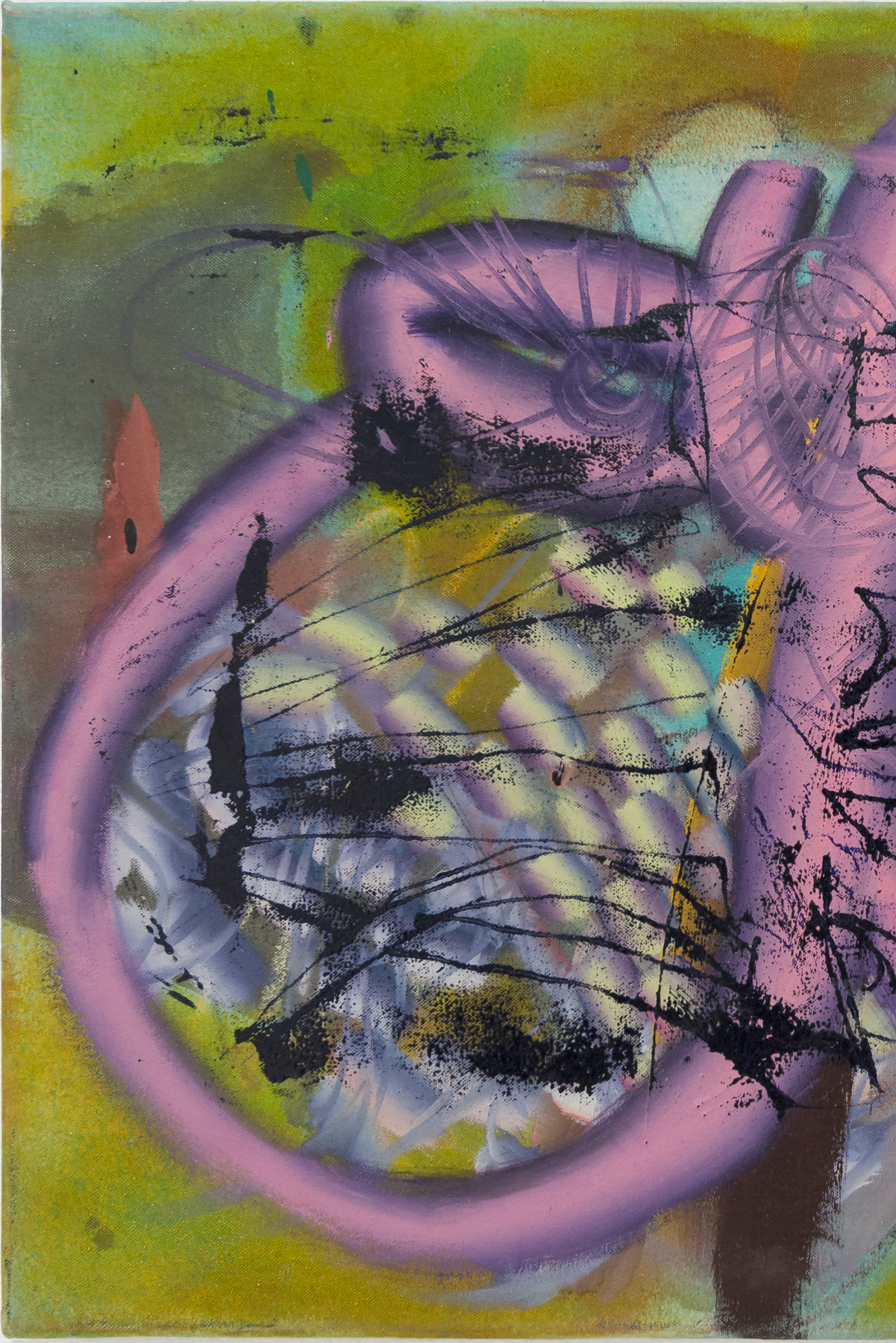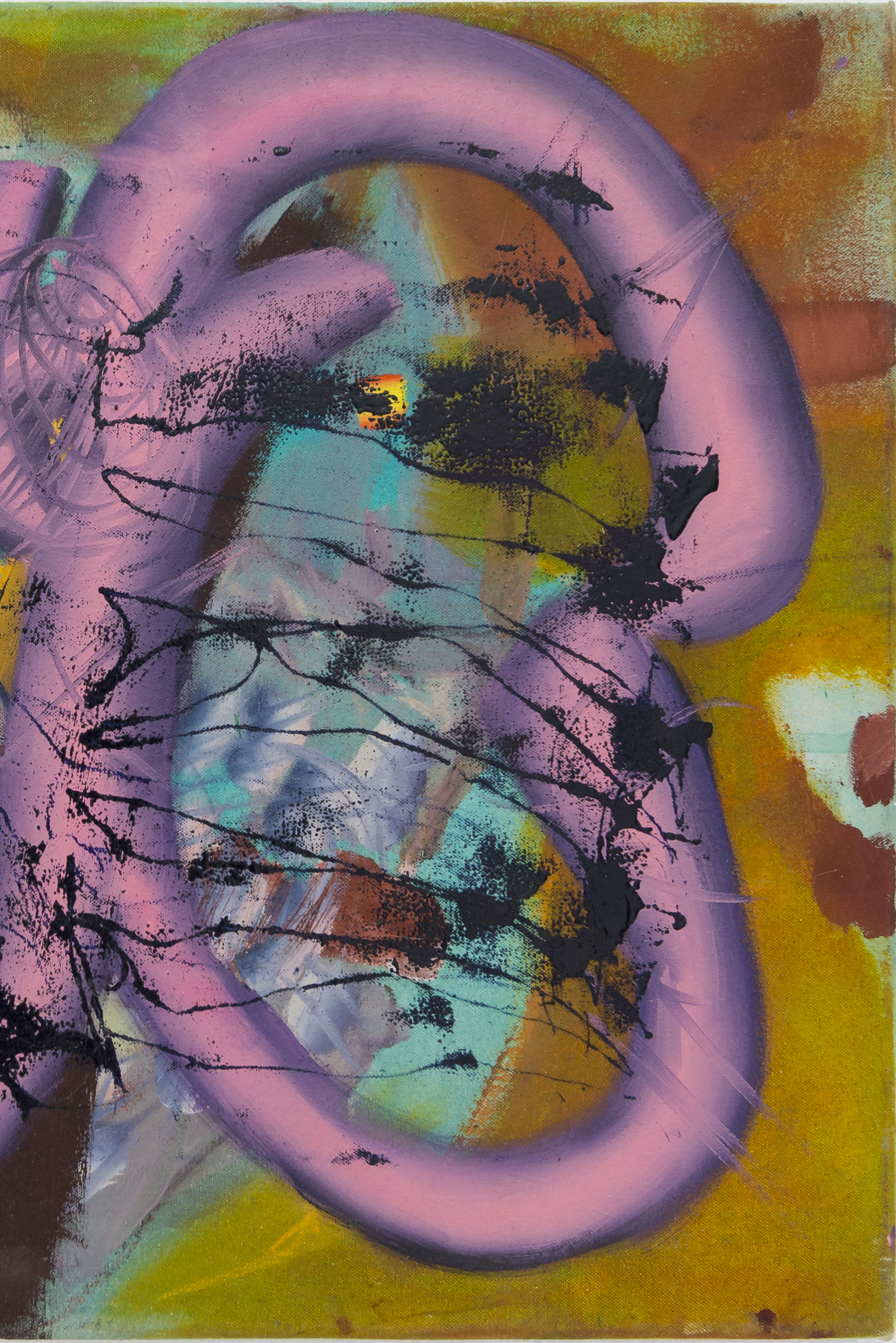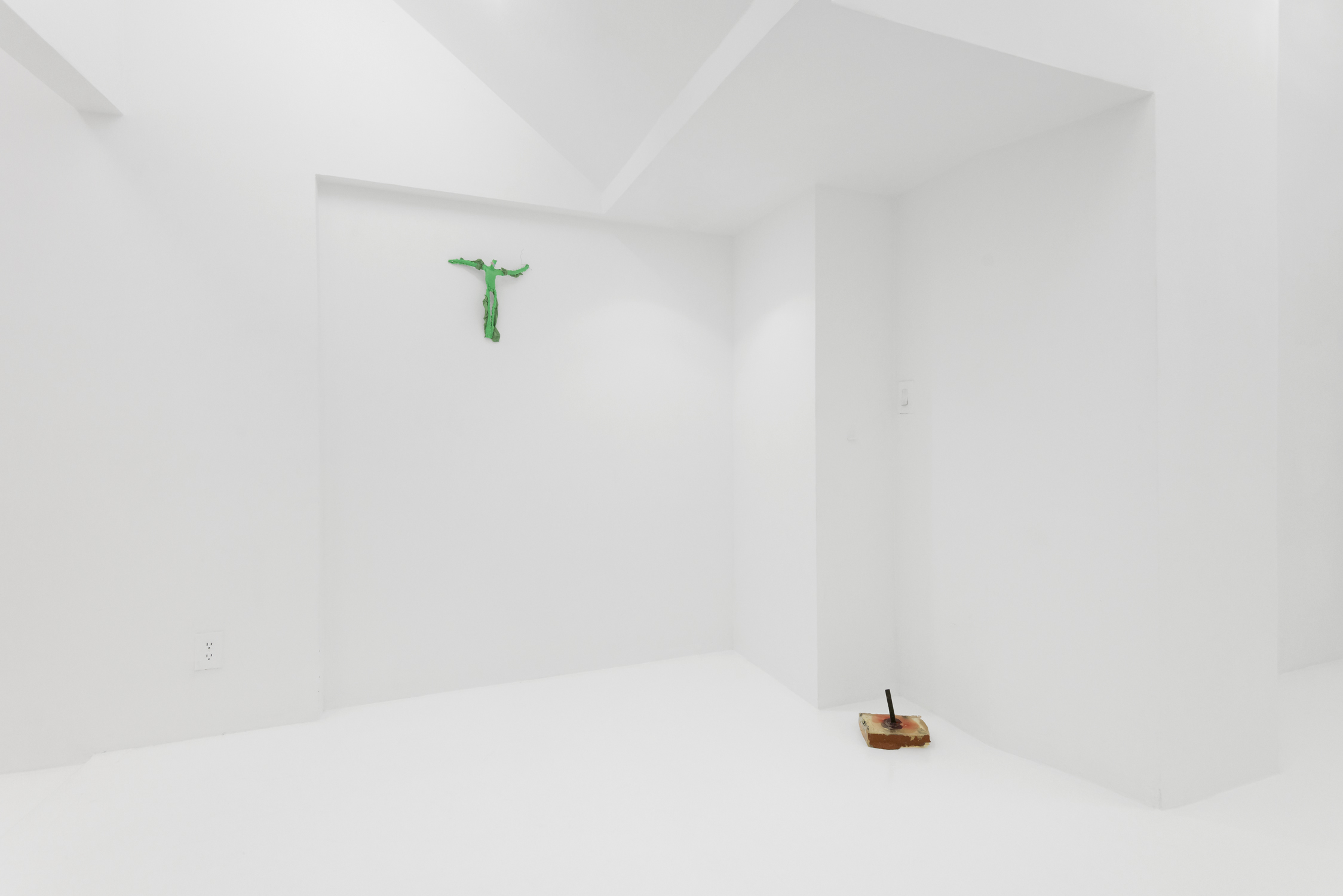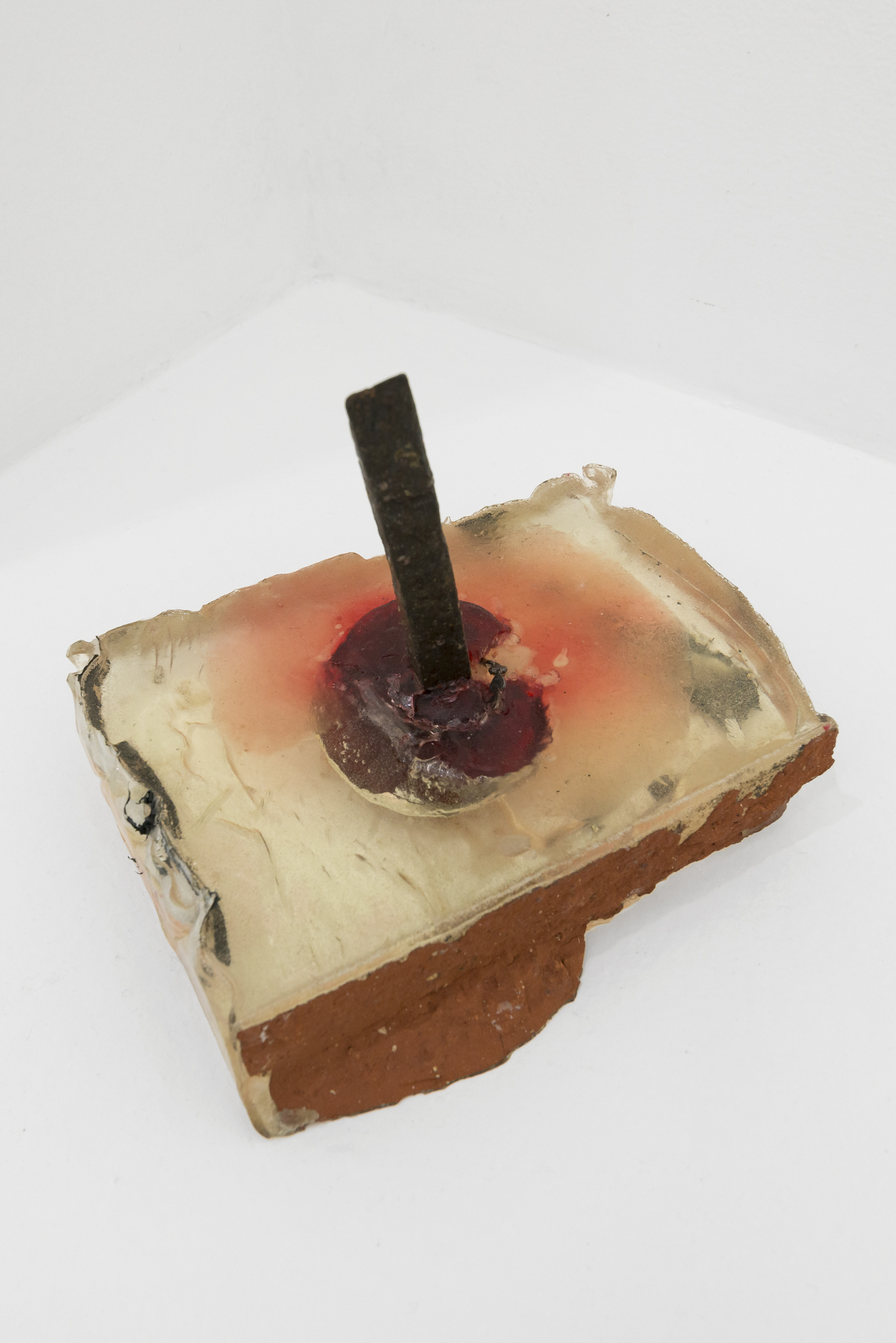 Bri Williams, Blast, Soap, wax, resin, railroad nail, bracelet, brick 8.5 x 7 x 7 in, 2017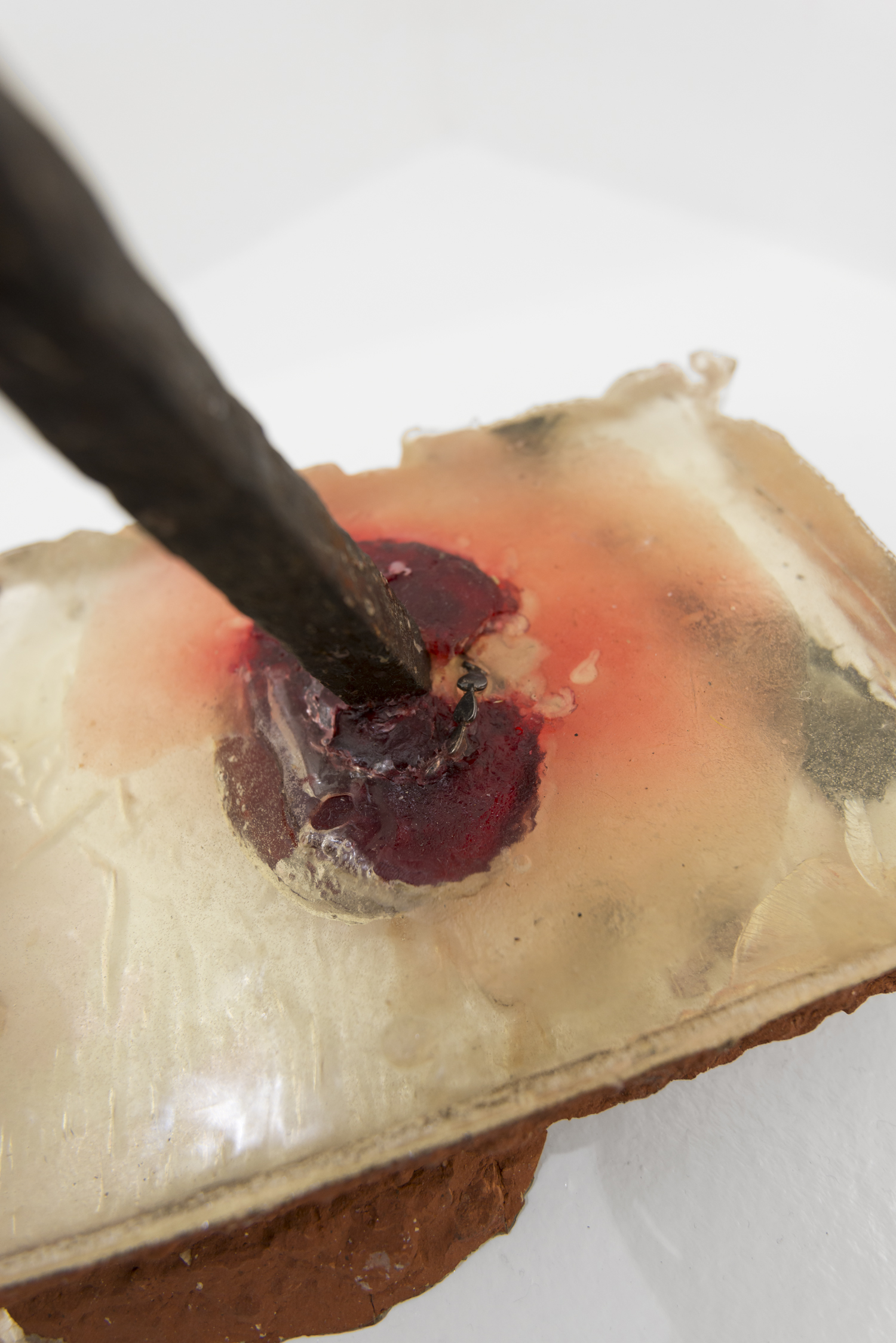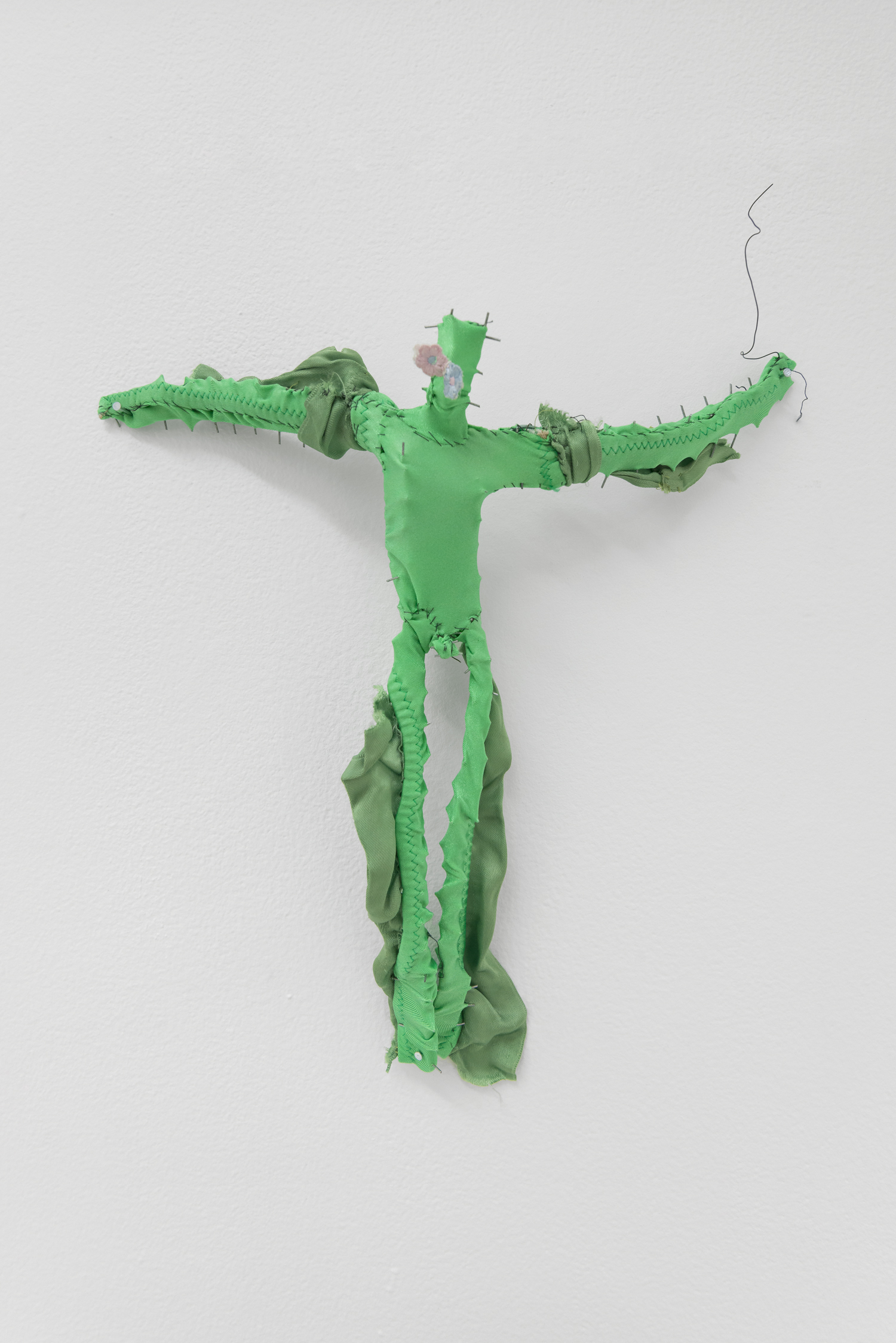 Elizabeth Englander, Bikini Crucifixion no. 10, Old bathing suits, steel, cotton thread 14 x 14 x 4 in, 2020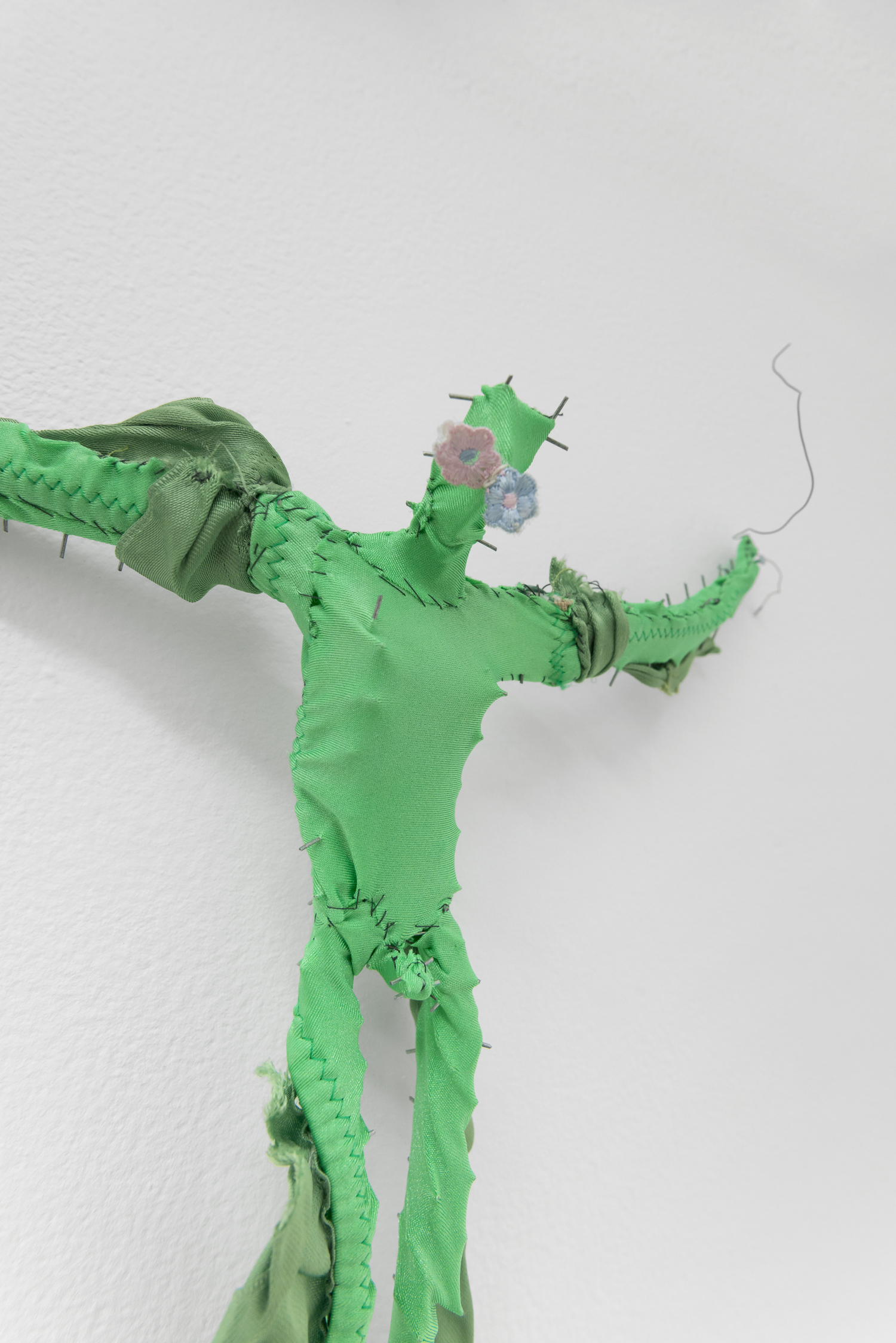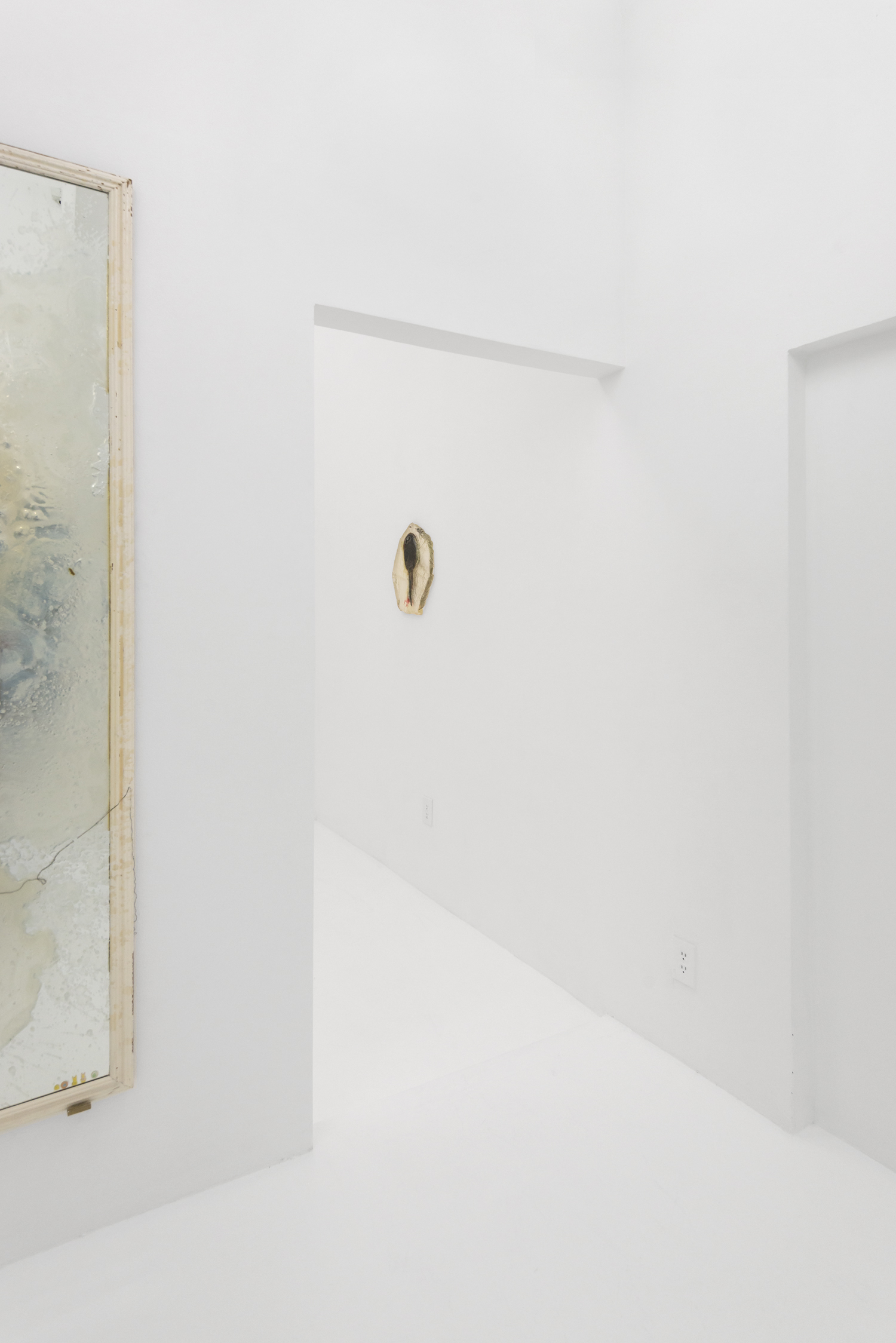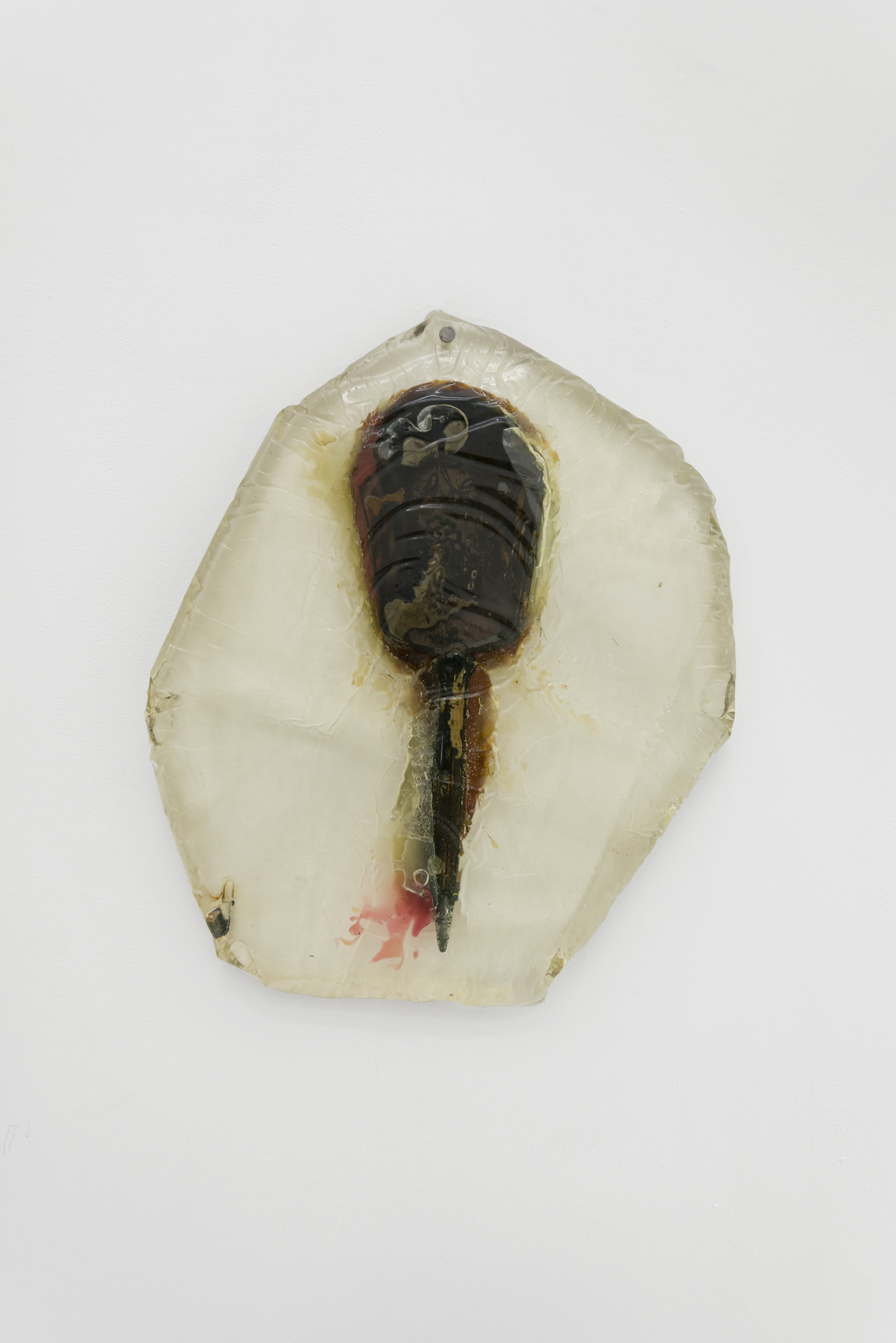 Bri Williams, Biting skin off lips, Hand mirror, soap, beeswax, resin 17.5 x 14.5 x 1.5 in, 2020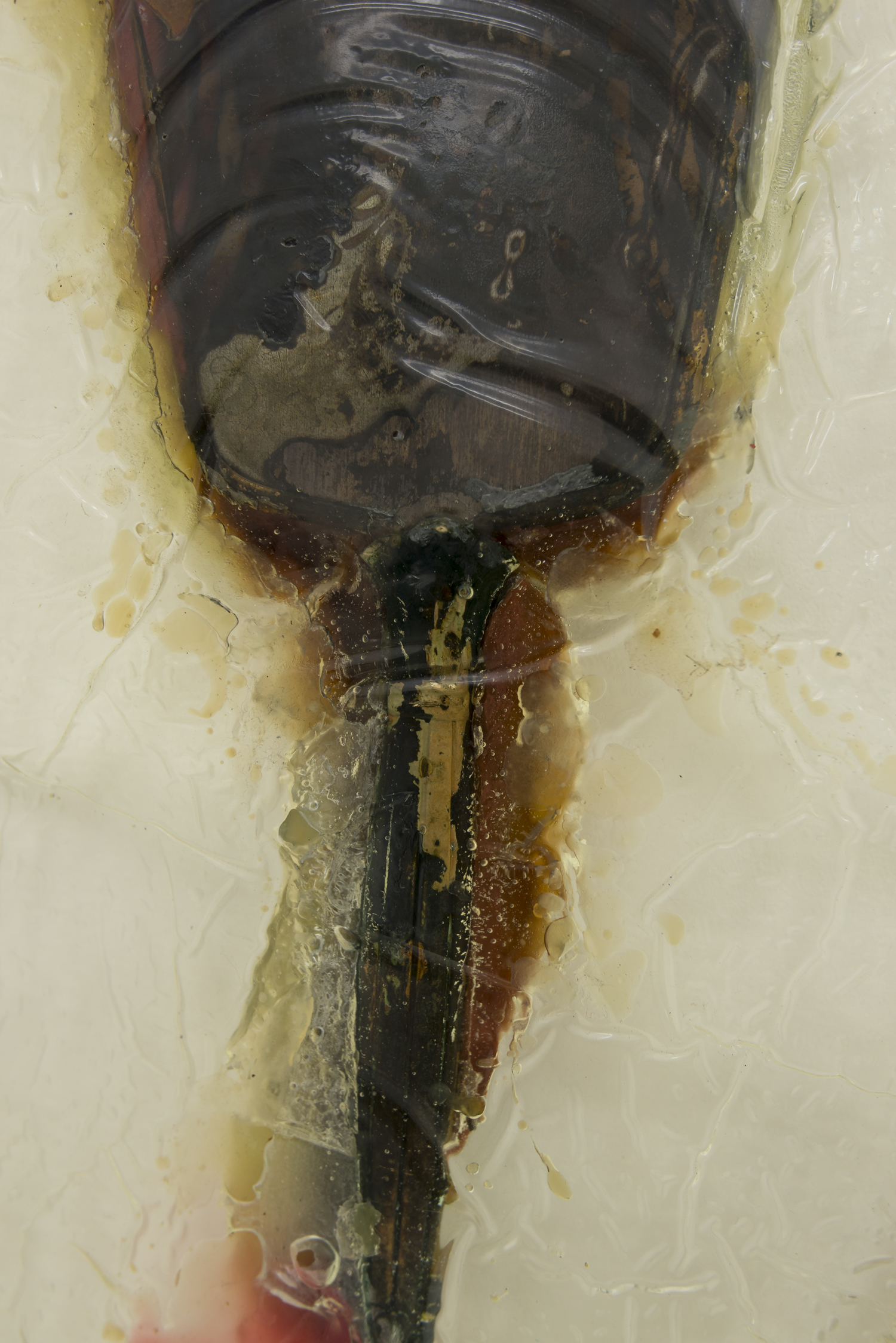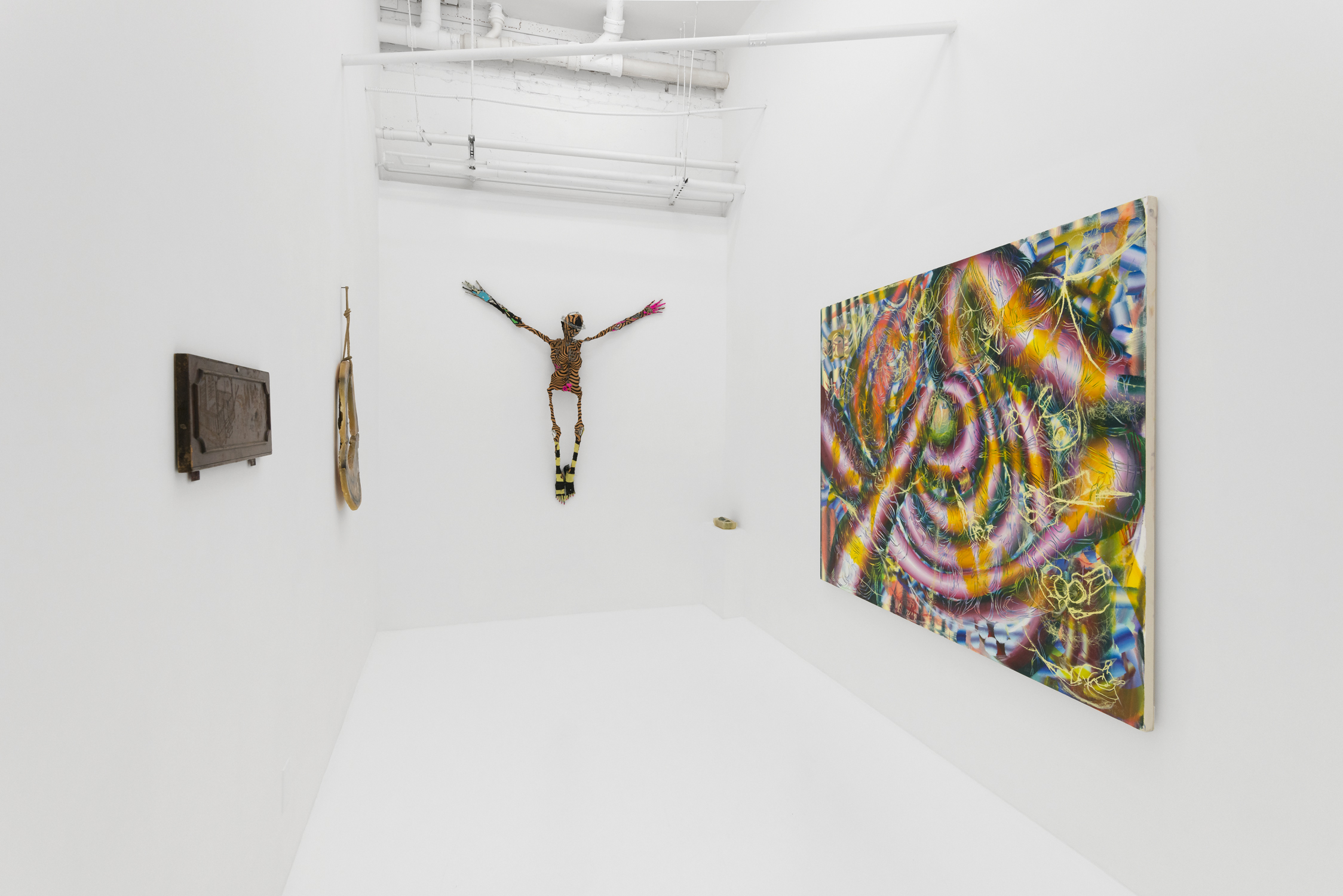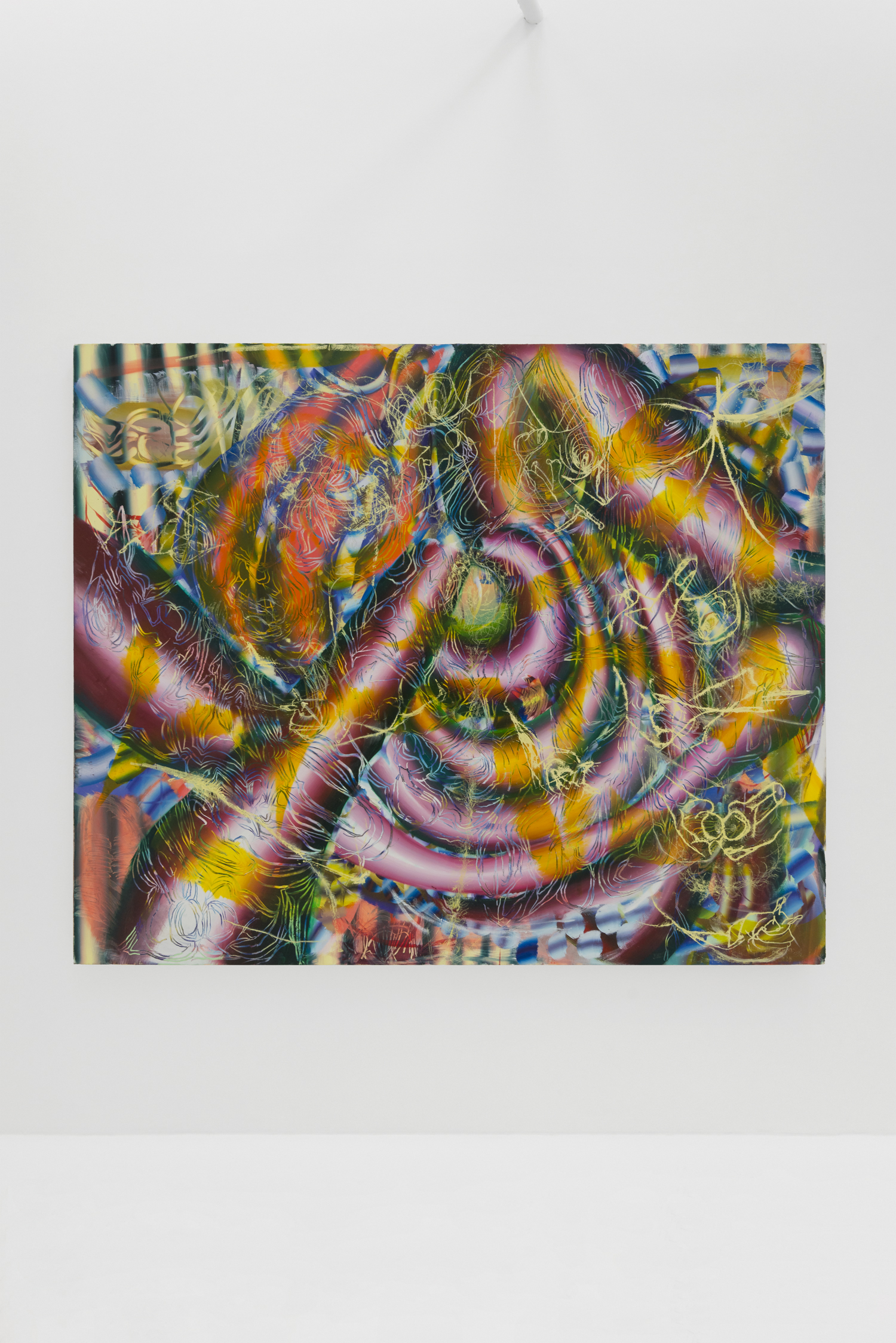 Lauren Quin, 0, Oil on canvas 64 x 78 in, 2021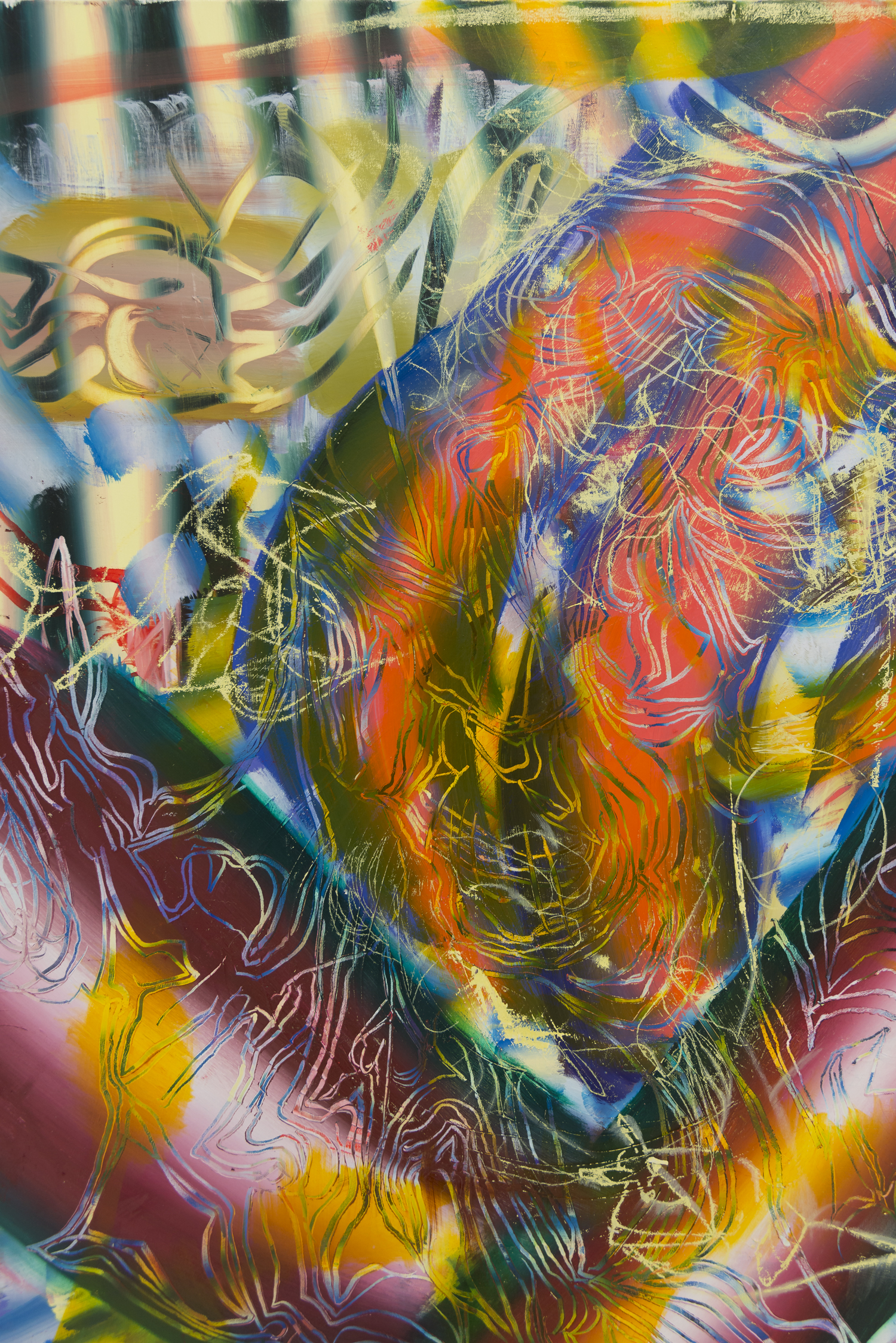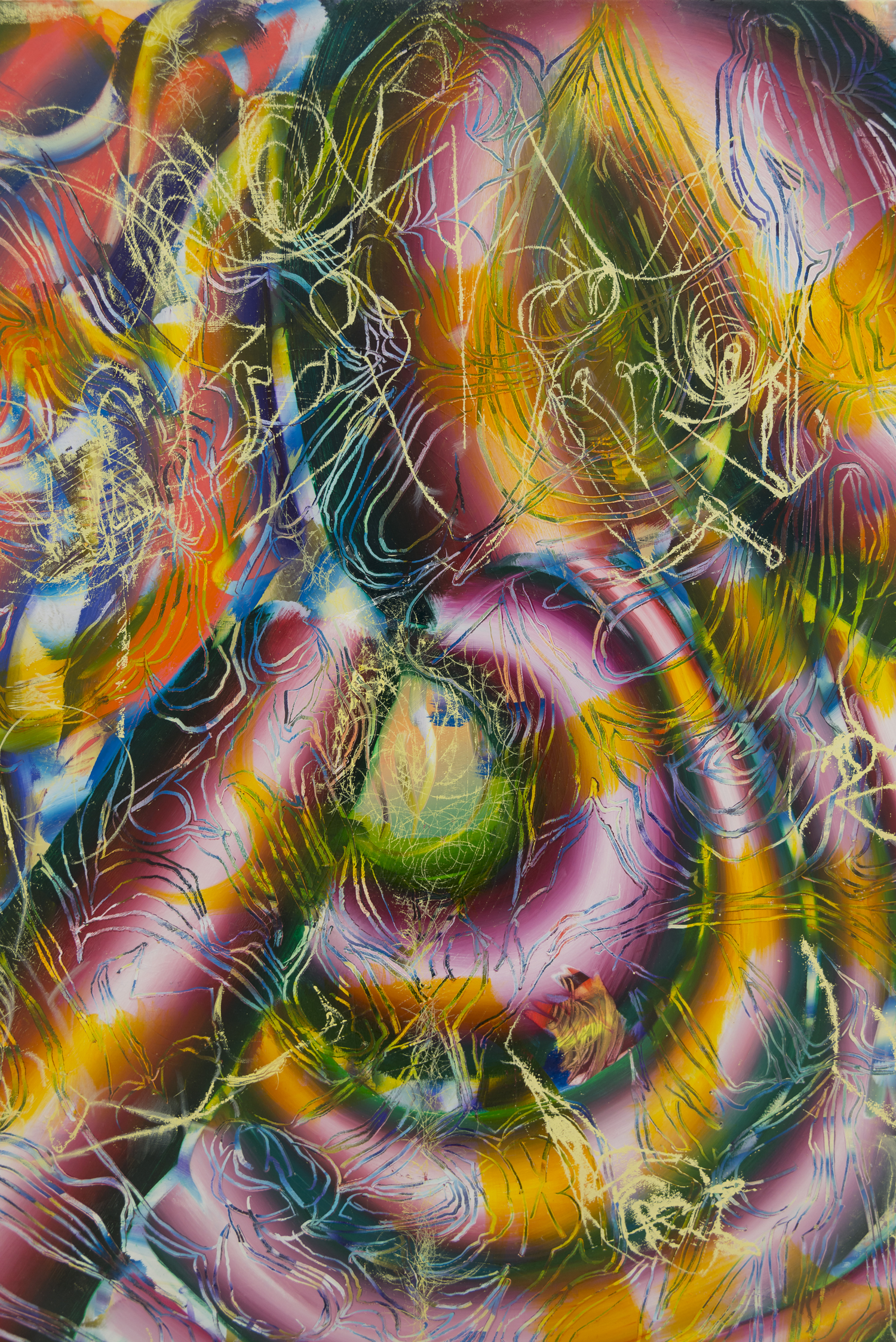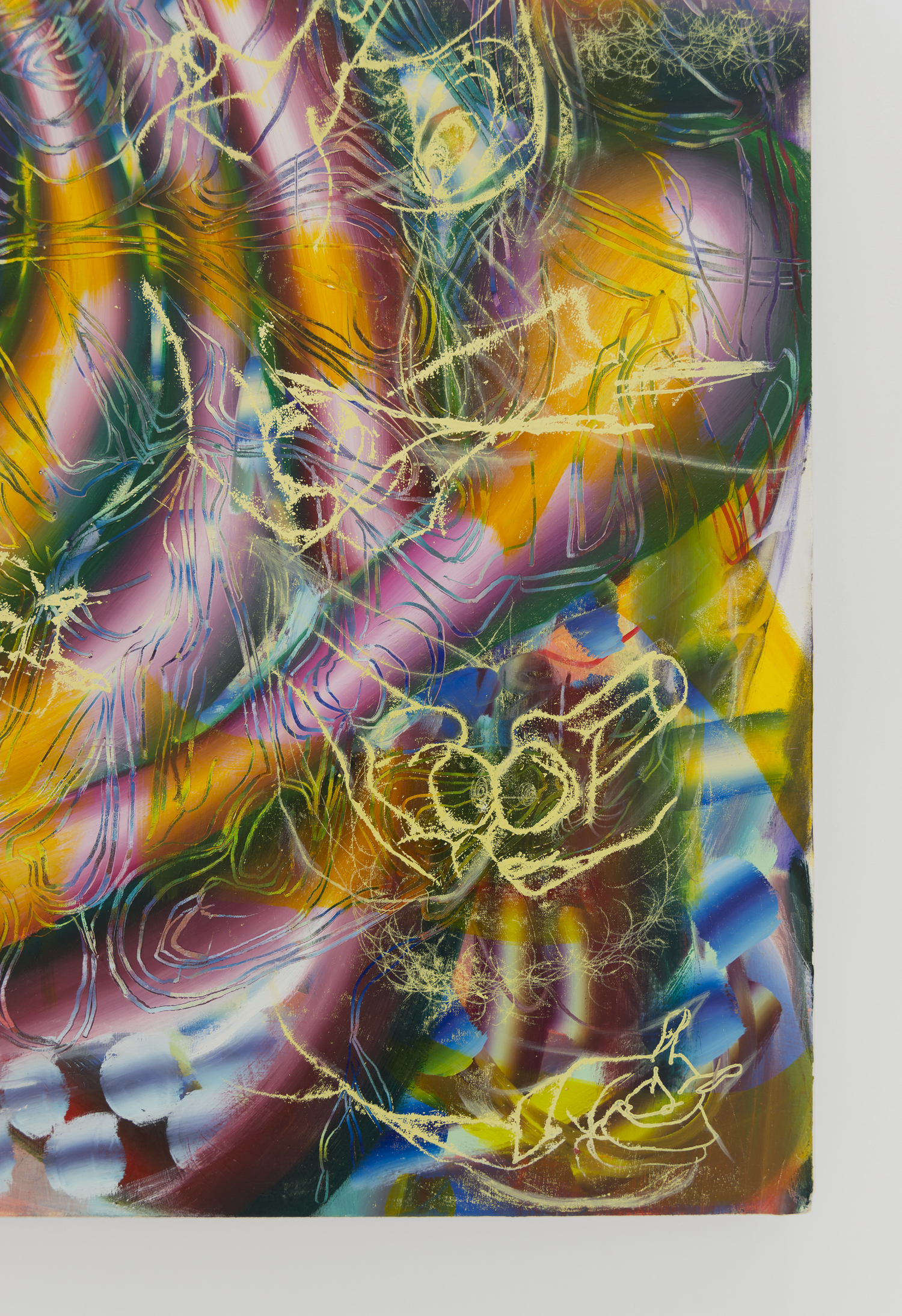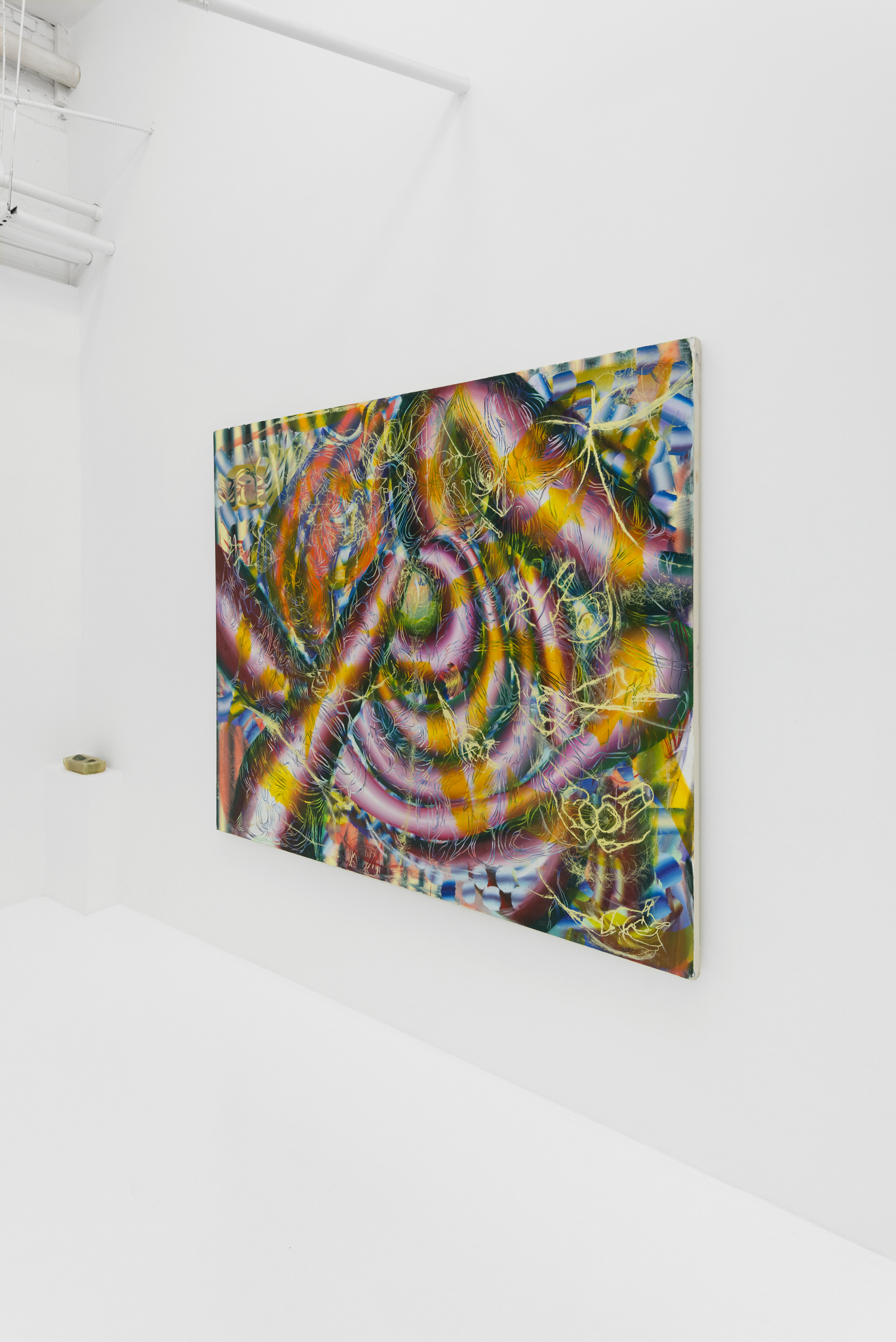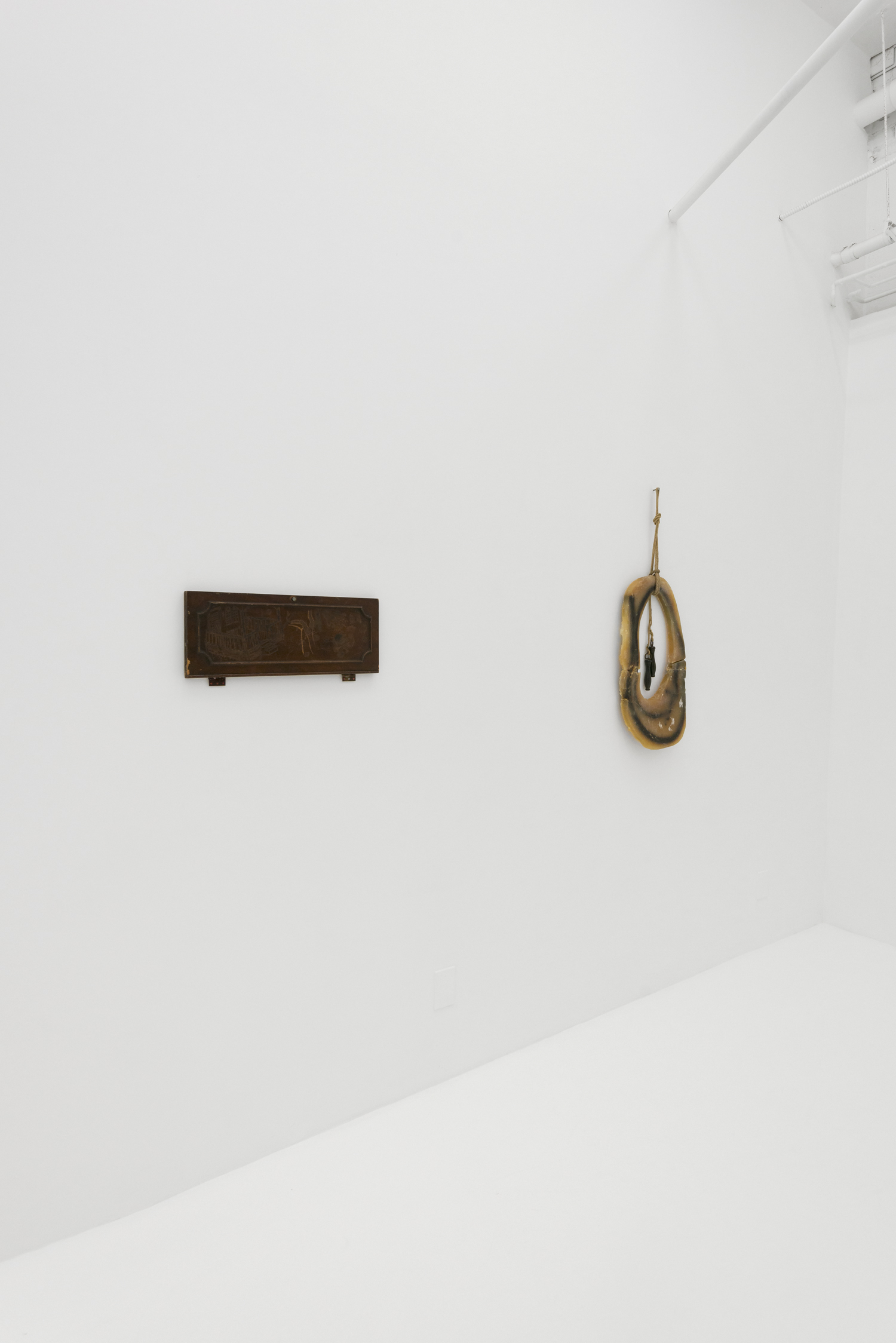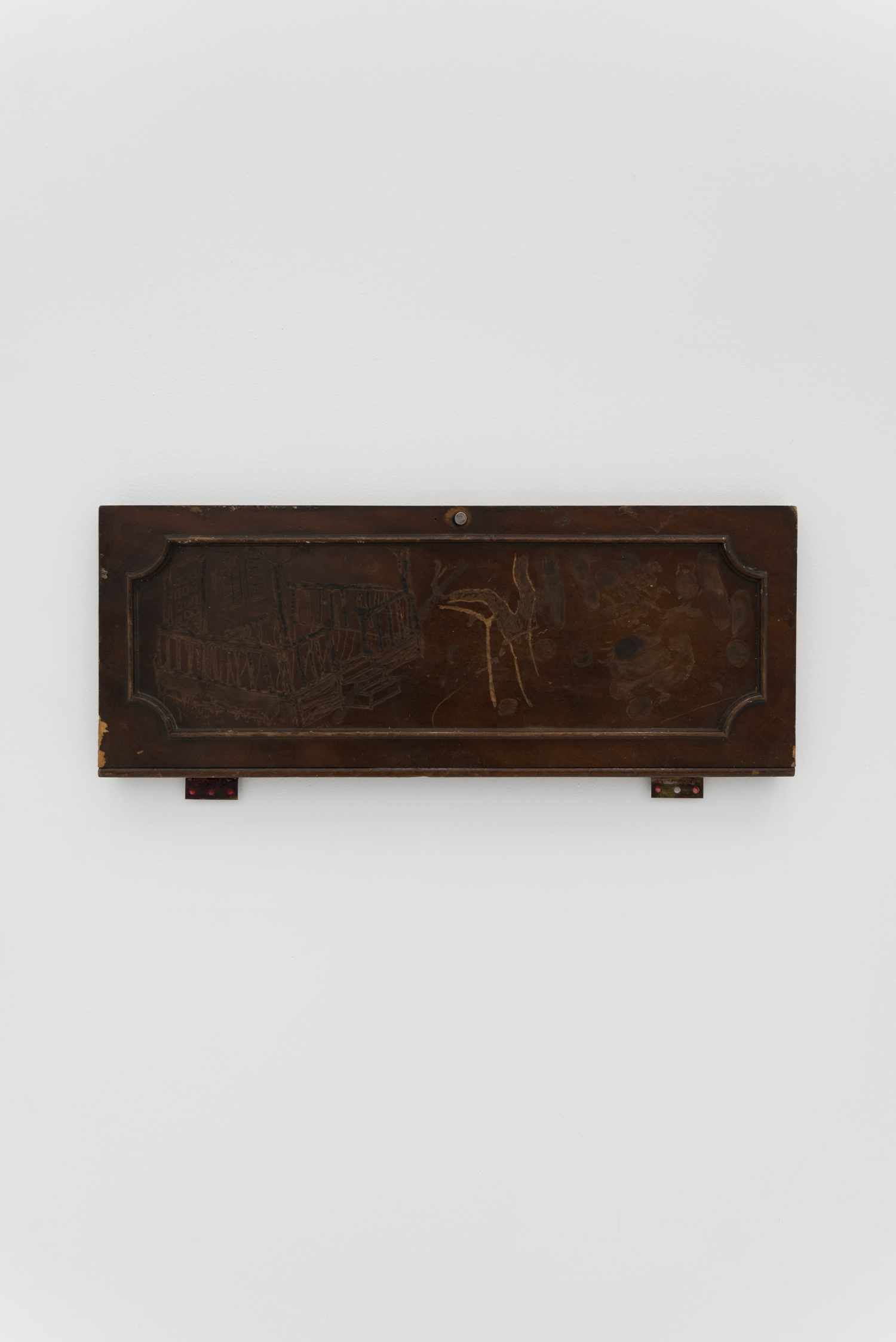 Bri Williams, Fell, Cabinet door 22.5 x 9 x 1 in, 2021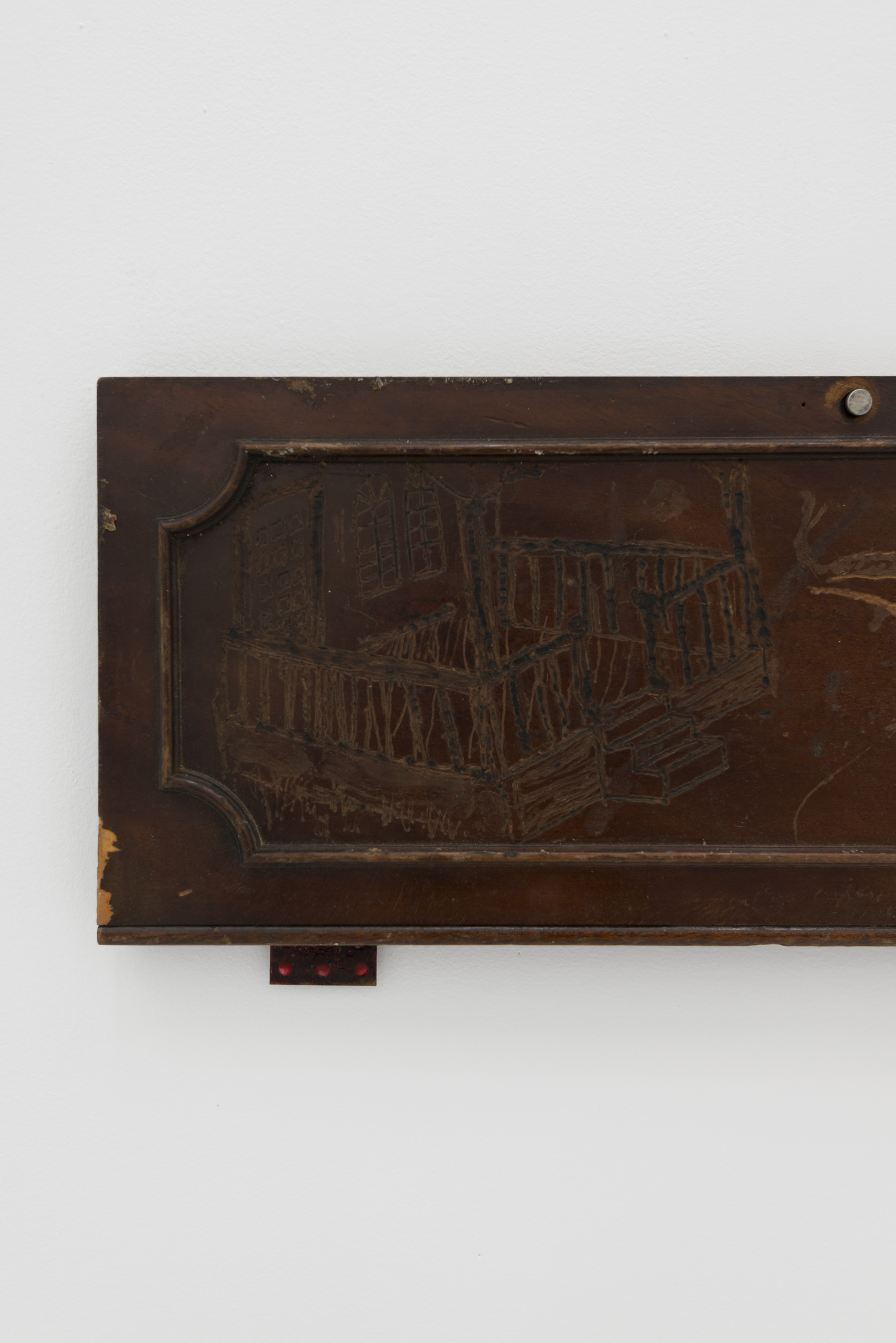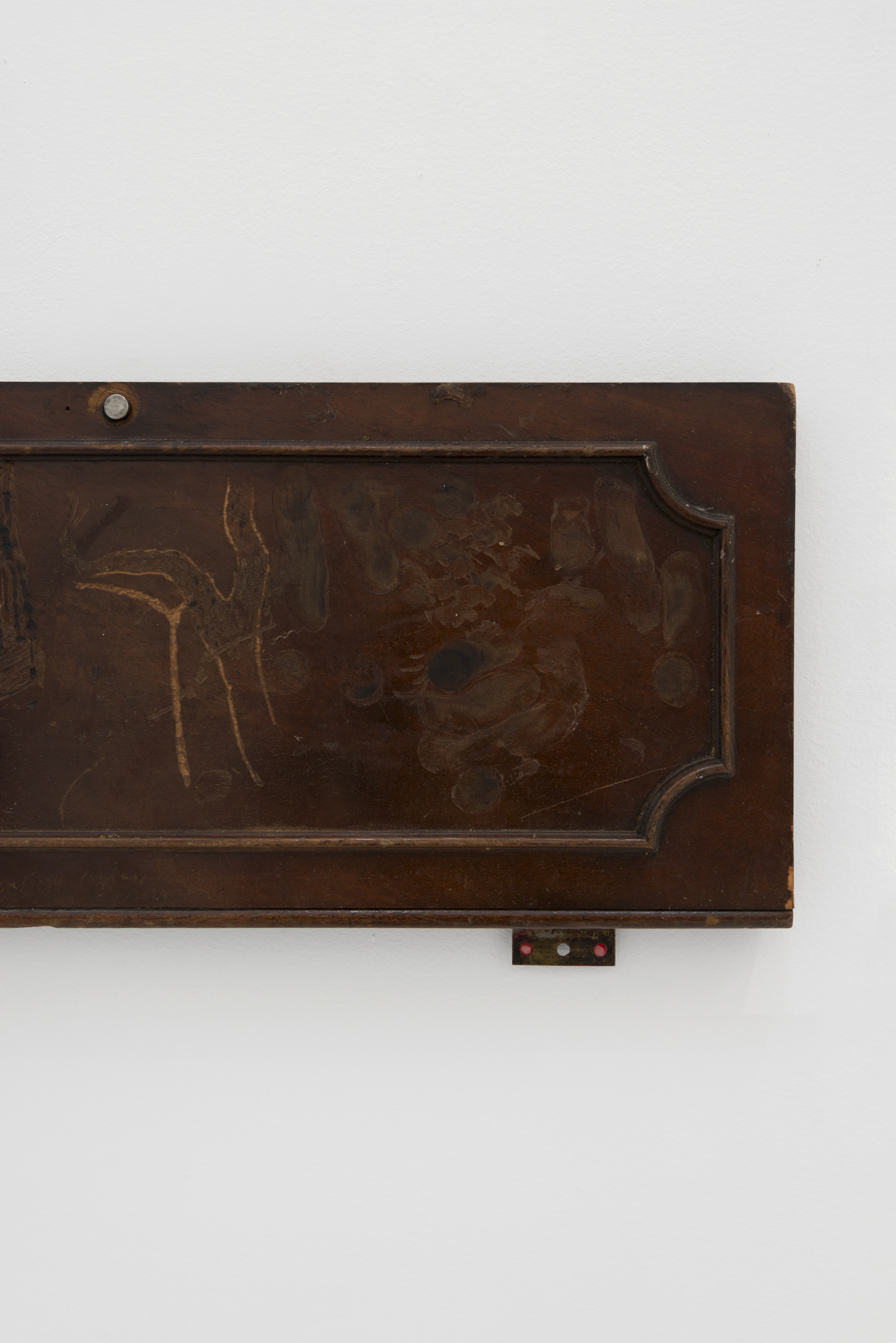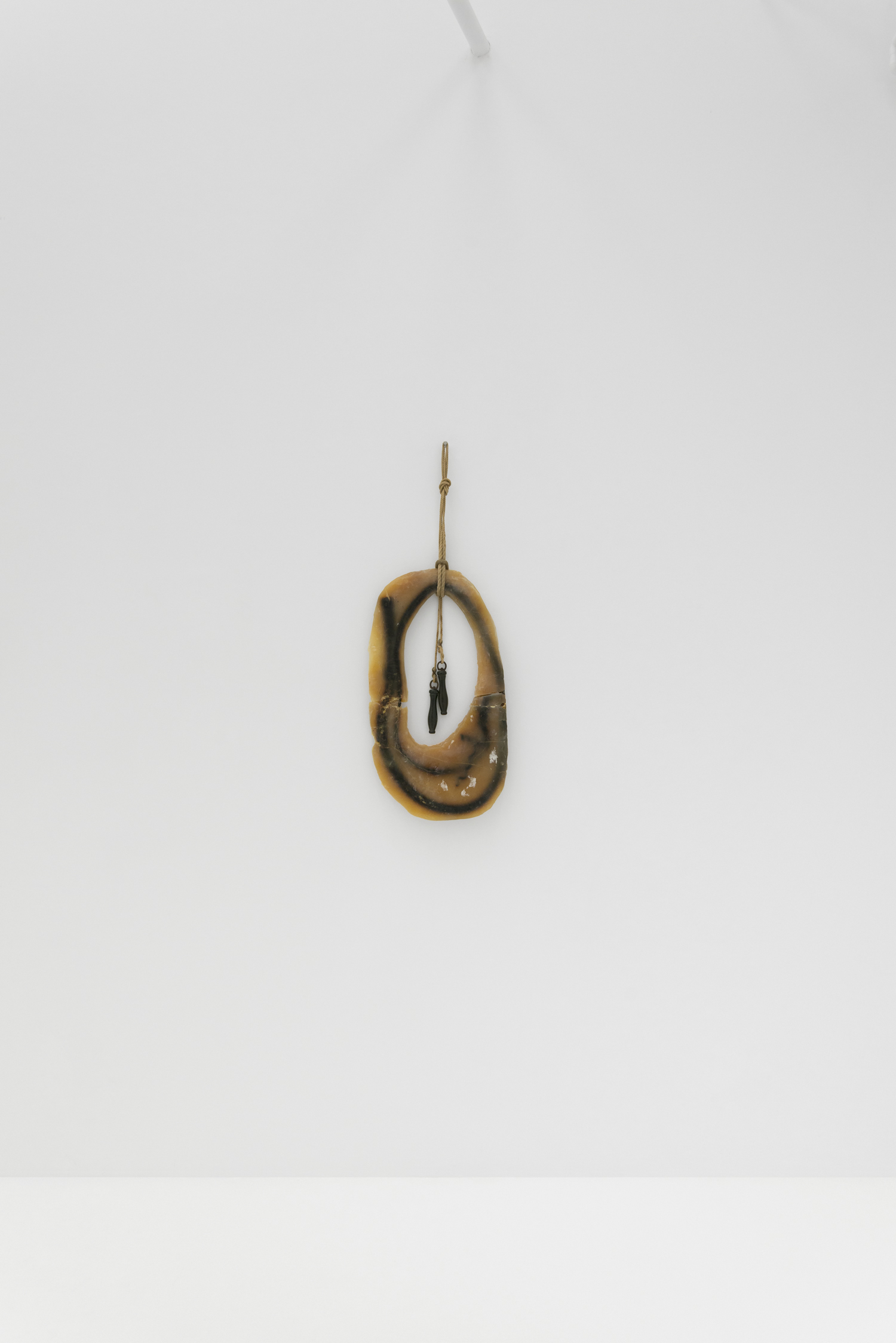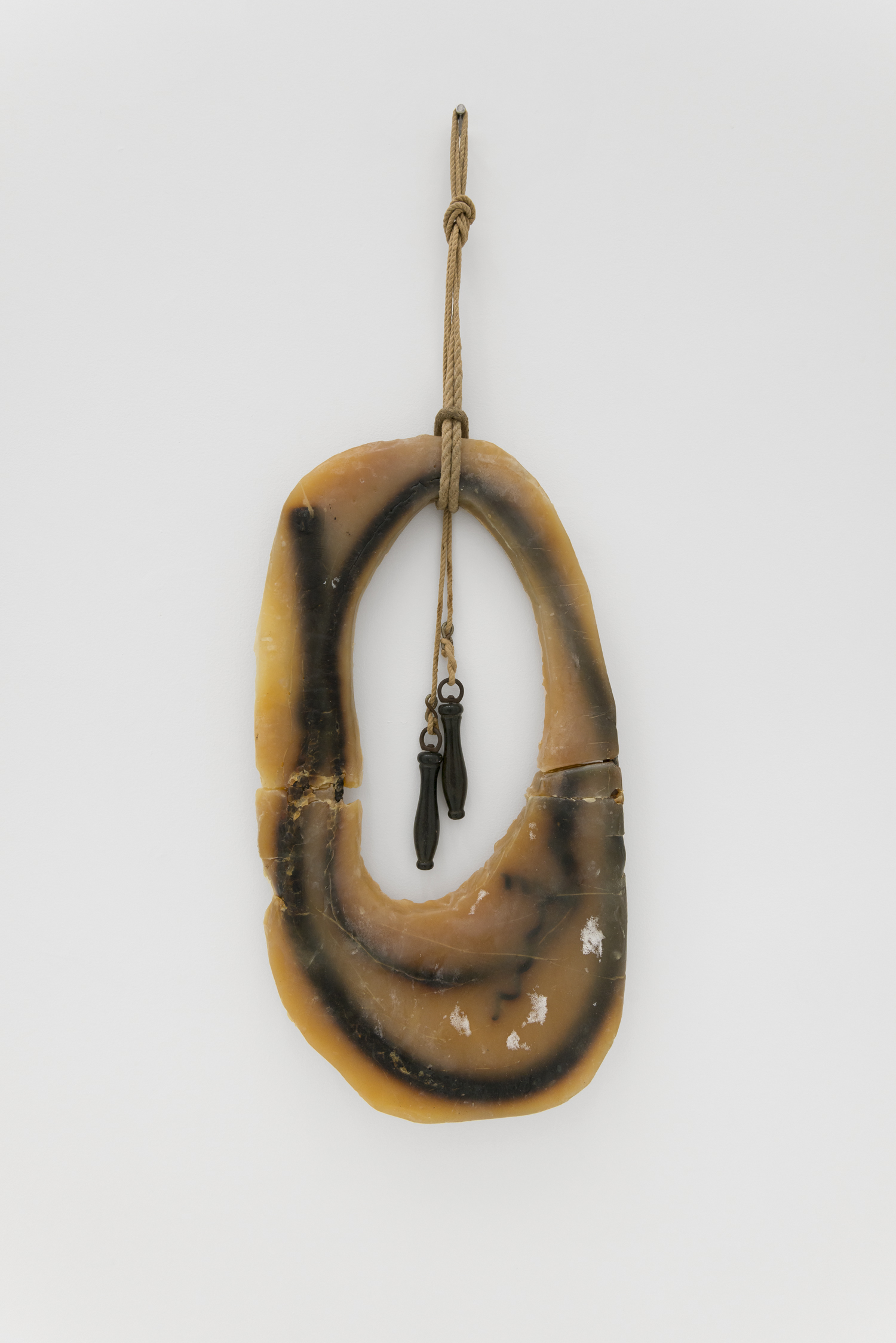 Bri Williams, Staff, Soap, whip, jump rope 40 x 15 x 2 in, 2021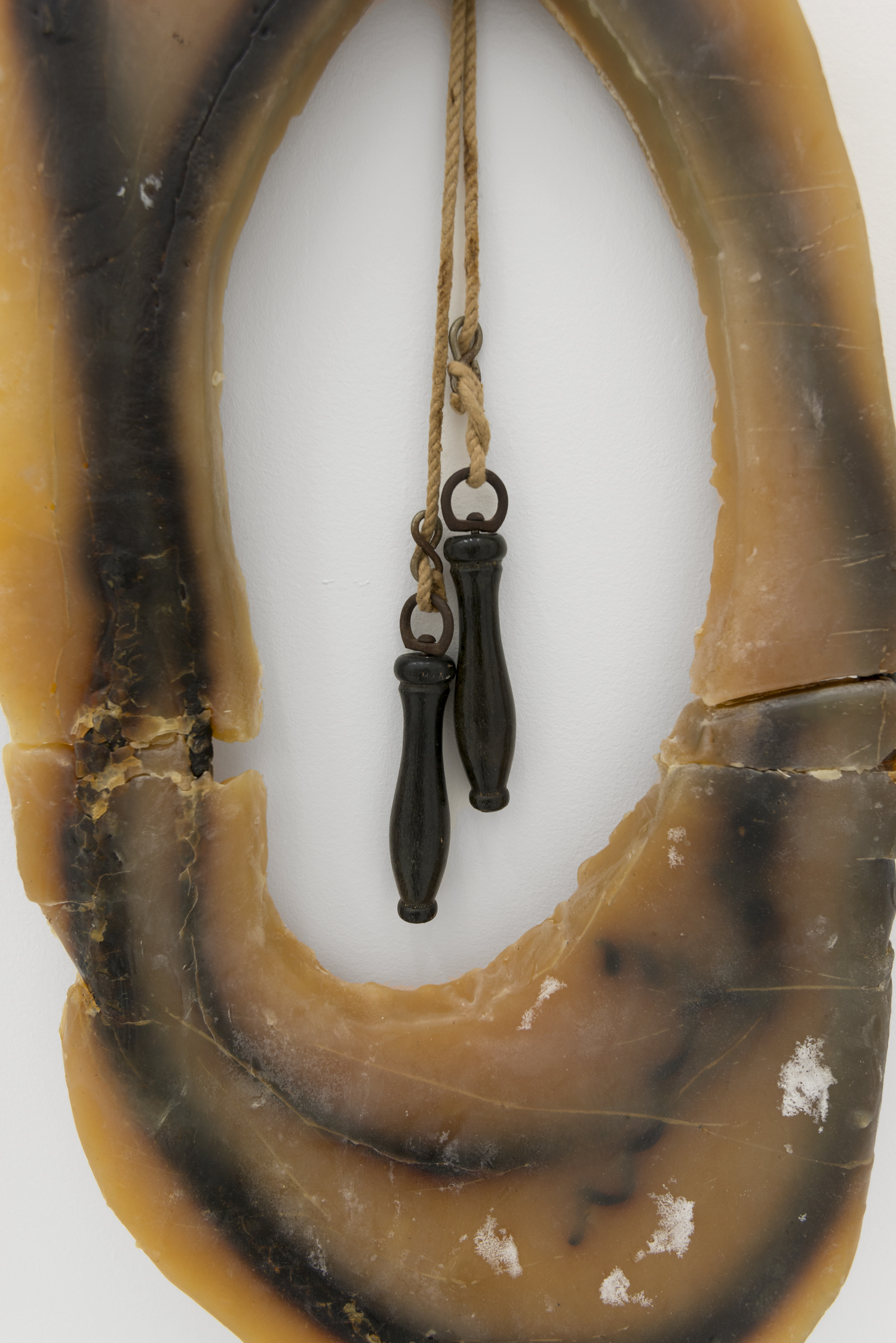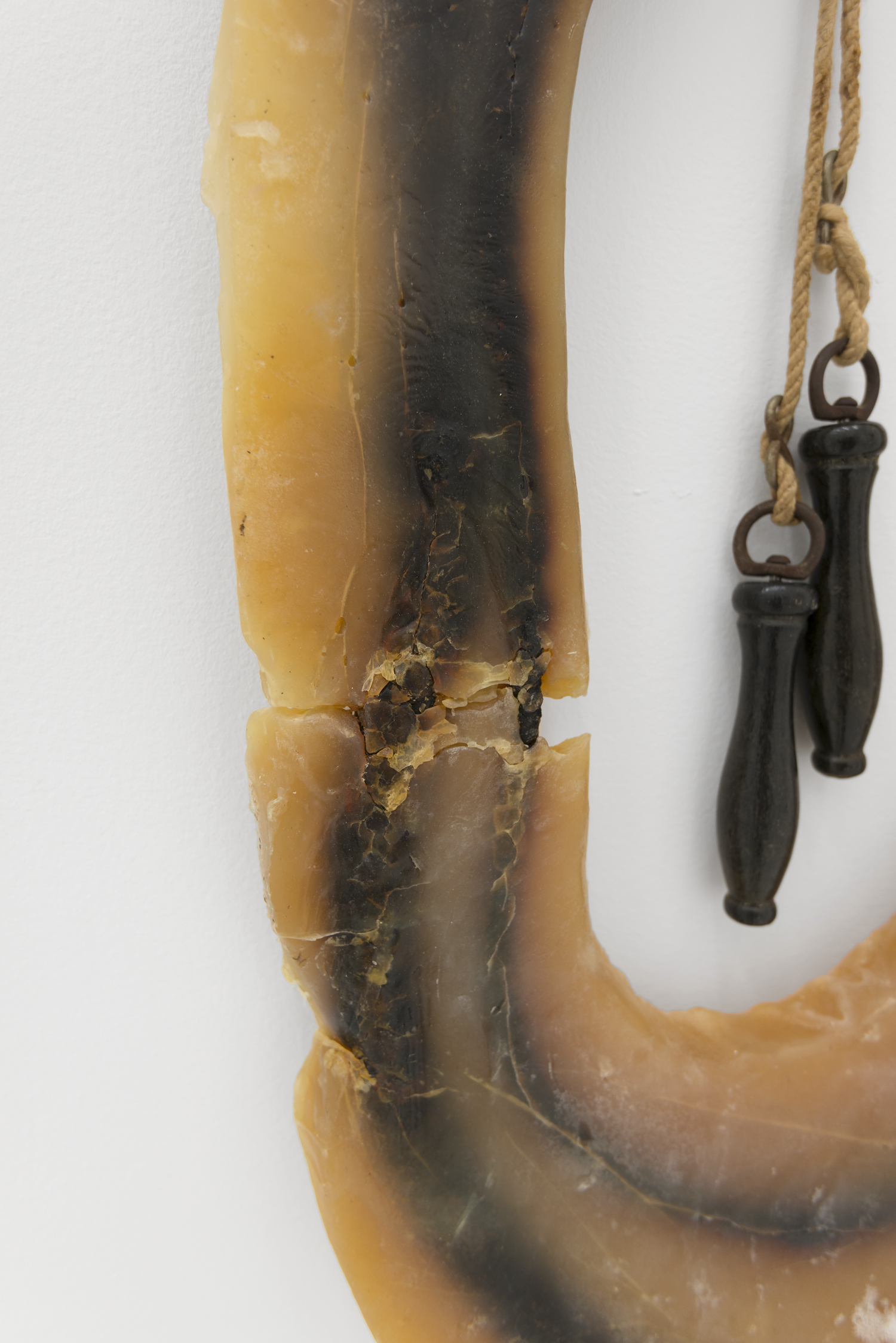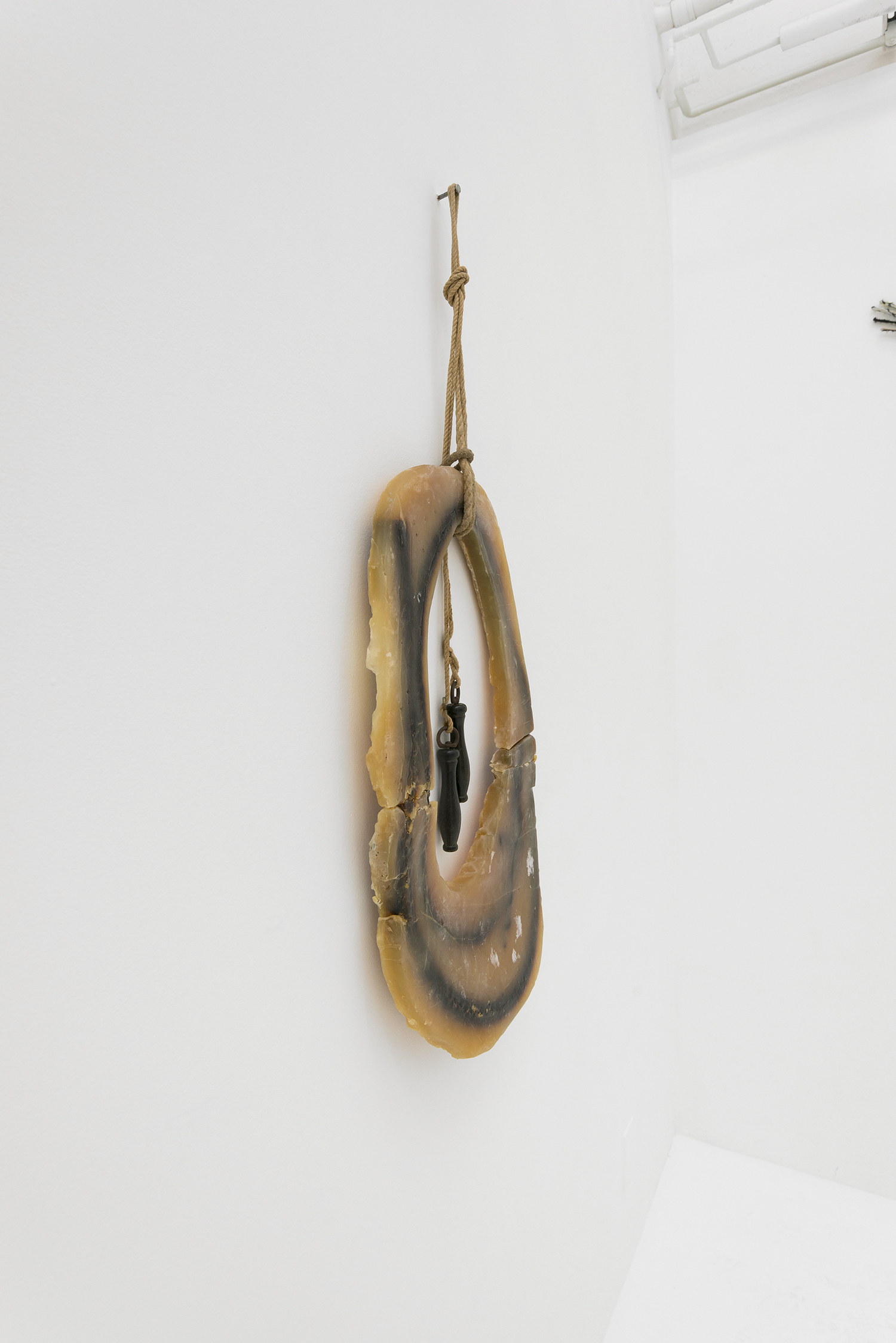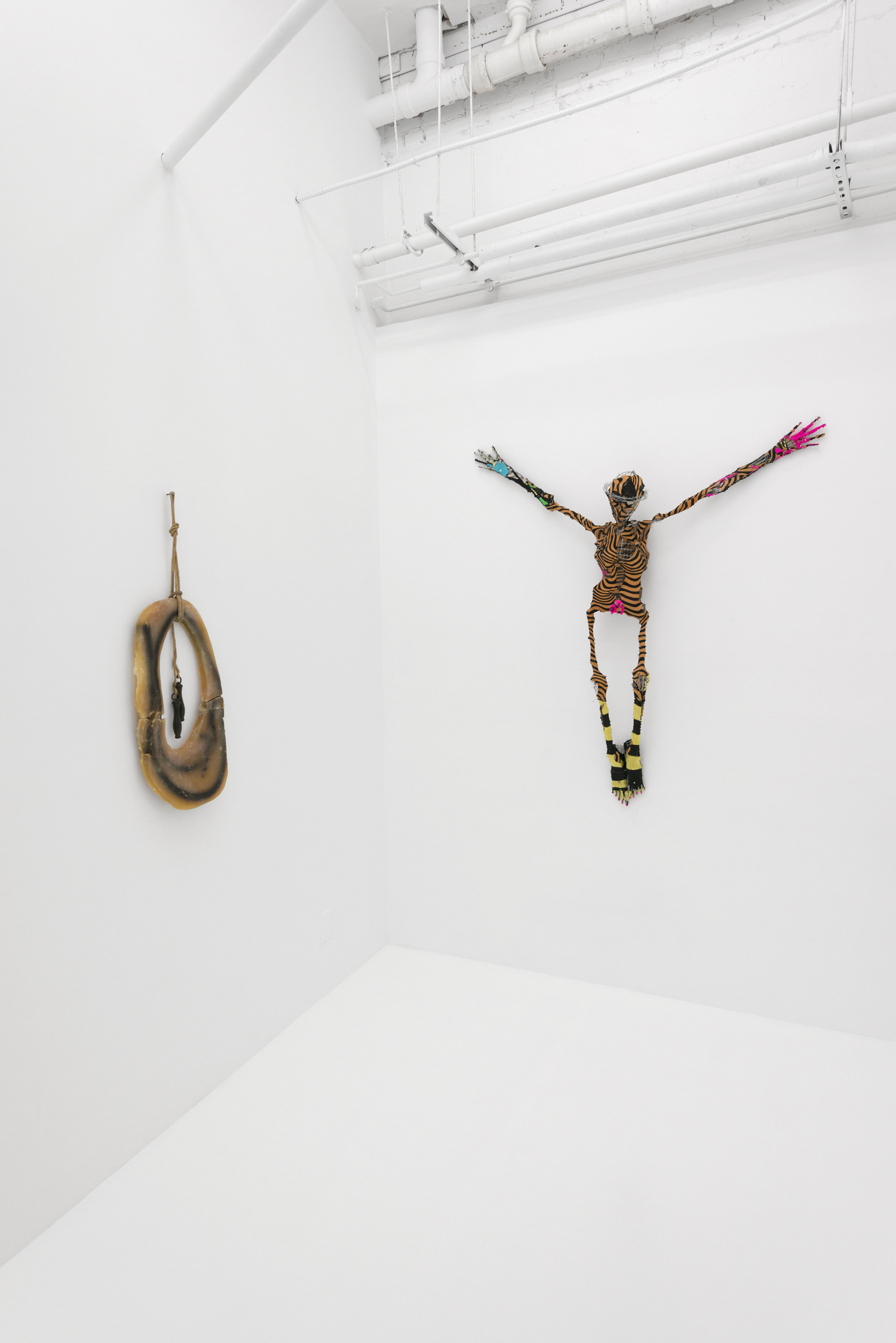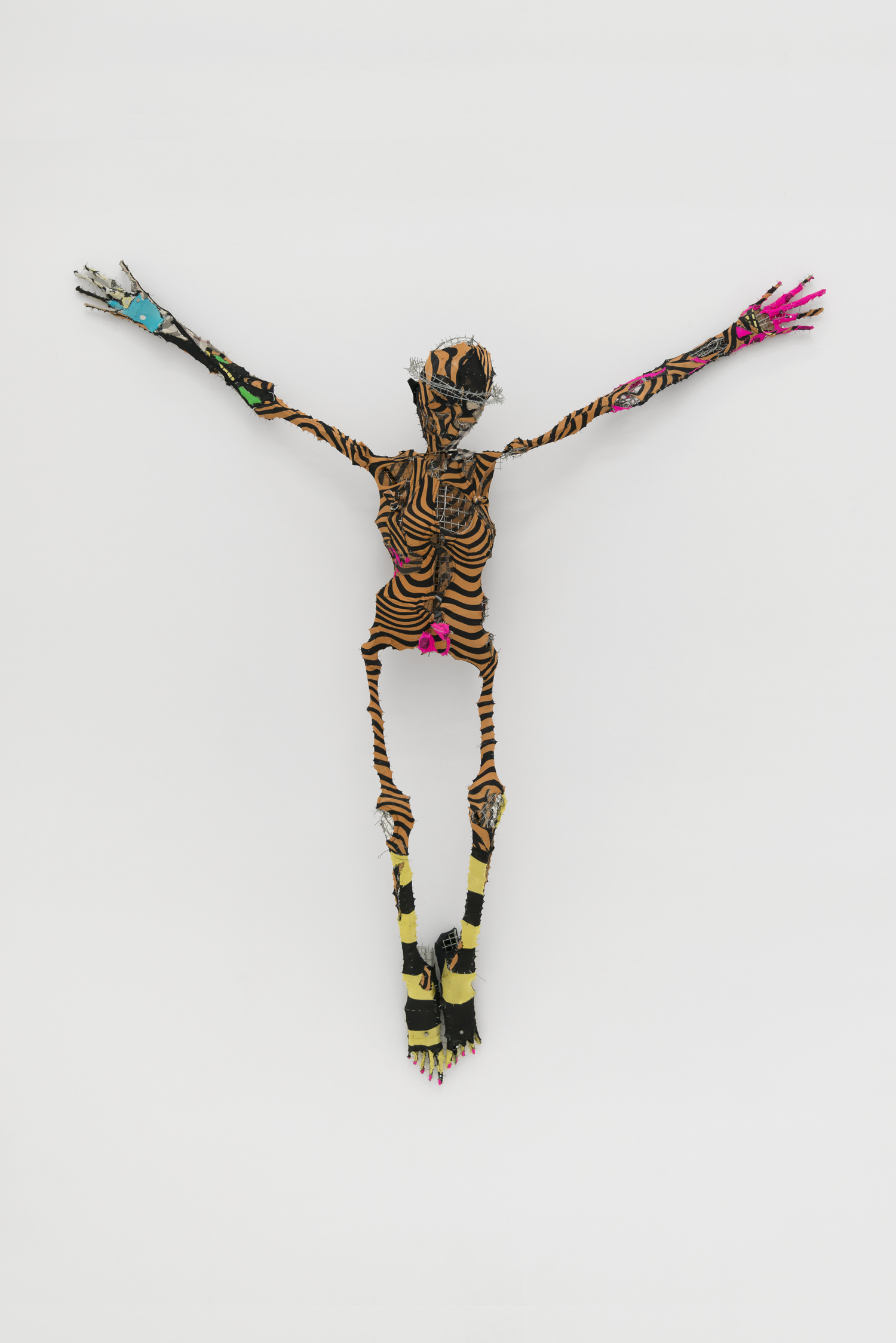 Elizabeth Englander, Bikini Crucifixion no. 17, Old bathing suits, steel, cotton thread 60 x 54 x 9.5 in, 2021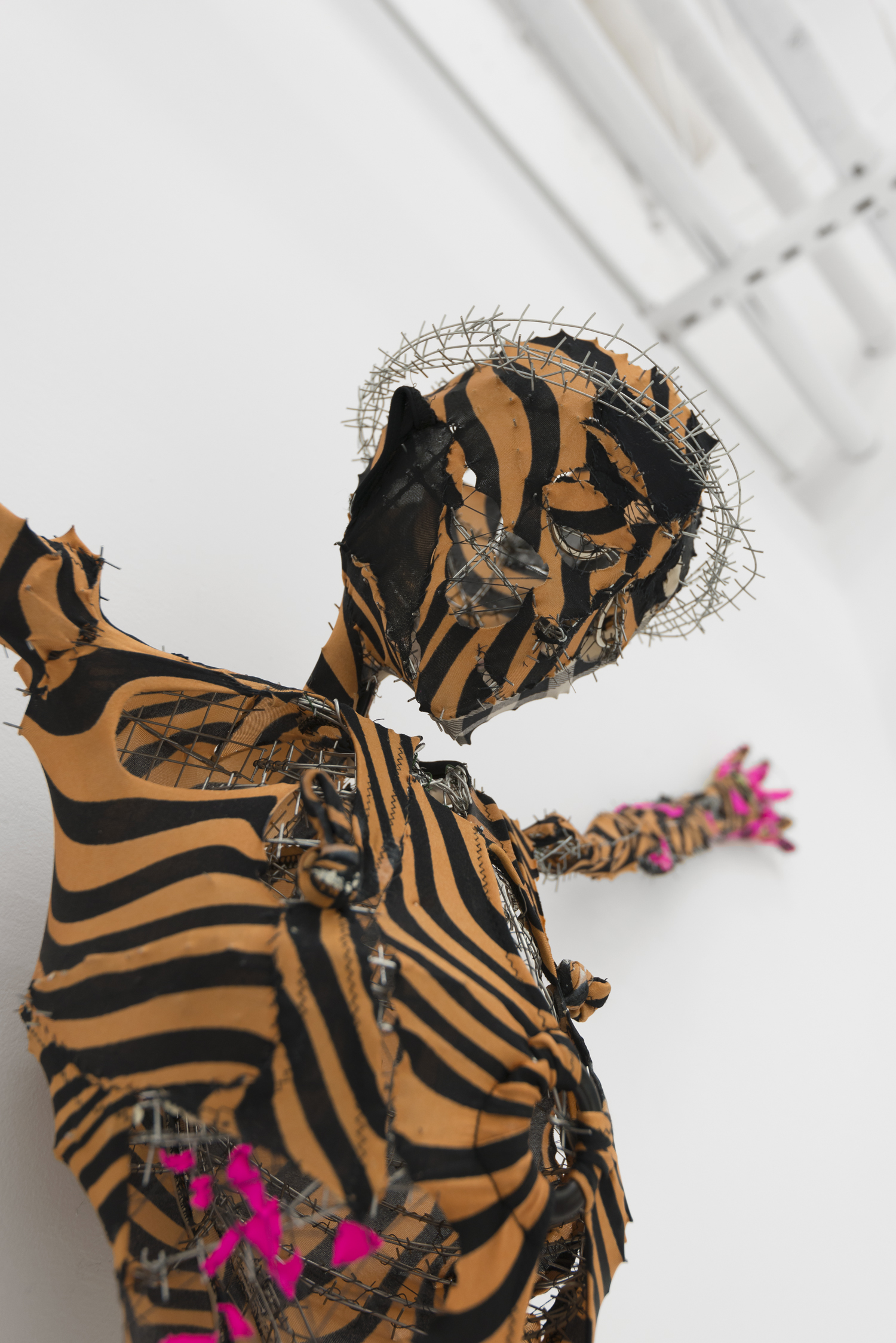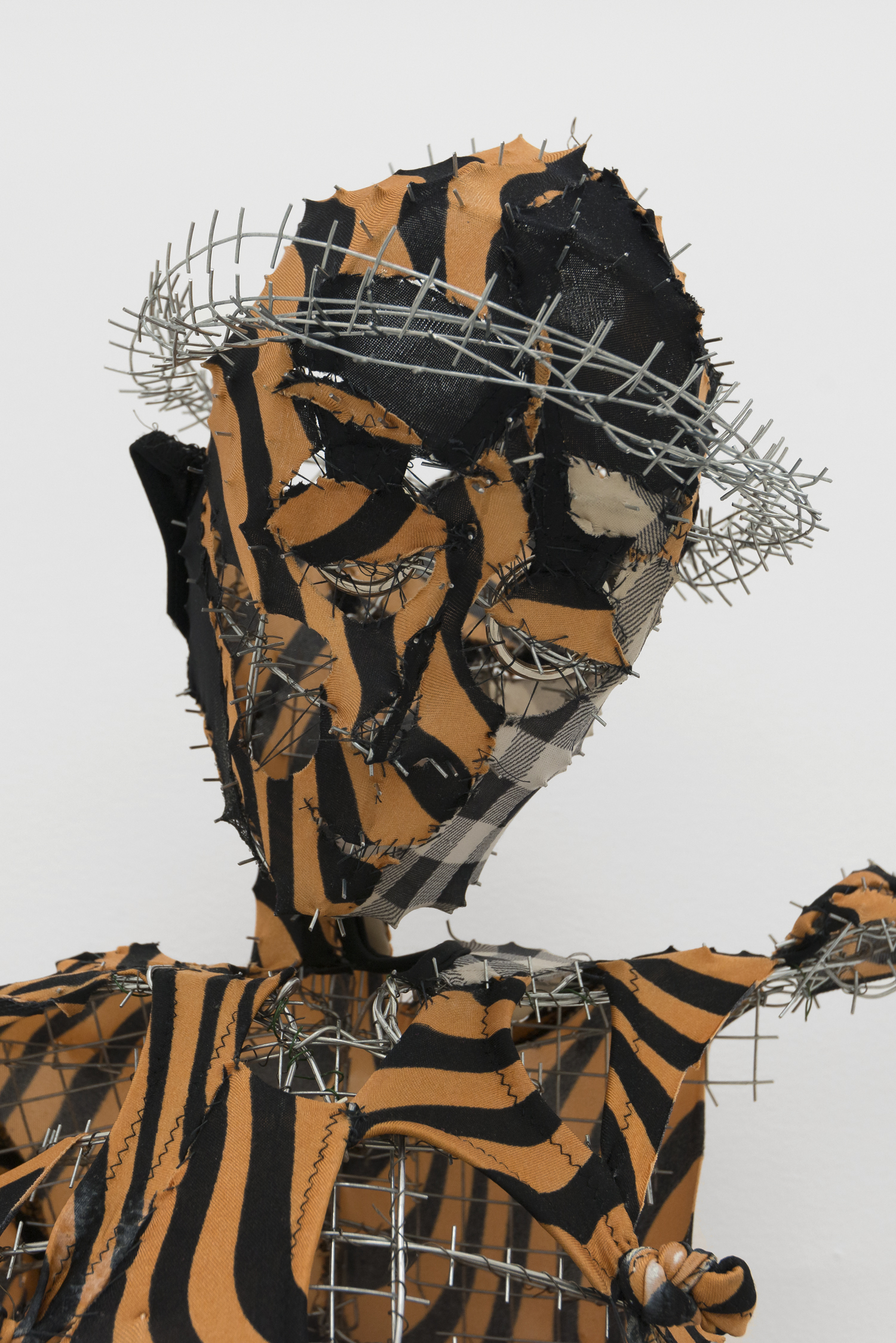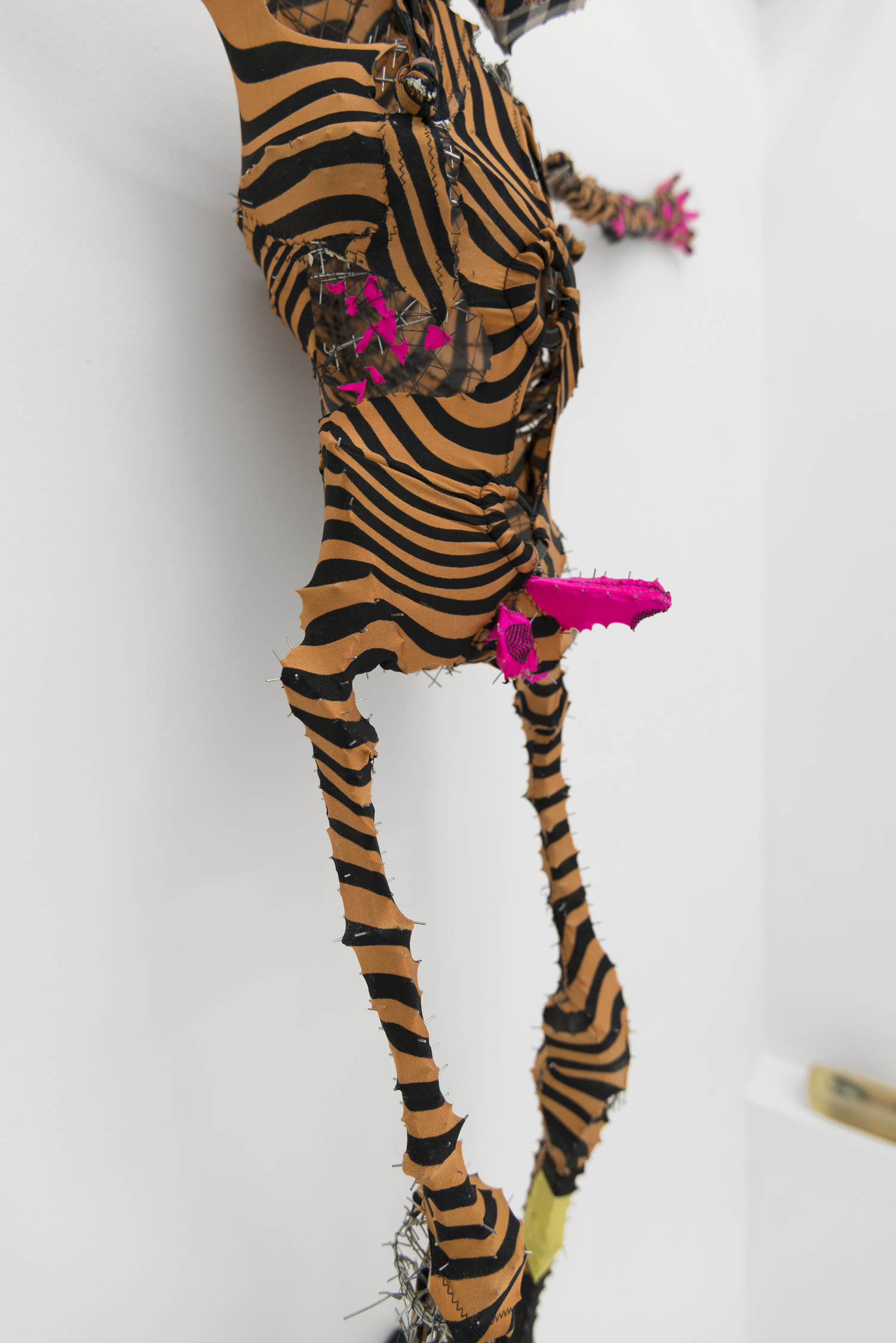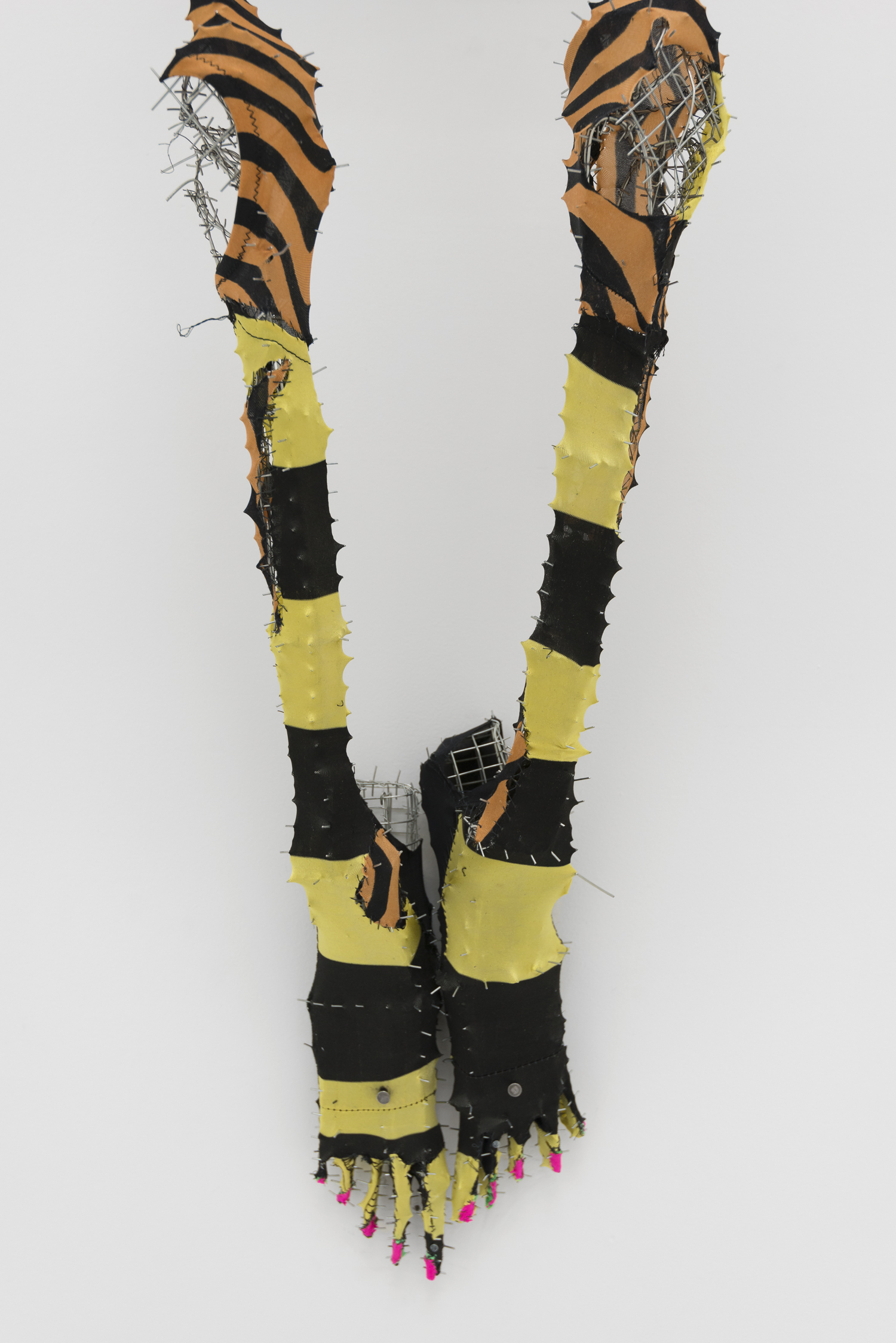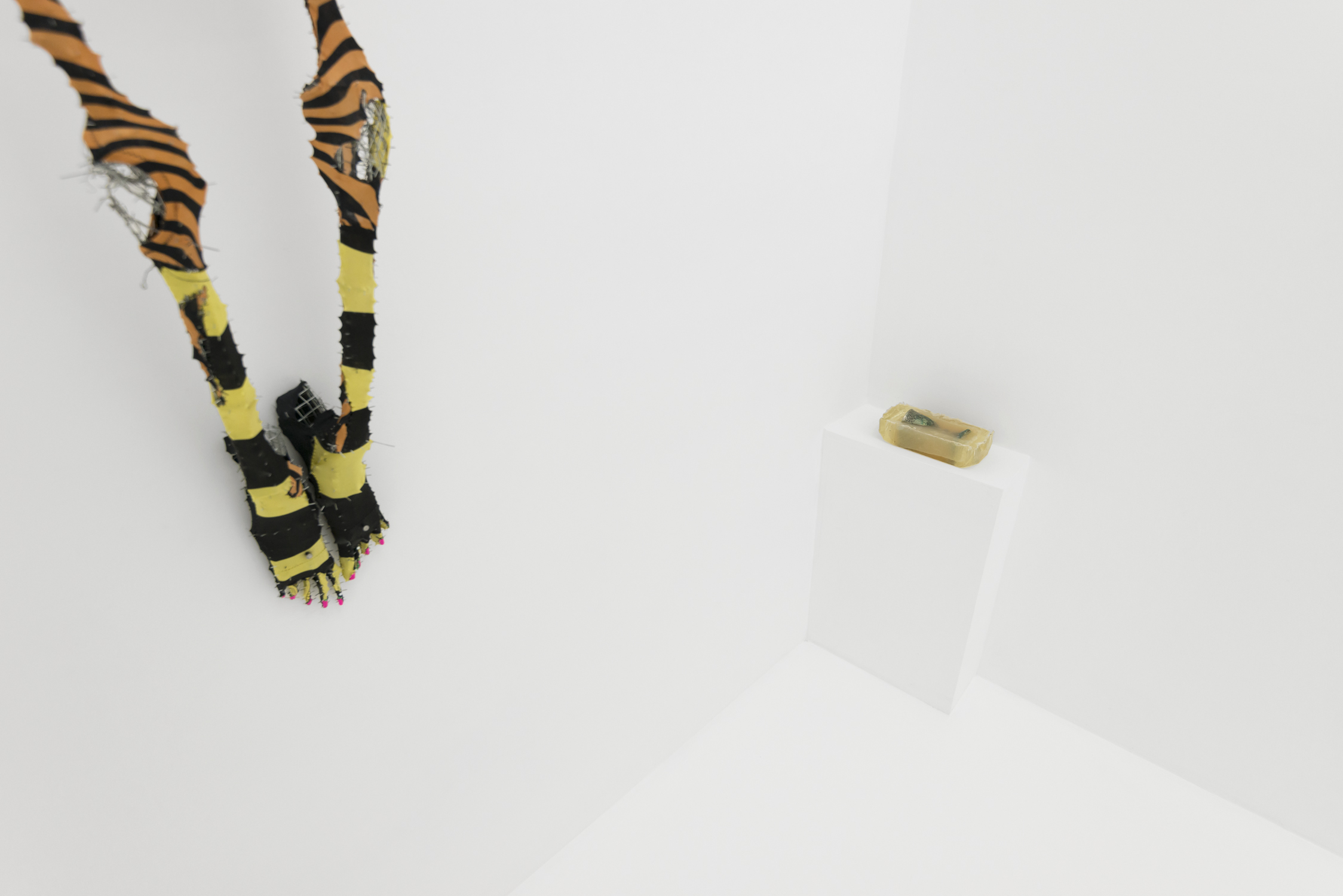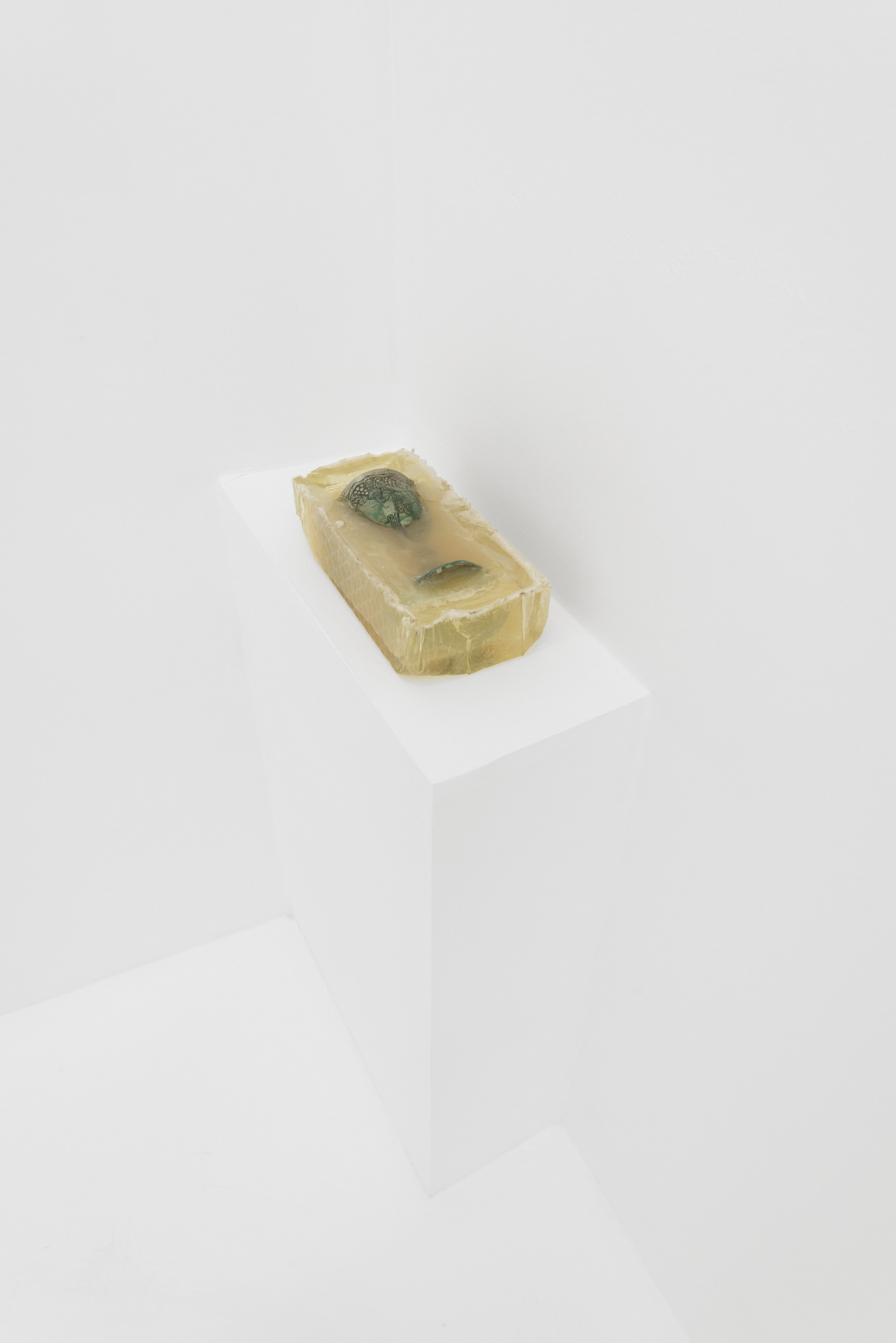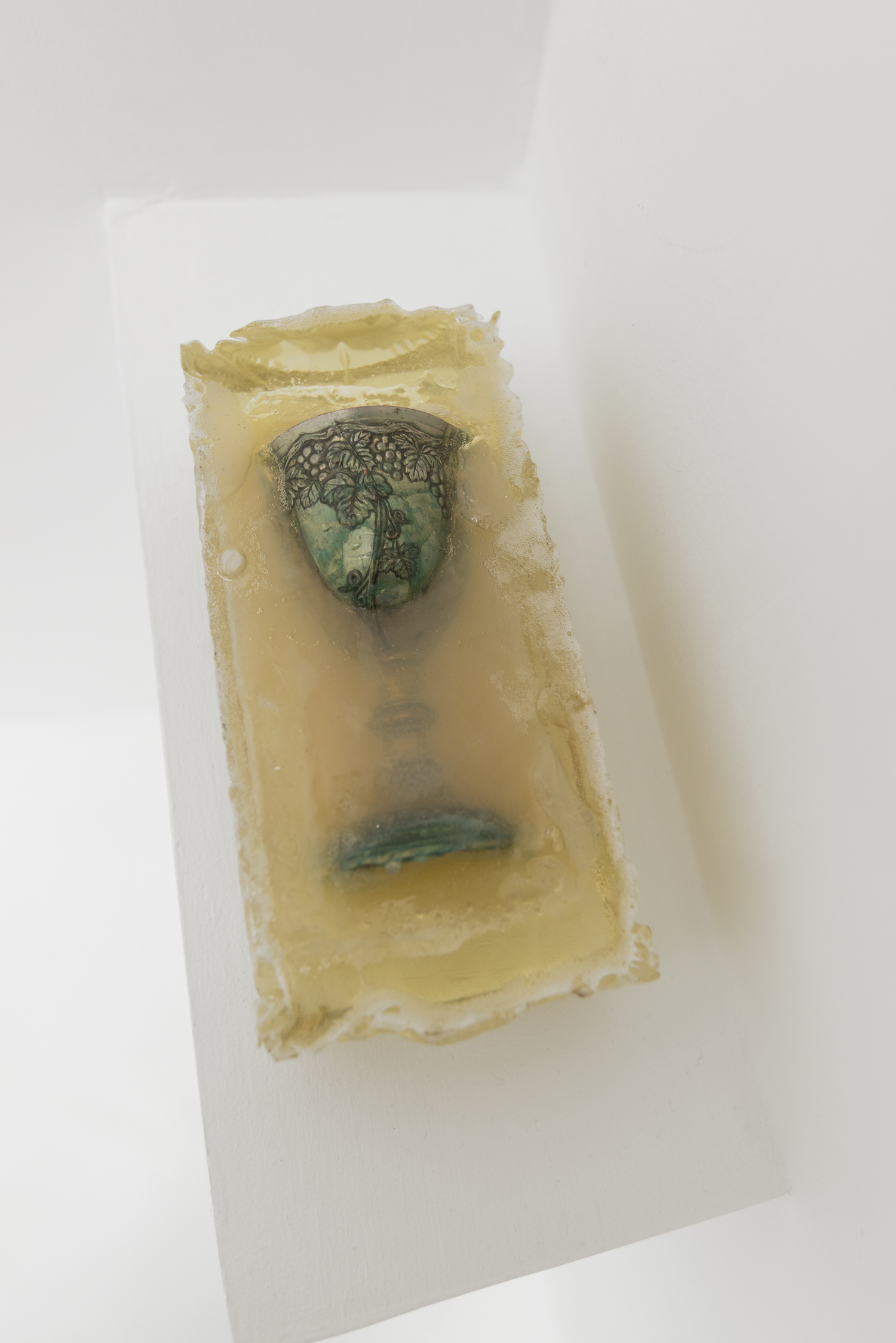 Bri Williams, Rose, Chalice, soap, resin 8.5 x 4 x 2 in, 2021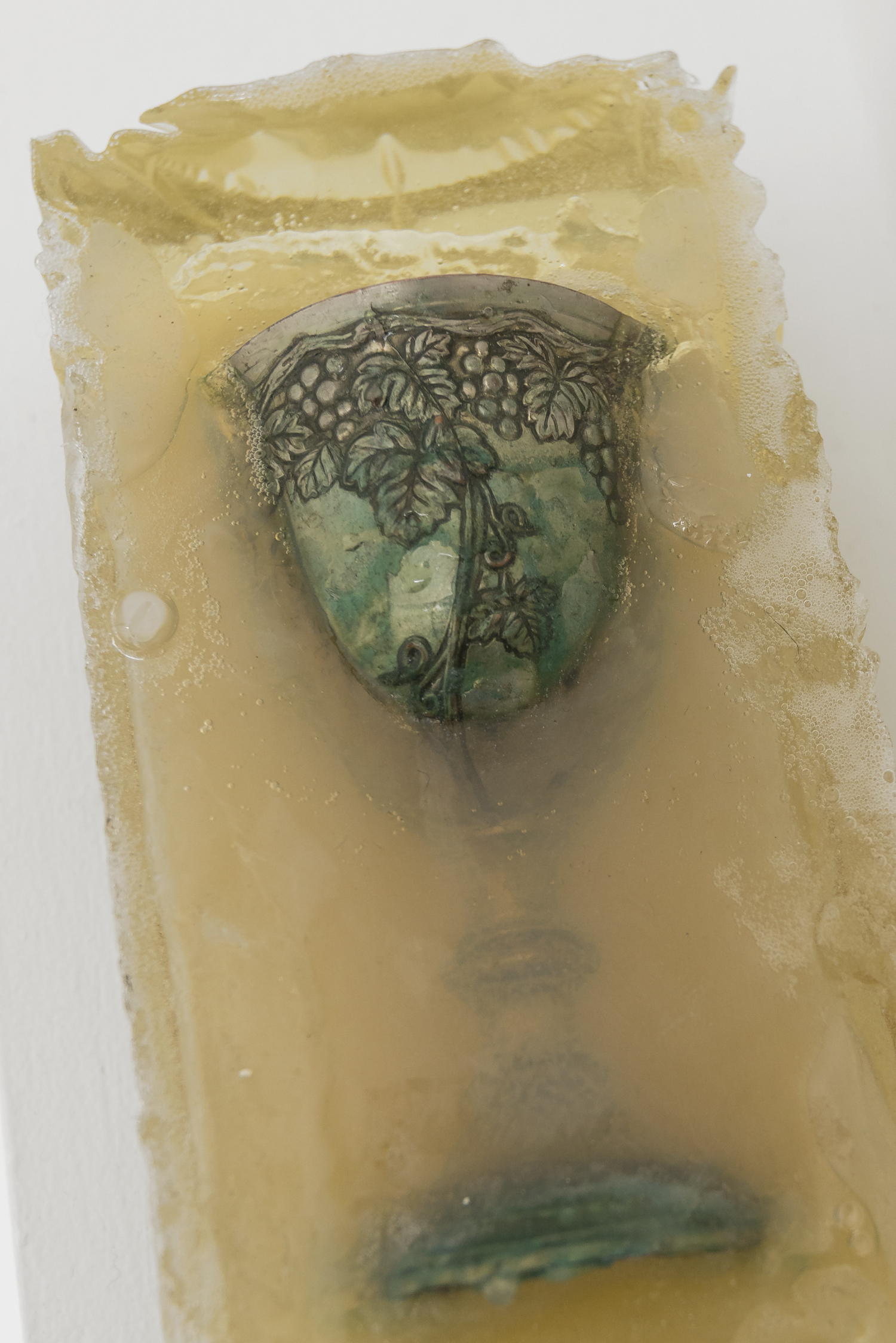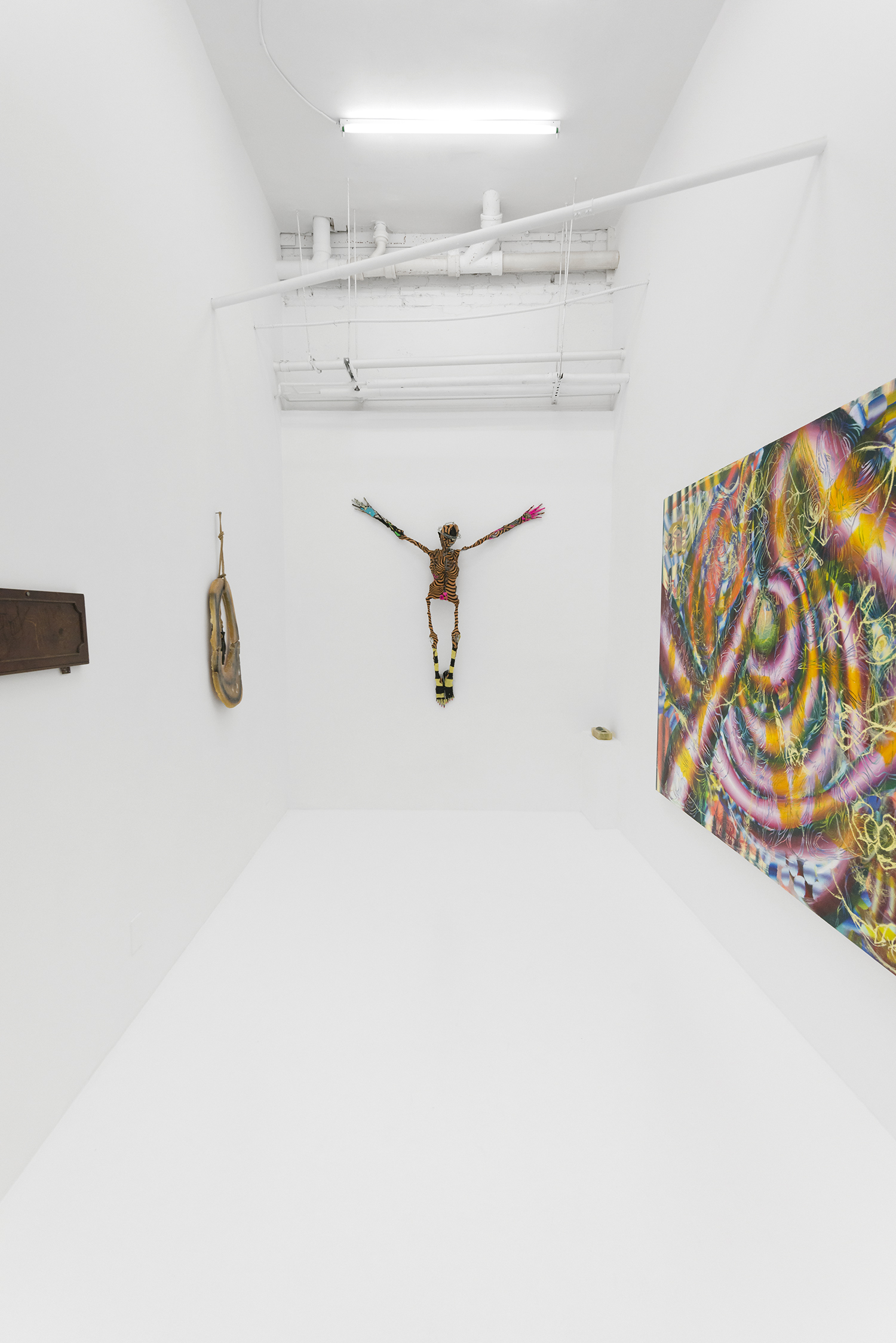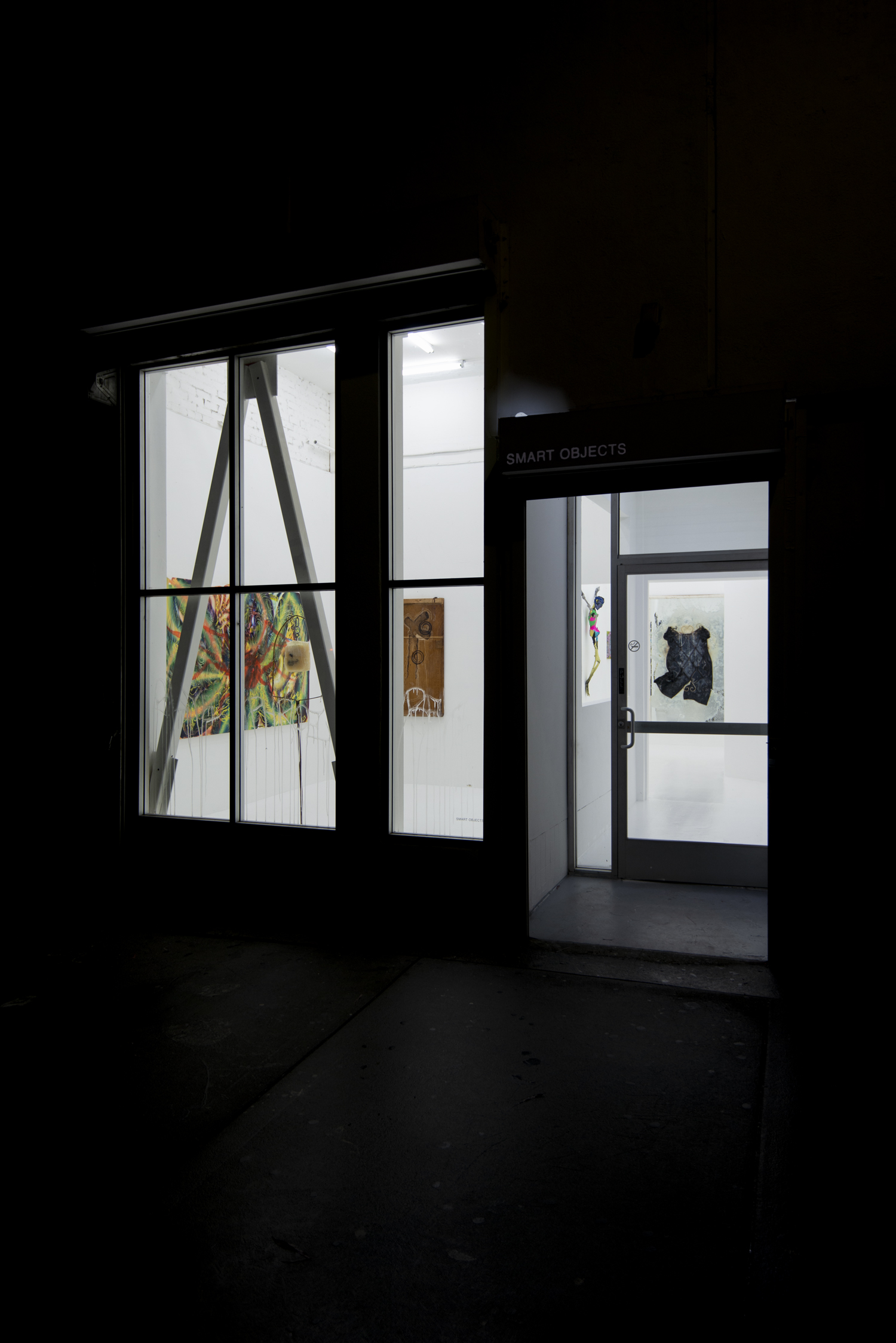 A revived
flutter
of life
butterflies
inside
quickening
once again
Bridging endings and beginnings, rebirth connects infinite loops of materials, energies, and souls. The universality of the rebirth fantasy splinters into reincarnation, resurrection, subjective psychic rebirth, and collective rebirth prompted by shared conditions. If the nuances of rebirth are further splintered, opportunities for endings and regenerations abound, never without the promise of transcendence in the process. Framed as narcissistic fantasy of everlasting life or a journey repeated and revised until earthly desires dissolve, reincarnation serves narratives of specific past lives while underpinning archetypes across narratives.
Rebirths en masse could be brought on by circumstances of collective loss, near death experiences, or enough time and space for rigorous self-reflection. If measured and charted, the frequencies and durations or rebirths can render a shared context, a rhythm, a cycle, a pulse; each generation, each five to seven years of cell regeneration, birth years, calendar years, springs, new moons, new days. In a selection of works by Bri Williams, Elizabeth Englander, and Lauren Quin, Quickening probes the three artists' generative, distinct, and luring conceptions of rebirth.
Lauren Quin's oil paintings cannibalize their own knotted masses of iridescent flesh. Proposing rebirth as a transnational non-state, a threshold is breached with each waning and waxing of creation and destruction. Untethered lungs, angel wings, noses, spiders, and bats are repeatedly traced through the back of the canvas, revealing overlapping transferences on the face - built up and obscured through repetition. Akin to the wet process, the fixed result maintains a verb-like unfolding. For the layers of ever emerging tubes and tunnels, regeneration is a constant state.
Thinking generationally, Bri Williams considers a longer duration of rebirth in her sculptures assembled from domestic familial artifacts. Inherited objects form new articulations, poetically integrating the past with the present. The reprocessed memories problematize religious authority's unresolved othering and power dynamics entrapped in identity. Often casting in soap, a medium that can sweat, melt, surround, and petrify an interior fixed position not unlike a traumatic memory, the artist preserves and decays charged momentos while sparking a conversation with absent ancestral bodies. Akin to shrine making and spellcasting, the remnants take on a power more than the sum of their parts; a wooden dresser bears the spiraling burn of a stove top while a candle grows like a mushroom working away at the restoration process.
Elizabeth Englander's suite of crucifixions prefigure a resurrection of revisionary divine bodies. Metal skeletal forms poke beneath garment-pinned swimsuit materials in standard loud neons, stripes, and polka dot patterns. In a double bind of suffering and pleasure, the reimagined icons speak to a schism between body and soul. The tool of crucifixion, or cross, signifies the split where a material body with earthly (horizontal) needs intersects a vertically inclined transcendent soul. In Englander's revitalized archetypes, the incarnate 'God, our Father' is atomically reimagined to encompass the complexities of bodies, gender, love, and the human condition.
– Marie Heilich
~
Elizabeth Englander (b. 1988, Boston, Massachusetts; lives and works in New York) received her MFA from Hunter College, NY in 2019. Recent solo exhibitions include HEADMASTER, Smart Objects, Los Angeles, CA; Toteboat, From the Desk of Lucy Bull, Los Angeles, CA; Headless, Entrance Projects, New York and Pieces of Jennifer Melfi, M.D. at Kimberly Klark, Queens, NY. Recent group exhibitions include Deathbound and Sexed, Theta, New York, NY; Bone Meal, Motel, Brooklyn, NY; An eye that tried so hard to see one particular thing that it forgot everything else, Safe Gallery, Brooklyn, NY and Fool's Prophecy, Muzeum Ikon, Warsaw, Poland.
Lauren Quin (b. 1992, Los Angeles; lives and works in Los Angeles) gained her BFA from the School of the Art Institute of Chicago in 2015, attended Skowhegan School of Painting and Sculpture, and received her MFA from Yale School of Art in 2019. Solo exhibitions: Friends Indeed, San Francisco; Real Pain Fine Arts, Los Angeles; From the Desk of Lucy Bull, Los Angeles.
Bri Williams is an artist who works primarily in sculpture. Solo exhibitions include Queer Thoughts, NY (2020) and Interface, Oakland, CA (2018). Williams' work has been presented in group exhibitions at Kunstraum Niederoesterreich, Vienna, Austria (2021); Thierry Goldberg, New York, NY (2021); Chart Gallery, New York, NY (2021); Ochi Projects, Los Angeles, CA (2020); Karma International, Los Angeles, CA (2018/2019); and Queer Thoughts, New York, NY (2018).